What is a timeframe?
Timeframe (English time-frame, time interval) – a time interval for grouping price quotes of any instrument to create a minimum element of a price chart. The display of the price movement is built from the minimum elements, most often bars.
What timeframes are available in MetaTrader 4?
Standard timeframes for the MetaTrader 4 or 5 terminal include:
1 minute – M1;
5 minutes – M5;
15 minutes – M15;
30 minutes – M30;
1 hour – H1;
4 hours – H4;
Day 1 – D1 or Daily;
1 week – W1 or Weekly;
1 month – MN or Monthly.
In other terminals, you may come across timeframes in another breakdown: M10, M20, H2, Y (year) and others. In addition, there are software tools that allow you to create a non-standard timeframe yourself.
The name of the timeframe indicates the value of its minimum element. Elements of higher timeframes consist of elements of lower ones.
For comparison, the figure shows the price dynamics in the EUR / USD pair per hour from 9.00 to 10.00 on the M15 and H1 timeframes. In this case, one candle of the H1 timeframe corresponds to four candles on the M15 timeframe.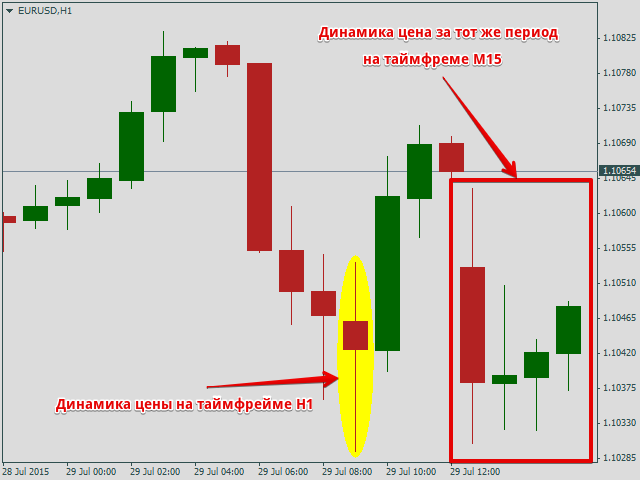 The main thing is to understand that timeframe Is a set of minimum elements, not complete data for a specified period.
How to set up a timeframe in MetaTrader 4?
In order to configure the display of the desired timeframe in the MetaTrader 4 terminal, go to the View – Toolbars menu and put a checkmark in front of the Chart period line.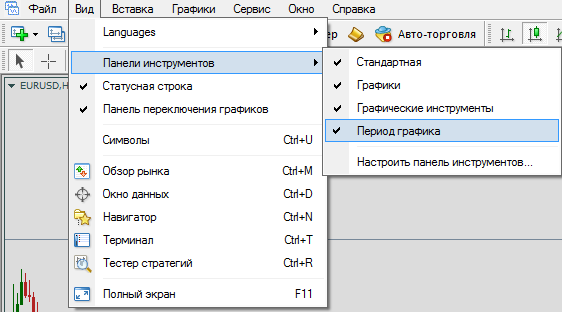 After that, buttons of standard timeframes will be available on the terminal panel.

How to choose the right timeframe for trading?
Timeframe selection in the work of a trader is very important and depends on the style of trading and the number of trades made. Short-term movements are seen on small, younger time intervals, long-term – on older ones.
Among forex traders, the following division of time intervals is accepted, depending on the type of trade:
Timeframe M1 to H1 – intraday trading or day trading, as well as scalping. It is characterized by a large number of transactions during the trading day. As a rule, all transactions are closed on the day they are opened and are not carried over to the next trading day. Not recommended for beginners due to the high load and the required speed for making a decision.
Timeframe from H1 to H4 – medium-term trading. The lifetime of transactions ranges from several hours to several days.
Timeframe from H4 to MN – long-term trading. Deals can be opened for several weeks.
When choosing a time interval for trading, you should take into account that signals will appear more often on lower timeframes, there will be more deals, however, as a rule, the profit per one deal is several points. At the same time, trading on lower timeframes requires the constant presence of a trader at the terminal and is associated with high emotional stress and increased risks.
Trading on higher timeframes is characterized by fewer trading signals and open trades, however, the profitability of one trade will be much higher than when trading on lower time frames.
Why are timeframes so important to Forex trading?
A competent trader never makes a decision to enter the market only for one time interval, but analyzes the dynamics of the selected currency pair on several timeframes and opens a deal only when a signal to enter the market (indicator readings, breakdown of the support / resistance level, working out a technical pattern) analysis) are confirmed at all time intervals. One of the variants of such an analysis was described by Dr. Alexander Elder and was named "Elder's three-screen system."
For a comfortable analysis of different timeframes, a variety of information indicators have been developed that display price readings (trend direction, trend strength) from different timeframes, as well as forex indicators operating in a multi-frame mode, that is, displaying readings from the selected timeframe. Such indicators usually have the MTF (multi-timeframe) prefix in their name.
More about choosing a timeframe for trading
More about Elder's Three Screens
More about non-standard timeframes