Trading results
In the previous trading session, VTB shares rose 6%, closing at 5.46 kopecks. The papers outperformed the market. Trading volume exceeded RUB 7.7 billion.
Short-term picture
VTB shares have renewed their highs in the last 3 years, buyers remain very optimistic, and this is fundamentally justified. On the technical side, however, the papers look overheated, which limits room for growth.
The external background is positive today, so it is possible that buyers will continue to pressure. If the level is 5.6 kopecks. will be passed from the bottom up, then on the way there will be a new braking zone of 5.75-5.8 kopecks. If it is passed, then 6 kopecks will act as a guideline.
However, the current rally is associated with high risks of a rapid reversal towards correction, which has been reported by technical indicators for a long time. If in the short term there is a breakdown of 5.2-5 kopecks. from top to bottom, then a deeper dive may occur with a reference point below the 21-day moving average – 4.75 kopecks.
Resistances: 5.6 / 5.75 / 6
Supports: 5.2 / 5 / 4.75
External background
The external background is moderately positive this morning. American indices rebounded slightly after the close of our main session on Tuesday. Asian markets are trading mostly in positive territory today. Futures on the S&P 500 index are up 0.25%, Brent oil is up 1.2% and is near the level of $ 69.7.
Taking into account the results of the previous evening trading, we can assume that if the current background persists, the opening on VTB shares will be slightly higher than the closing level on Tuesday.
Long-term picture
Since mid-March 2020, VTB shares have been in an upward trend. It was interrupted in early August amid a decrease in dividends from 50% to 10% of net profit. The market reacted with a sell-off, which led to the formation of a downward trend, and the price was close to the March values.
Until mid-October, VTB shares continued to decline, until the company announced its intention to pay 50% of its net profit for 2020 – the news became an excellent driver of the share price growth. Also, now the stocks are supported by positive expectations of financial results in 2021 and further growth of dividends.
The 50- and 200-week moving averages began to signal an upward reversal of the curves. The MACD curves are starting to signal the formation of an uptrend. The RSI indicator is in the overbought zone.
The long-term target is 5.5-6 kopecks so far. However, at the moment the stocks are very overheated, which may soon lead to a correction, after which we can talk about the continuation of the upward trend.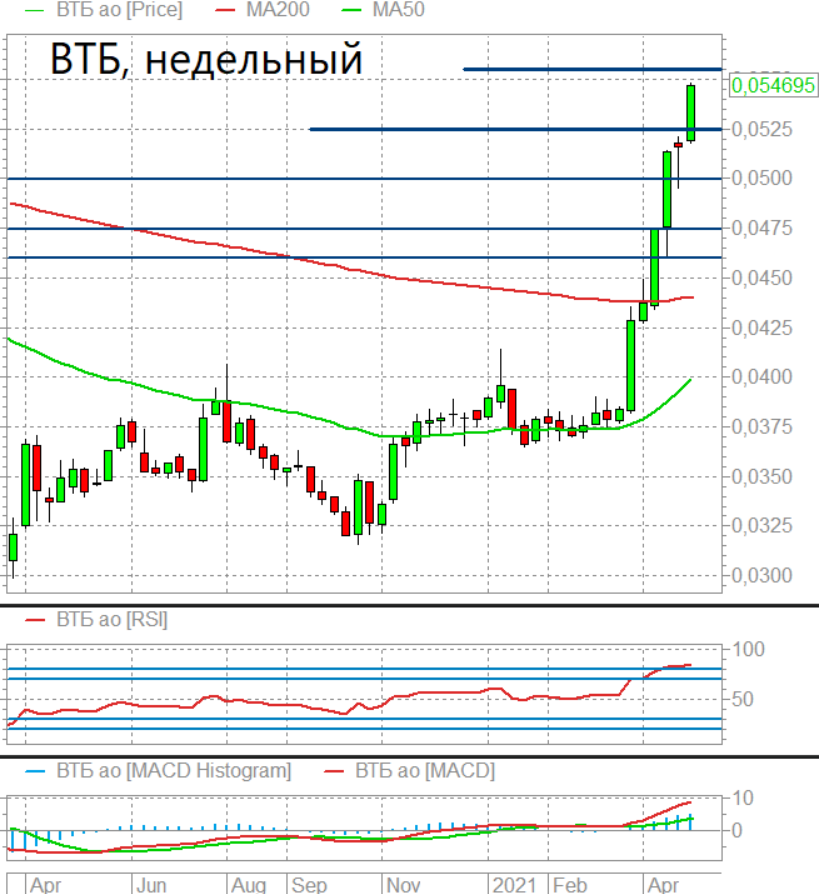 More forecasts and news on the Fortrader channel in Telegram
Market forecasts, analytics and stock news