Nine years ago, no one could have imagined that Tesla (NASDAQ: TSLA) would rank second in terms of capitalization among the most famous automakers in the world. Know this, I would most likely invest in this company. It is now common for us to see the electric car market grow, and all this is thanks to Elon Musk… It was he who managed to give impetus to the development of this industry. After all, General Motors (NYSE: GE) also created its first electric car in the 90s, but it was not possible to launch an electric car into mass production. Several hundred electric vehicles were produced, and this was the end of their story.
It is already obvious that it is necessary to invest in companies operating in the electric vehicle market, and the bulk of investors do so (in 2020, shares of electric car manufacturers have grown by hundreds of percent and continue to grow in value). But a far more tempting idea is to find a company like Tesla (NASDAQ: TSLA) that has very strong prospects for future earnings growth, and buying stocks now can generate huge profits over time. Only now it is impossible to know 100% what kind of company it will be, but you can try to assume it.
Space is an interesting, promising and risky direction now, so in today's article we will discuss investments in companies that are engaged in space exploration. At the moment, three companies are known whose business is related to space, and investor interest in them is constantly growing. It:
Space Exploration Technologies Corporation (SpaceX) Elon Musk.
Jeff Bezos's Blue Origin
Virgin Galactic by Richard Branson.
The first two companies are private and inaccessible to an ordinary investor, but shares Virgin galactic traded on the NYSE under the ticker SPCE… The papers of this company are available to everyone.
Virgin galactic
Virgin Galactic was founded by a billionaire Richard Branson in 2004. The company is engaged in the design and manufacture of modern air and space vehicles, and also provides services for manned space travel for individuals and researchers.
Virgin Galactic plans to launch the first tourist into space in 2021. The path to this historic event was very difficult, the start of tourist travel was originally scheduled for 2009.
The first death of people and the first promises
The first tests of rocket planes began in July 2007, three years after the company was founded. Spacecraft for Virgin Galactic are supplied by the company founded by Branson and Bert Ruthan in 2005 The spaceship company, which later came under full control of Virgin Galactic.
As a result of engine tests for the future SpaceShipTwo rocket plane, three employees died, so the launch date for flights at that time was unknown. But a year after the accident, Branson announced that the first space trip would take place in October 2009.
SpaceShipTwo presentation and more promises
In fact, in December 2010, Virgin Galactic was only able to present to the public SpaceShipTwo – a device that will take tourists into space, and Branson postponed the start of travel by 18 months.
By the way, at that time, 300 customers had already booked tickets at a price of 200,000 USD.
Endless test flights and disaster
Hopes that the planned will be implemented turned out to be in vain. By 2012, Virgin Galactic was able to conduct 15 SpaceShipTwo test flights, and in 2013 the spacecraft reached a top speed of 1,100 mph (1,770 km / h), more than half the speed required to transport passengers into space. As a result, the start of space travel was again postponed, this time to December 25, 2013.
And then 2013 ended, but test flights continued. In 2014, one of these flights ended in disaster, which killed 39-year-old pilot Michael Alsbury and destroyed SpaceShipTwo. As a result, Virgin Galactic was left without a spacecraft. The start of travel was postponed again, to February 2015.
Negative customer reaction
By 2014, the number of people booking seats had doubled and the ticket price had grown to USD 250,000. But after the next postponement of the start of travel, some clients attacked the company, pointing out that Virgin Galactic has been operating for 10 years, but during this time they have not been able to create an engine that will take them into space, and now the rocket plane also requires improvements.
Virgin Galactic tourists also spent 2015 waiting for flights. As a result, over the 11 years of the company's existence, 4 people died on tests, and the customers lost hope that the flight would still come true. Only Richard Branson did not lose heart.
VSS Unity Presentation
Work went on, and in 2016 the second SpaceShipTwo spacecraft, which was named VSS Unity, was presented to the public. Test flights continued. By 2018, VSS Unity had reached an altitude of 82.7 km and reached a speed three times the speed of sound. Virgin Galactic has now reached the required speed to overcome the 100 km altitude, beyond which space begins. And as usual, Branson made a promise to send tourists into space in 2019.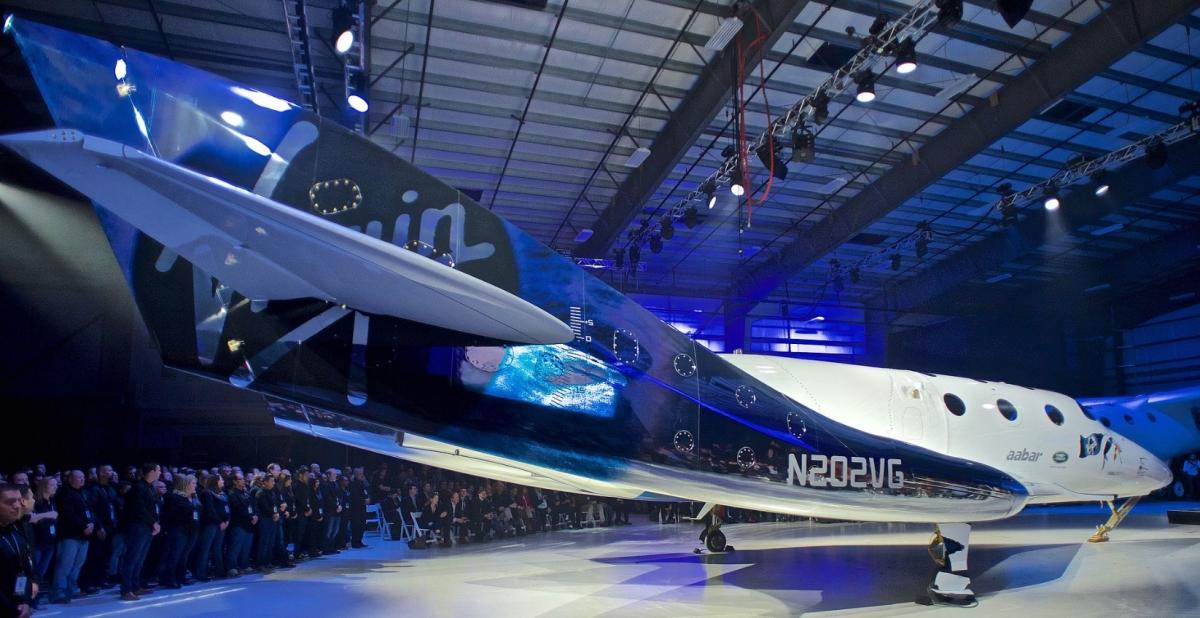 Virgin Galactic IPO
The finale seemed to be close, the company would soon start making profit from flights, and Richard Branson decided to make Virgin Galactic public. Virgin Galactic began trading on the NYSE on October 28, 2019. The company entered the stock exchange not through a standard IPO, but through a merger with a SPAС company called Social Capital Hedosophia…
Recently, this type of IPO has become very popular in the market. After the merger, Virgin Galactic shares became available for investment to everyone. Only now the promise to send tourists into space in 2019 was never fulfilled, and then the coronavirus made adjustments to test flights.
Test flights resumed
News about the finished vaccine and vaccination of the population contributed to the resumption of tests of the rocket plane. On December 12, another flight took place, but, unfortunately, the VSS Unity rocket engine turned off ahead of time, and the rocket plane could not reach the required altitude. The event upset market participants and Virgin Galactic's shares fell 23%. However, the continuation of test flights is scheduled for mid-February, and now investors are eagerly awaiting their start.
Investors are interested in the space sector
Virgin Galactic began trading at 11 USD. Two months later, their cost exceeded 35 USD. This event indicates that investors have shown interest not only in the company, but in general in the space sector.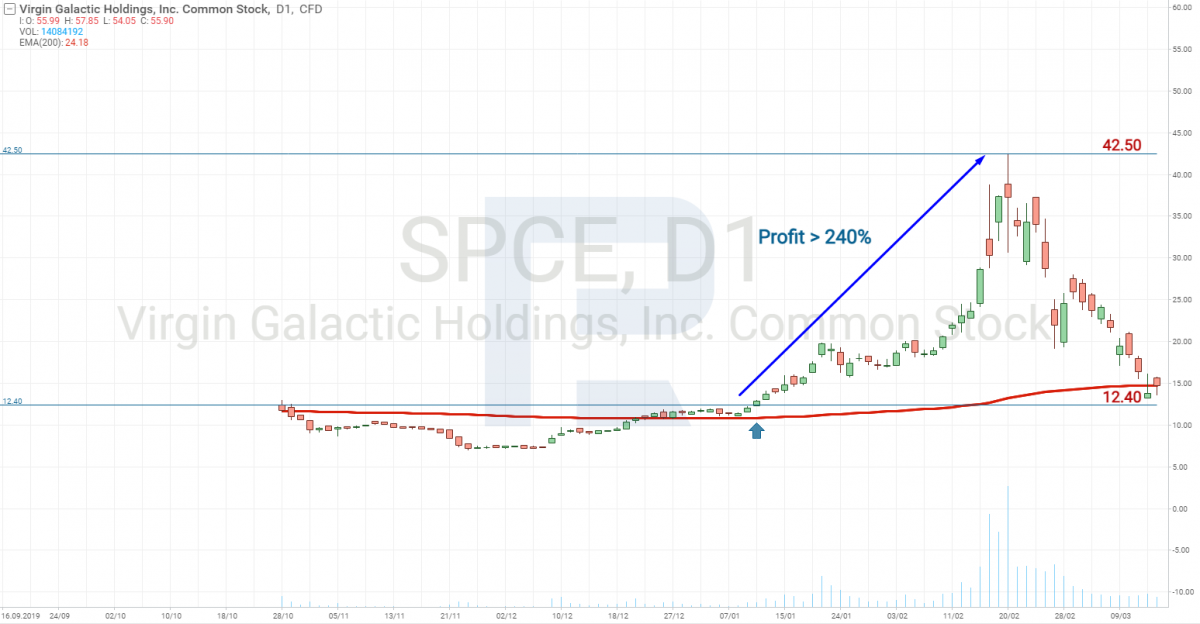 This was the case with cannabis stocks when they began to go public. Company papers Tilray (NASDAQ: TLRY) two months after the IPO, they rose by more than 1000%. But then they returned to their previous levels and are now beginning to grow in price again. At that time, there was only the prospect of the development of cannabis companies, and now bills are being adopted that affect this sector.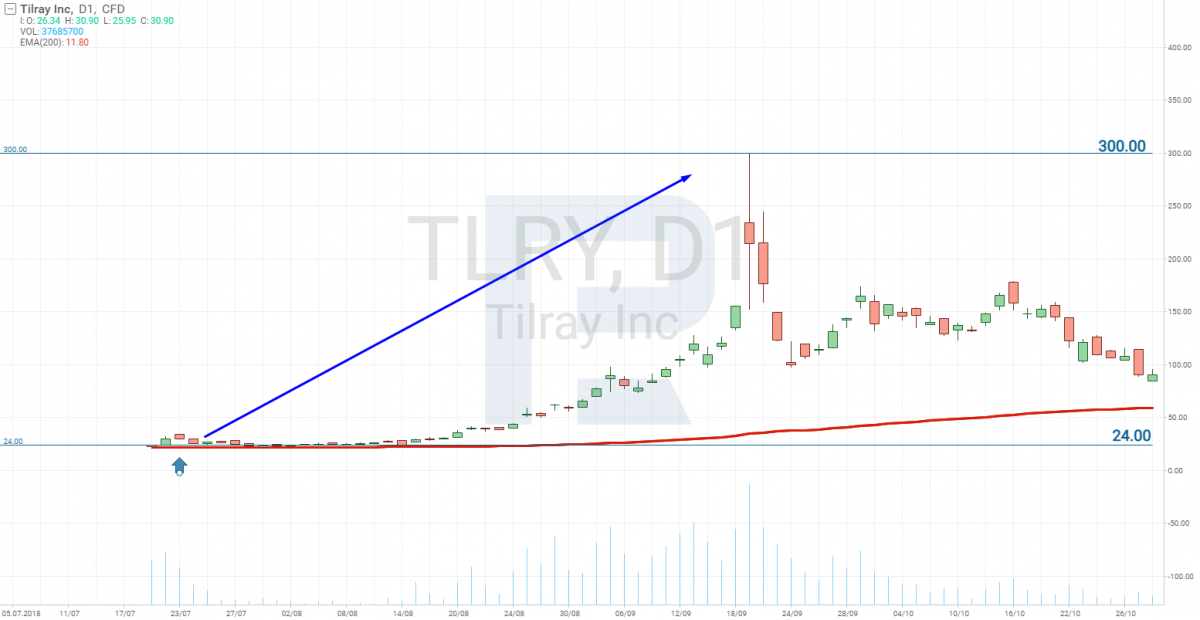 Therefore, in 2019, Virgin Galactic rose in price, mainly due to emotions and the desire of investors to make quick profits, and then declined again. But now that Virgin Galactic's first tourist flight becomes more evident, investors are beginning to realize that the company's revenues will grow and the potential for growth is enormous.
According to recent reports, Virgin Galactic is making no money yet. That is, income growth starts from a zero base. Accordingly, any quarterly report that shows revenue generated from ticket sales or other activities such as bringing satellites into orbit will be viewed positively by investors.
Virgin Galactic share price rises on expectations
Positive expectations about the future of the company are already affecting the share price. Since the beginning of 2021, their price has increased by more than 100% and reached 55 USD.
Another factor that influenced the price of securities was an application from an investment fund Ark Investment Management to register a space ETF, and Virgin Galactic is expected to be part of the fund. The fact of registering a space ETF is also a signal to which sector you need to pay attention to.
Investors are buying up Virgin Galactic shares
At the moment, there is increased volatility in Virgin Galactic shares, and any drop in quotations the next day is bought off by investors. If you look at the chart, you will notice that the price is trading very far from the 200-day moving average. This indicates overbought and a possible start of a correction.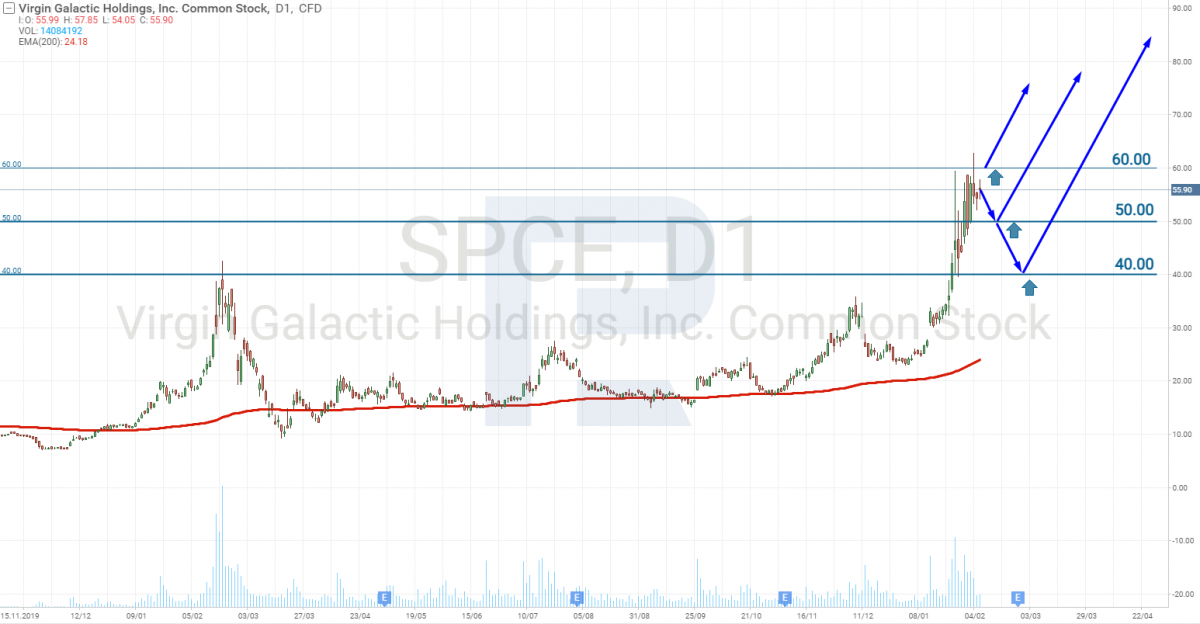 Correction in this situation would be very useful. This would make it possible to buy shares at lower prices. But investors, judging by their actions, fear that the value of shares will continue to rise, so they buy securities at current prices, which does not allow it to adjust.
The next test flight is to take place on February 13. If it turns out to be successful, the stock will continue to rise. But if something goes wrong, then their value will drop. This will be a gift for investors who have not bought Virgin Galactic shares earlier. The main thing is that there is no plane crash.
Output
Virgin Galactic is the closest competitor to launch tourists into space. Jeff Bezos announced that he is leaving the post of CEO of Amazon (NASDASQ: AMZN) and wants to focus on the space company Blue origin… This is indirect proof that Blue Origin is lagging behind in this race, and space travel is a promising direction.
Well, the empire of Richard Branson lacks only the space company. To his corporation Virgin group includes more than 30 companies that provide services for underwater tourism, cruise travel, there is also a Virgin hotel chain and its own airlines. As a result, Branson's firms provide recreation underwater, on water, on land, and soon in space.
Every year we will learn about new companies involved in space exploration, just as we are now watching the emergence of manufacturers of electric vehicles. But Tesla is already the leader in this market. Accordingly, in the future, Virgin Galactic may become the leader in the field of tourist travel in space.
Invest in American stocks on favorable terms! Real shares on the R Trader platform from $ 0.0045 per share with a minimum commission of $ 0.25. You can also try your trading skills in the R Trader platform on a demo account, all you need to do is register at RoboForex.com and open a trading account.
---