Trading results
On the previous trading day, Gazprom shares rose 1.91% to close at RUB291.1. The paper outperformed the market, which added 0.44%. Trading volume for the share on the main market amounted to RUB 9.9 billion. with an average monthly of 10.8 billion rubles.
Short-term picture
On Monday, Gazprom shares renewed their highs and were above 290 rubles. Up to the round mark of 300 rubles. there is only about 3% left, which allows us to expect the goal to be achieved in the coming days.
In the zone 300–305 rubles. pressure from speculators, fixing profits on long positions, may increase. This can provoke a short-term correction, predominantly of a horizontal shape. In the future, growth may continue, as the driver in the form of high gas prices remains relevant.
The mid-term outlook on Gazprom shares is positive. Trend indicators on higher timeframes look up, drawdowns were still short and quickly bought back. The share has its own fundamental driver in the form of high gas prices in Europe, which implies an upside over RUB 300. per share. This can support the activity of investors and contribute to outstripping dynamics in relation to the market as a whole.
Nearest support levels: 283/280/273
Nearest resistance levels: 295/300/305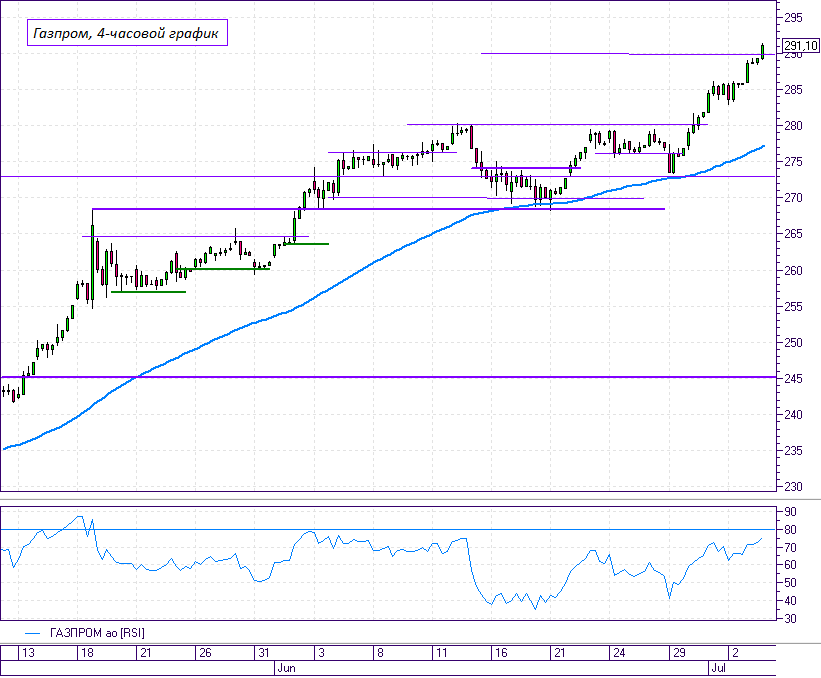 External background
The external background is neutral in the morning. Asian indices are trading in different directions. S&P 500 futures are trading near previous levels. Brent crude is up 0.5% today. Futures on Gazprom shares during the morning session added 0.2%. All this suggests that if the background remains unchanged, the opening will take place near the closing level of the previous trading day.
Long-term picture
Gazprom shares have returned to pre-pandemic levels, and the situation on the gas market allows us to hope that the growth will continue. High prices for hydrocarbons, the prospect of high dividends and the likely completion of Nord Stream 2 may support quotes and contribute to the movement above 300 rubles. per share.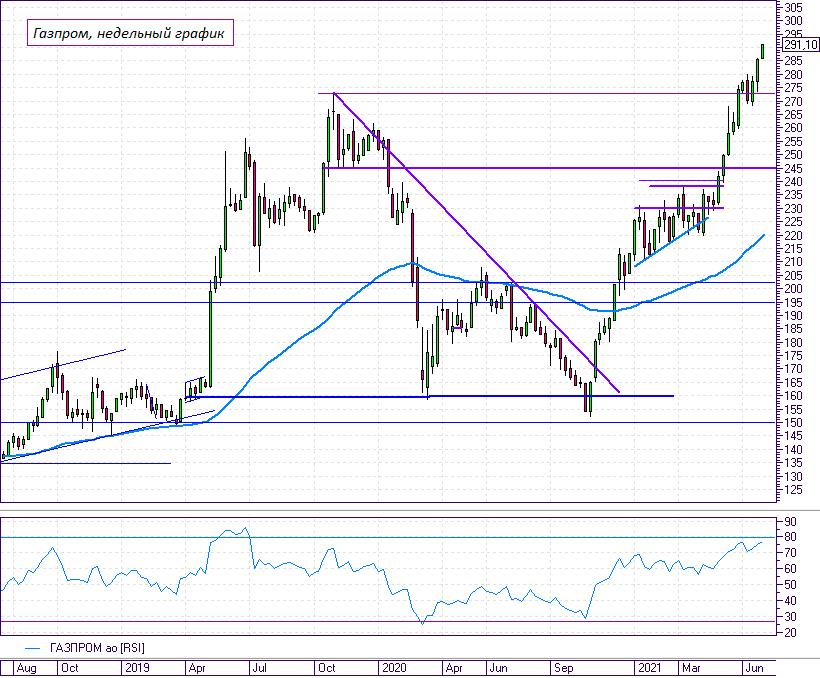 More forecasts and news on Fortrader's channel Telegram
Market forecasts, analytics and stock news