Trading results
In the previous trading session, Sberbank shares gained 2.03%, closing at 306.8 rubles. The paper looked better than the market. Trading volume amounted to 11.4 billion rubles.
Short-term picture
Sberbank shares last Tuesday saw the expected re-assault on the short-term downtrend, which is more successful than the day before.
The positive external background provoked a small gap at the opening with a further rise. In the afternoon, the barrier at 304.7 was broken. It was noted that in this case the road will open for movement to 309.5, that is, post-dividend highs.
The picture on the daily chart remained positive after the overbought was removed and the price turned upwards from the support of the medium-term uptrend.
Thus, today we can expect an exit to 309.5. A breakdown of this mark will allow the game to continue to close the dividend gap with the nearest reference point at 314.3-314.6. At the same time, local overbought on the hourly chart suggests that it will be difficult to overcome this line outright, and perhaps a rollback from it will follow first.
Resistance levels: 307.4 / 309.5 / 311.5 / 314.3
Support levels: 304 / 299.6 / 296/293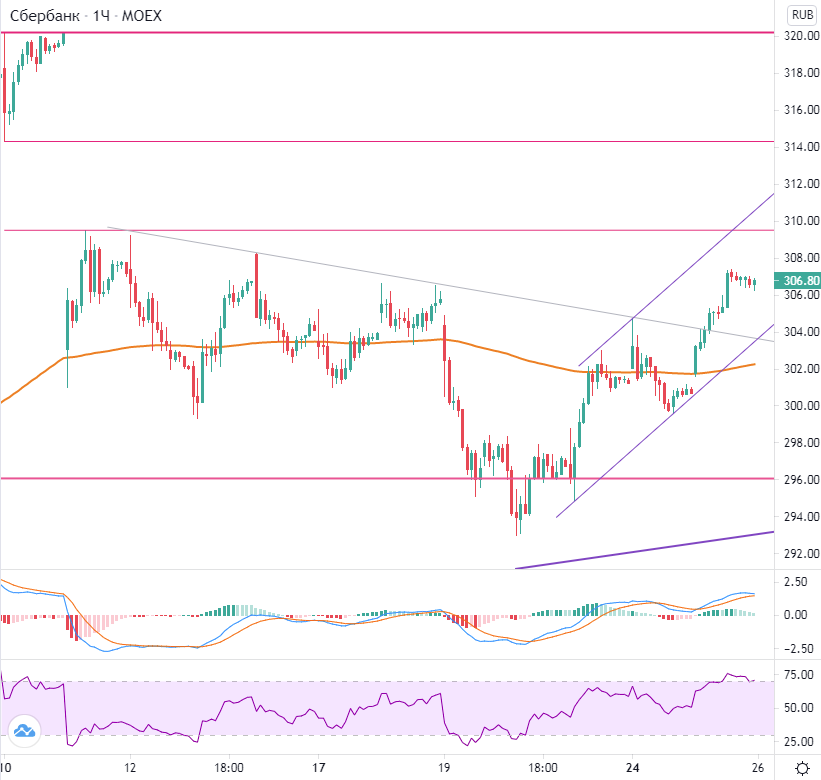 External background
The external background is forming moderately positive this morning. Asian indices are showing a positive direction. Futures on the S&P 500 in the morning rose in price by 0.3%. Brent crude is growing 0.1%. Futures on Sberbank shares is growing by 0.5% relative to the close of the evening session. The opening is expected to be higher than the closing level of the previous session.
Long-term picture
Sberbank's share price has historically been in an upward trend. In 2020, it was able to break up from broad consolidation and renew record levels. The mid-term trend is also growing now.
The bank occupies a leading position in the Russian economy, developing many digital services that are not directly related to banking. The consensus forecast is at 359.92 rubles. per share.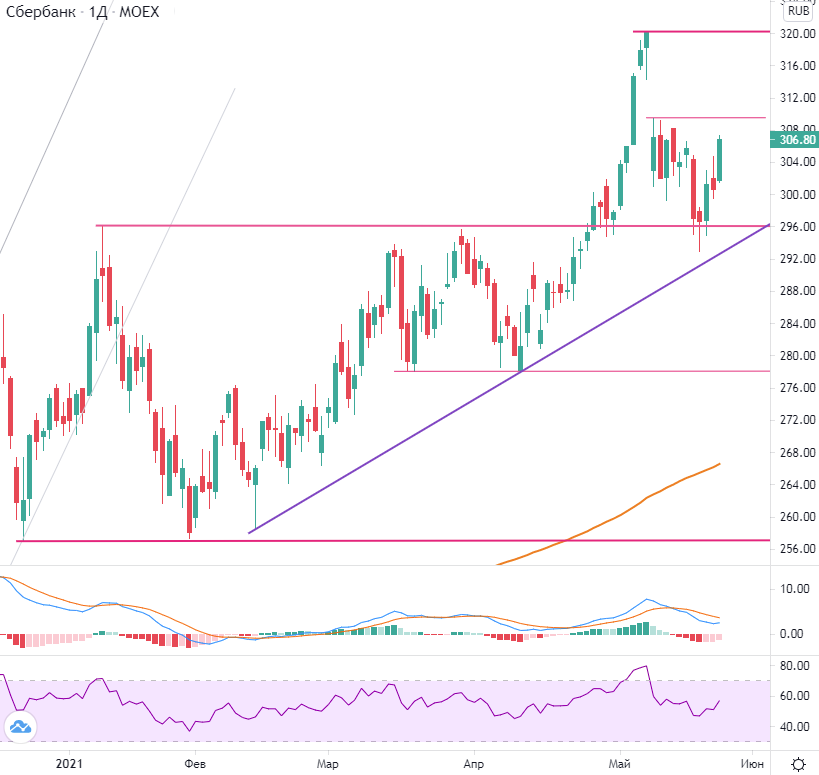 More forecasts and news on the Fortrader channel in Telegram
Market forecasts, analytics and stock news