Trading results
Rosneft shares in the last trading session of the week fell 2.49%. The closing price was 567 rubles. The paper traded worse than the market. Trading volume amounted to 7.6 billion rubles.
Short-term picture
On Friday, at the beginning of trading, the shares reached 585, but sellers showed strength. Then, during the trades, the quotes decreased, the stop occurred at the support level of 562.5. The technical picture encourages the rise of shares to the resistance area 570-572 to test it for strength.
While the price is below the daily support 572, the medium-term scenario of growth to the area of ​​595-600 is postponed. With the passage of securities below the level of 562.5 there is a risk of a deeper rollback to the next line 554.5. Then the upward movement is likely to continue.
On the 4-hour chart, the RSI curve is near the overbought zone at 69 pips. The RSI is showing bearish divergence. On the 4-hour chart, the price is above the 50-day moving average. Technical indicators indicate the beginning of overheating of securities. However, first of all, it is necessary to monitor the price fixation on the daily chart above or below the levels: 585 and 572 to determine the scenario of the further movement of the shares.
What to do? For open medium-term long positions, the first reference to sell is in the 595-600 zone. This area will be an interesting area to cut long positions. The priority is to fulfill the growth targets by fixing the price above the 554.5 level.
Resistances: 572/580/586
Supports: 562.5 / 554.5 / 547.5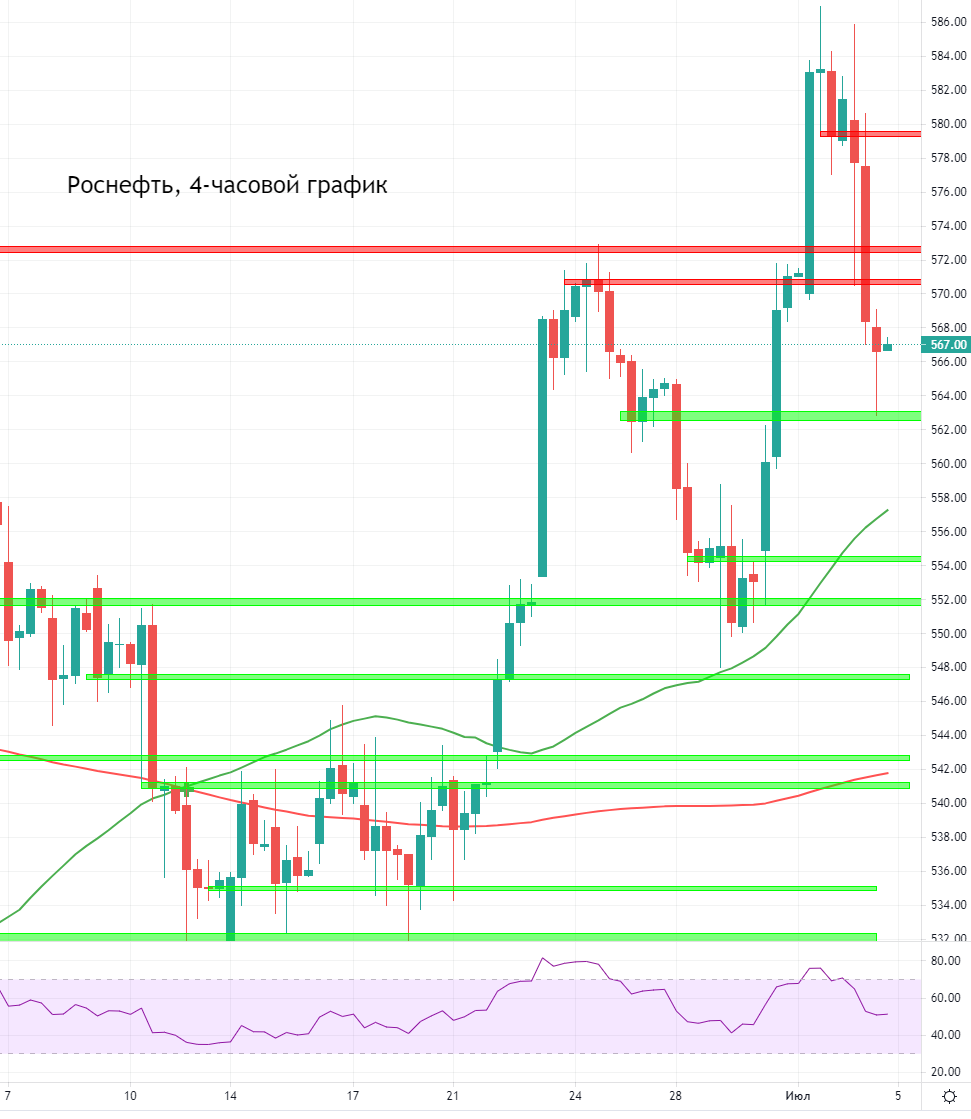 External background
External background in the morning is moderately negative. S&P 500 index futures are down 0.1%. Asian indices are trading mostly in the red. Brent crude is down 0.1%. The opening of trading in Rosneft shares will take place just below Friday's closing level.
Long-term picture
Rosneft is the first oil company to return to levels seen before the February-March sale. From the lows of November 2020, Rosneft quotes have risen by 69%.
The last weekly candlestick consolidated above the level of 558, which indicates a possible resumption of growth towards medium-term targets of 595-600. There is still a global growth target of 620-650. Buyers need to stay above the 538 level to maintain the initiative.
If the weekly candlestick falls below 538, there is a likelihood that the decline will continue to the weekly support levels of 490-510, then the uptrend will resume. This scenario is not a priority until the price breaks the 526 support level.
In a long-term picture, you need to look at the close of the weekly candle at the end of Friday's trading.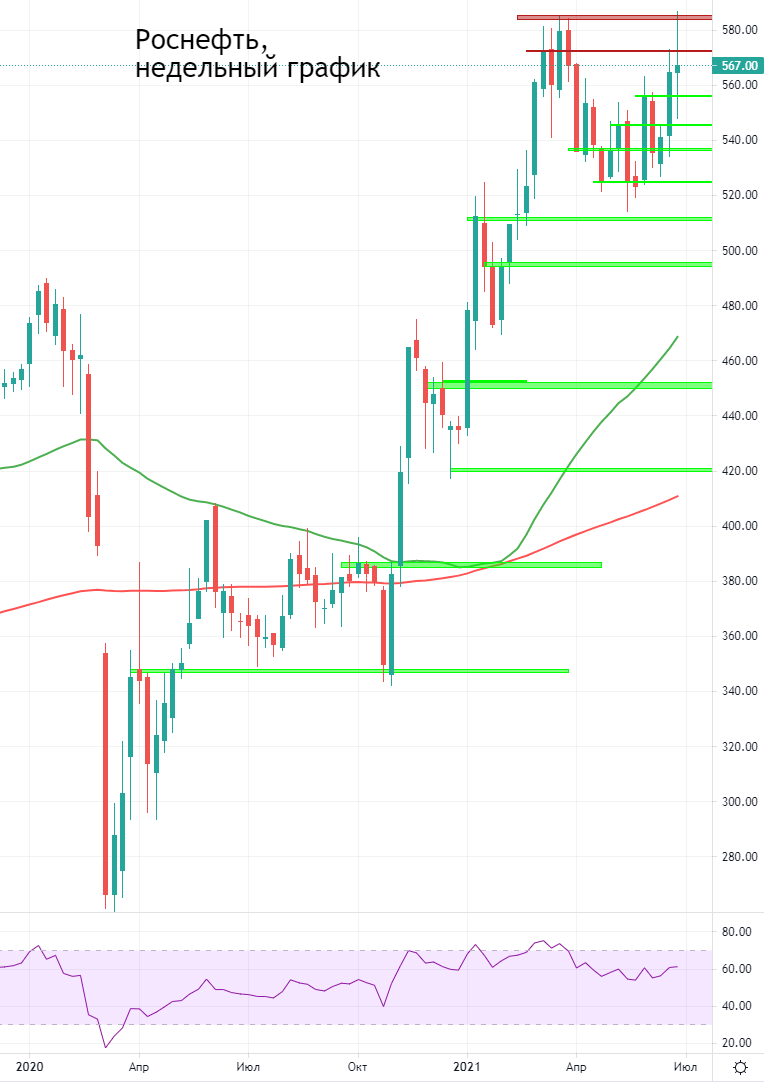 More forecasts and news on Fortrader's channel Telegram
Market forecasts, analytics and stock news