Trading results
At the previous trading session, shares of GMK Norilsk Nickel fell by 0.35%, closing was at around 25,050 rubles. The paper looked worse than the market, which added 0.5%.
Short-term picture
The trading session on Wednesday, Norilsk Nickel shares were in low volatility consolidation. Only at the beginning of the trading day the amplitude of the fluctuations was increased – the securities tested the border of the descending channel as resistance. Within the day, support was made by the level of 25,000 rubles.
Short-term expectations are cautiously positive. The weakness of stocks against the background of the market rally is difficult to explain with objective reasons. The lag may be temporary given the positive momentum in key metals prices in recent days.
At today's trading, it is important to monitor the level of 25,000 rubles: in the event of a breakdown, quotes may accelerate with a target of 24,400 rubles. However, a slightly more likely scenario is a breakdown of the inclined downtrend line, which is now near RUB25,200. Moreover, if the mark is passed, there is no certainty that the movement will be impulsive. It is quite possible that the paper will go into consolidation with the upper limit of about 25,300 rubles. The oscillators on the watch are in neutral positions.
Resistances: 25300/25600/25900
Supports: 25000/24400/24000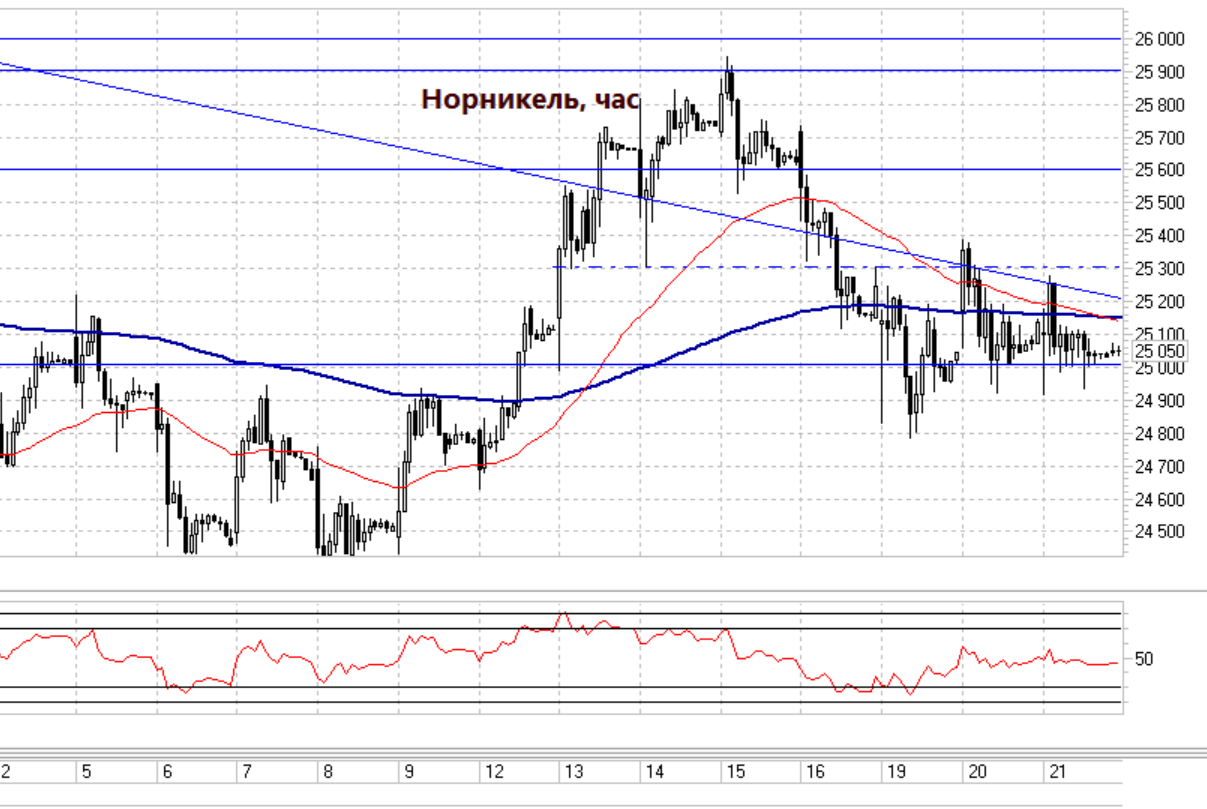 External background
The external background is mixed this morning. American indices rose after the close of our daily session on Wednesday. Asian markets are trading in positive territory today. Futures on the S&P 500 index are growing by 0.1%, Brent oil is down by 0.4% and is in the region of $ 71.9. All this suggests that if the external background is maintained, the opening will take place near the close of the previous day or slightly higher.
Long-term picture
Since 2009, Norilsk Nickel shares have been in a big up-trend. Growth impulses alternate with periods of sideways consolidation, drawdowns are quickly redeemed, indicating the strength of the trend.
Trend indicators on the weekly timeframe look up. The latest correctional wave from the highs in May was associated with a decline in prices for key metals of the company, the strengthening of the ruble, as well as the introduction of export duties. Due to the pullback, a bearish divergence was formed in the RSI. Nevertheless, the potential of the signal has already been worked out, and the buyout candlestick with a long tail reflects the activation of buyers at local minimums.
On the weekly interval, 22,000 rubles can be designated as key support. The level is unlikely to be reached within the current wave, unless new negative drivers emerge. The main zone of resistance is about 27,000-27,500 rubles. In the event of a breakdown, the targets will shift to 28,700 rubles.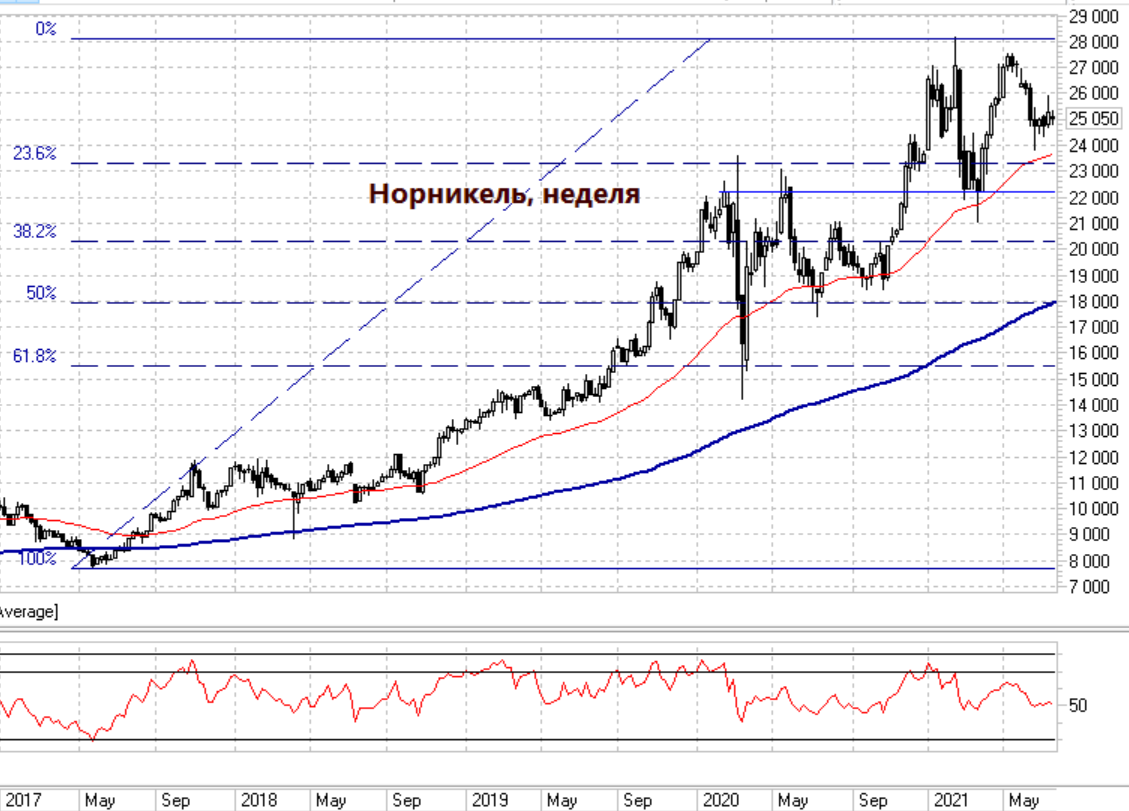 More forecasts and news on Fortrader's channel Telegram
Market forecasts, analytics and stock news