Trading results
On the previous trading day, Gazprom shares declined 0.13% to close at RUB 279.65. The paper outperformed the market, which lost 0.78%. Trading volume for the share on the main market amounted to RUB 7.8 billion. with an average monthly of 12 billion rubles.
Short-term picture
At the end of the week, Gazprom shares remained close to their previous levels, demonstrating resilience against the backdrop of general market negativity. Support 279 rubles. remained relevant, holding back the instrument from further decline. However, there is no certainty that today it will not be broken.
Gas prices remain stable, but other commodities, including oil, are under pressure, which has a negative impact on the market background. This will restrain the activity of buyers and spur sales on the part of speculators. In case of breakdown, RUB 279. the next strong support may be the mark of 273 rubles. At the same time, the RSI oscillator on the 4-hour chart is already showing oversold conditions, which may soften the decline.
The mid-term outlook on the share is positive. TTF gas prices in Europe remain high, well above the seasonal levels. The nearest gas futures are trading above $ 450 per thousand cubic meters. The level of reserves in European UGS facilities stood at 52.5% as of July 17, which is well below the 5-year average. Gazprom's exports to non-CIS countries are close to record levels. With such a conjuncture, there is every reason to expect a recovery to the highs and further growth.
Nearest support levels: 279/273 / 268.5
Nearest resistance levels: 283 / 286.5 / 290.5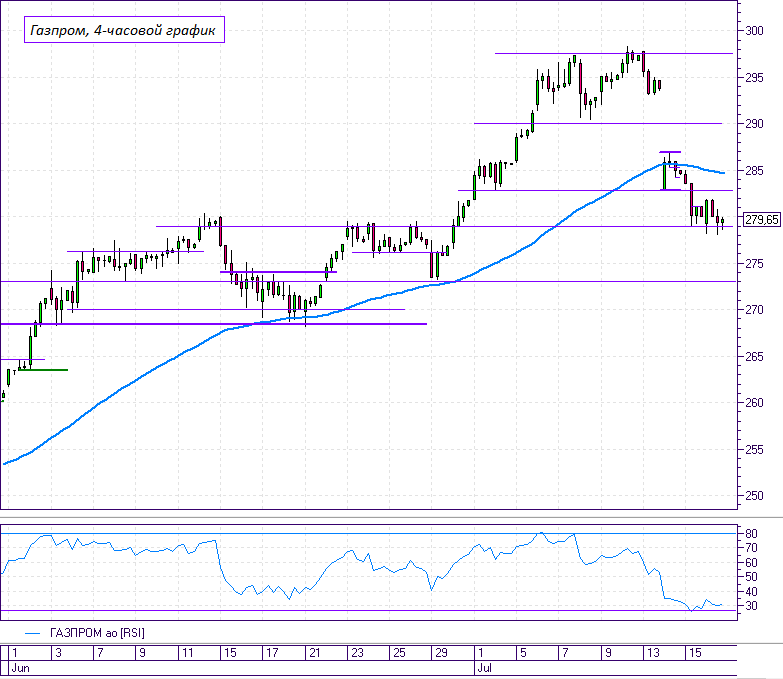 External background
The external background is negative in the morning. American indices fell after the close of the main session at the Moscow Exchange. Asian indices are trading in negative territory. S&P 500 futures are down 0.36%. Brent crude is down 1.2% today. Futures on Gazprom shares during the morning session lost 0.65%. All this suggests that if the background persists, the open will go below the close of the previous trading day.
Long-term picture
Gazprom shares have returned to pre-pandemic levels, and the situation on the gas market allows us to hope that the growth will continue. High prices for hydrocarbons, the prospect of high dividends and the likely completion of Nord Stream 2 may support quotes and contribute to the movement to the region of 350 rubles. per share.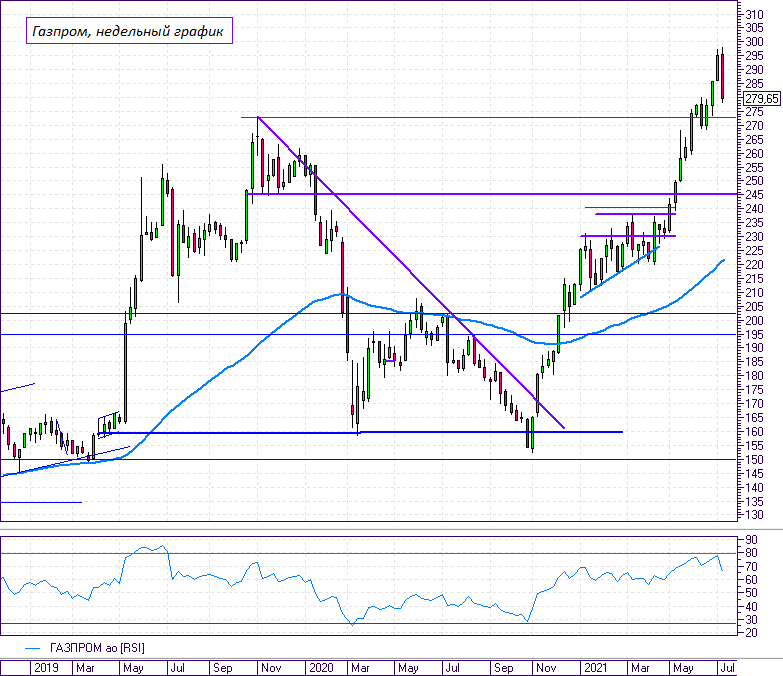 More forecasts and news on Fortrader's channel Telegram
Market forecasts, analytics and stock news