The previous article touched upon the topic of hydrogen, which may take a major place in the energy system of the future:
Today we will continue the topic of environmentally friendly energy sources that can contribute to the release of hydrogen from the shadows.
Let me remind those readers who have not read the previous article that an environmentally friendly way of producing hydrogen is electrolysis, that is, the effect of a constant electric current on water, as a result of which it is possible to obtain hydrogen. But in order to obtain electricity for electrolysis, an energy source is needed.
Known clean energy sources are water, wind and sun. Of these three sources, solar energy is mobile. Solar panels can be installed on a car, on the roof of a house, on a train, that is, on an object that has a surface where the panels can physically fit.
That is why today we will analyze the companies that develop solar energy. Energy of sun in our time it is used as a source of electricity, but its main function in the future may be the production of hydrogen.
SunHydrogen, Inc
The first company I want to draw your attention to is SunHydrogen, Inc. (OTC: HYSR)… The company was founded in 2009 and until 2020 was called HyperSolar, Inc…
SunHydrogen is developing a nanoparticle system that converts the sun's energy into electricity, which generates hydrogen from water. That is, it turns out two in one. The development of solar energy will strengthen SunHydrogen's position in the market as the company manufactures highly efficient solar panels, and the widespread introduction of hydrogen into the planet's energy system will catalyze faster revenue growth.
Unfortunately, investing in this company carries a high level of risk. In my articles, I have never drawn your attention to stocks traded on OTC Markets, and SunHydrogen stocks are traded on this OTC market.
Listing conditions are tough on the stock exchanges, and it is very difficult for small but promising companies to fulfill them. However, for further development, firms need to raise capital. As a result, they go to OTC Markets, where they sell their shares. Liquidity in this market is very low, so you have to invest with a period of several weeks and it is not always possible to sell shares at the planned price due to low demand.
But the advantage of this market is that here you can buy shares of a promising company, which will subsequently go public, and the price of these shares can be thousands of percent higher than what they are currently trading at.
SunHydrogen shares cost 11 cents, although in November 2020 their price did not exceed 2 cents. In January, the value of one share peaked at 32 cents. The yield in this case exceeded 1500%, which is comparable to the yield on the shares of the sensational company GameStop (NYSE: GME)…
SunHydrogen is still a small company and it is difficult for it to compete with corporations. Their only salvation is to offer the market a unique product that will be in demand, and then one of the larger players will invest in SunHydrogen, or a merger will take place. In this case, the investment will pay off. But the most optimistic scenario is SunHydrogen's independent IPO.
Summing up, I can say that this investment is like an adventure, you can invest only a small amount, but the surprise can be very pleasant.
NextEra Energy
In contrast to SunHydrogen, you can put the company NextEra Energy (NYSE: NEE)… NextEra Energy is a leading clean energy company (solar and wind). It generates 45,900 megawatts of electricity and operates subsidiaries Florida Power & Light, NextEra Energy Resources, NextEra Energy Partners and NextEra Energy Services… The company has been steadily increasing profits and dividend payments for a decade.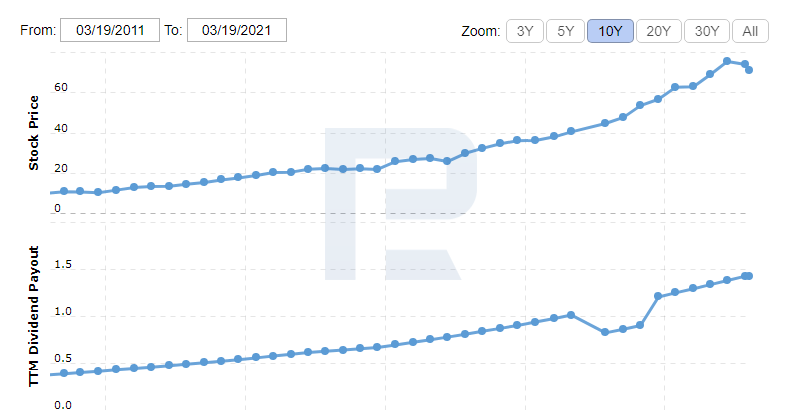 I drew your attention to this company back in October 2020:
Investments in NextEra Energy are still relevant, and now the quotes have dropped to the 200-day moving average, which is the optimal price for buying securities.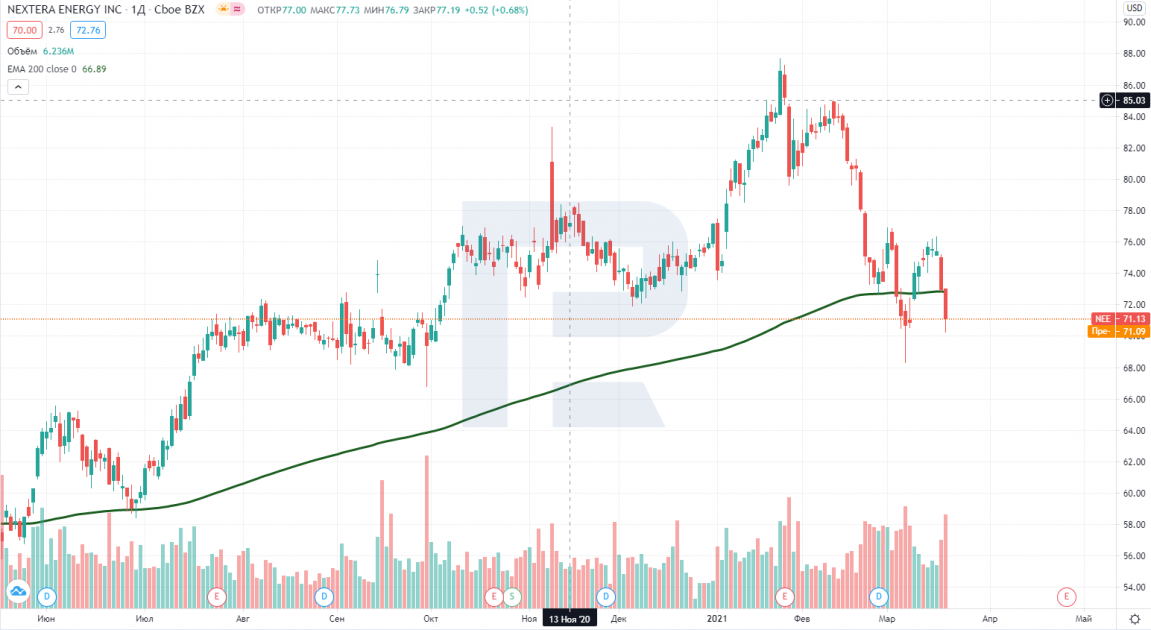 First solar
Another strong company in the solar energy market is First Solar (NASDAQ: FSLR)… The company was founded in 1999 and is engaged in the production of solar panels. First Solar's range of services includes a full cycle of work, from design to panel recycling. In 2009, First Solar became the first company to use its solar panels to reduce the cost of generating 1 watt of energy to $ 1.
The company's advantage is an improved and patented thin-film module, which allows you to receive electricity in non-ideal conditions, that is, in cloudy weather, fog, and so on. First Solar panels outperform competing products in terms of efficiency.
Solar energy is still in the development stage, and not all companies that work directly in this area have good income and net profit. First Solar is one of those companies that have made a net profit, and the amount of free cash it has exceeds all its debt obligations. This circumstance allows the company to invest in research without significantly increasing its debt burden.
First Solar, like NextEra Energy, is trading at the 200-day moving average. A rise in the price to the level of 80 USD will signal the completion of the correction and the beginning of a new wave of growth in the value of securities.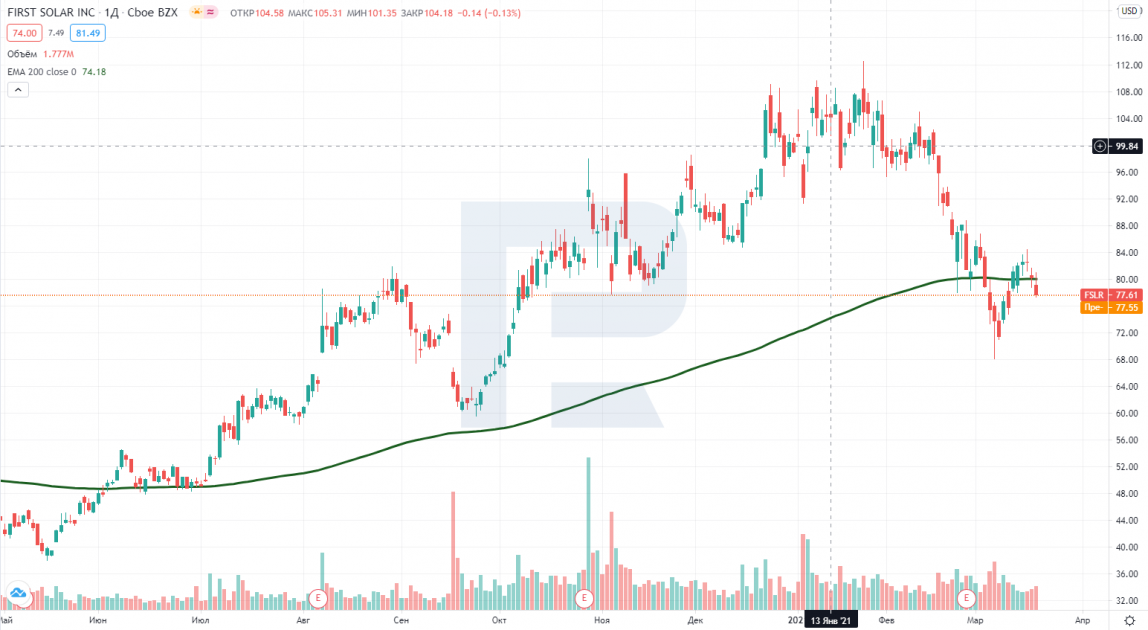 Brookfield Renewable Partners LP
When investing over the long term, investors often give preference to companies that pay dividends. It is even better if the profitability on them exceeds the inflation rate. Among the companies operating in the solar energy sector, stands out Brookfield Renewable (NYSE: BEP)…
At the beginning of 2020, the dividend yield on the issuer's shares reached 5%, which is a fairly high figure. Over the past year, the value of the company's shares has risen by more than 100%, which has reduced the dividend yield to 3% for those who buy shares now. But the company still remains attractive, as inflation in the US currently does not exceed 1.4%.
Brookfield Renewable owns and operates more than 200 hydroelectric power plants, 10 wind farms and 550 solar installations. The company is a world leader in the production of electricity from hydroelectric power plants. But according to management forecasts, they consider solar energy to be a promising direction, and in the near future the main percentage of Brookfield Renewable's income will come from revenues from the sale of "solar" electricity. The growth in solar production capacity will allow the company to increase earnings per share by 11-16% per year, which should lead to an increase in dividend payments by 5-9%.
Brookfield Renewable correlates with the stocks above (excluding SunHydrogen) and is also close to the 200-day moving average. In this situation, it is impractical to invest in all three companies, since in the event of a further fall in the value of securities of one of the issuers, the prices of shares of others may also continue to decline.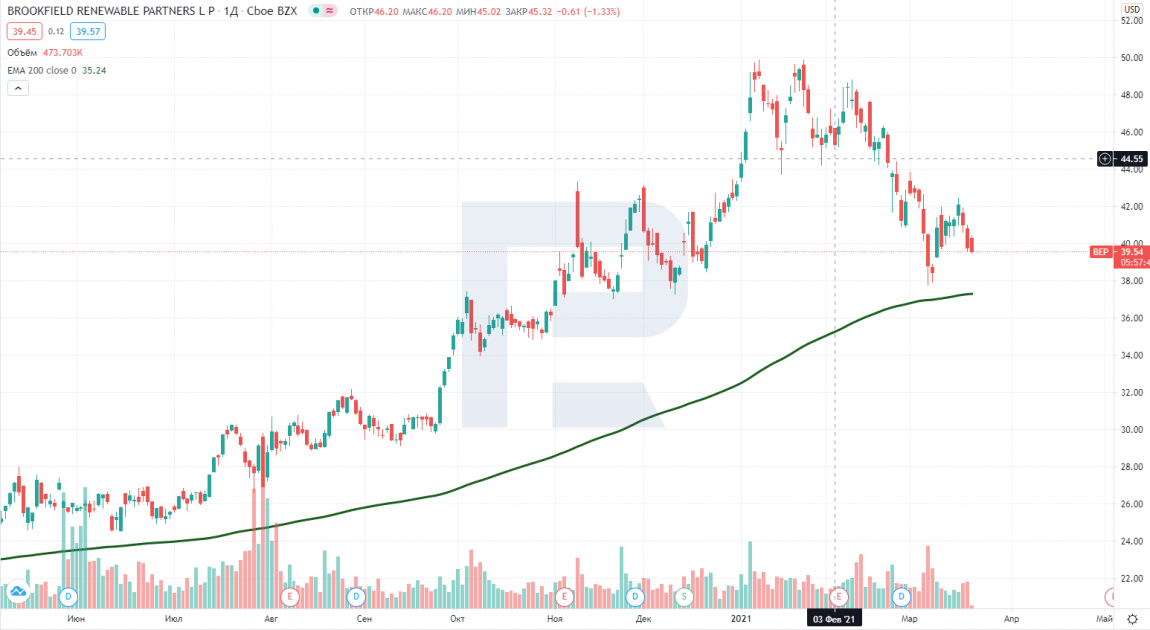 Today, a large number of companies operate in the solar energy industry, and many of them are public. Therefore, there is no shortage in choosing an issuer for investments in this industry. Below is a list of companies that are associated with the development of solar energy. If you are interested in this topic, then you should pay attention to them.
Sunrun Inc. (NASDSQ: RUN)
Sunnova Energy (NYSE: NOVA)
Enphase Energy Inc (NASDSQ: ENPH)
Canadian Solar Inc. (NASDAQ: CSIQ)
SunPower Corp. (NASDAQ: SPWR)
Daqo New Energy Corp. (NYSE: DQ)
Sunworks, Inc. (NASDAQ: SUNW)
ReneSola Ltd (NYSE: SOL)
Output
The country with the world's largest economy relies on renewable energy sources, which means that other states will follow this example. Against this background, shares of energy companies operating with wind, solar and water energy will rise in price.
Solar energy is the most convenient for humans to obtain, therefore, companies operating in this segment have a higher chance of achieving a stable income in the future in comparison with more expensive projects of wind and hydroelectric power plants.
Invest in American stocks on favorable terms! Real shares on the R Trader platform from $ 0.0045 per share with a minimum commission of $ 0.25. You can also try your trading skills in the R Trader platform on a demo account, for this you just need to register on the RoboForex.com website and open a trading account.
---