Trading results
In the previous trading session, Sberbank shares gained 3.08%, closing at 270.1 rubles. The paper looked better than the market. Trading volume amounted to 18.05 billion rubles.
Short-term picture
Sberbank shares on Wednesday showed a confident rise, adding more than 3%. A day earlier, the attempt to develop a rebound looked noticeably weaker. There was a significant intraday pullback from the highs of the week, which carried risks of a dip towards 253.
However, yesterday the price kept from going below 260 and after several hours of consolidation in the sideways direction it rushed up. The breakdown of the local downtrend, and to a greater extent the resistance at 267.4, improved the short-term picture. By the finish line, the price closed the gap left at around 270.2. Now there are prerequisites for moving towards the next significant resistance level at 276.
At the bottom it is now important to hold the support at 267.4.
The turnover has already decreased and will continue to fall until the end of the week amid the Christmas holidays in the West.
Resistance levels: 270.3 / 272.4 / 276
Support levels: 267.4 / 264.5 / 259.7 / 257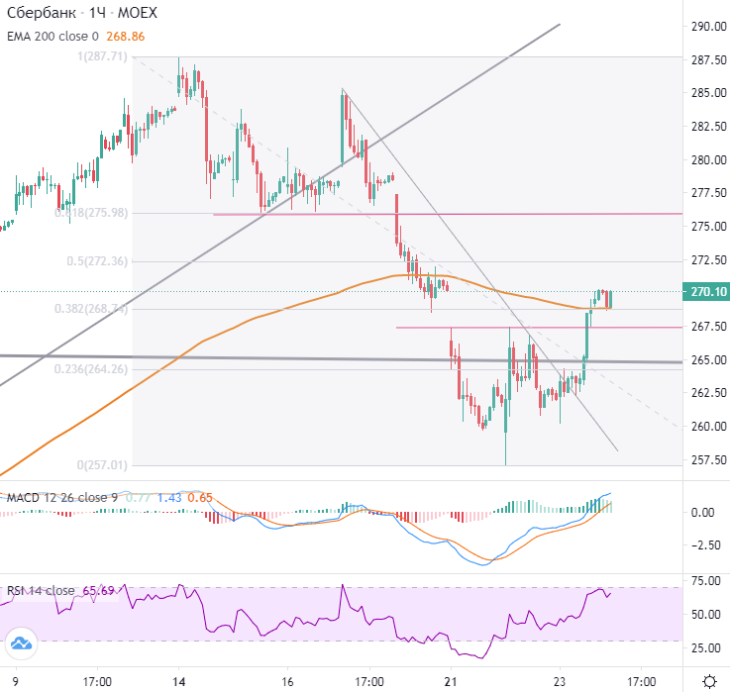 External background
The external background is developing moderately positive today. Asian indices show a predominantly positive trend. Futures on the S&P 500 in the morning depreciated by 0.2%. Brent crude is down 0.8% today. The opening is expected to be higher than the close of the previous session.
Long-term picture
Sberbank's share price broke through a five-year uptrend at the beginning of the year, but after consolidating in the mid-term, holding above the lows of 2018, it pulled out of it.
A mid-term uptrend has been forming from the March lows for six months. With the release of dividends, it was broken, but the price was able to close the dividend gap in just over a month and subsequently broke the 2020 downtrend and resistance stretching from the 2018 highs.This movement led to the renewal of record levels.
Historically, the trend remains upward. The Bank occupies a leading position in the Russian economy, developing many digital services not directly related to banking. The consensus forecast is at 318.5 rubles. per share.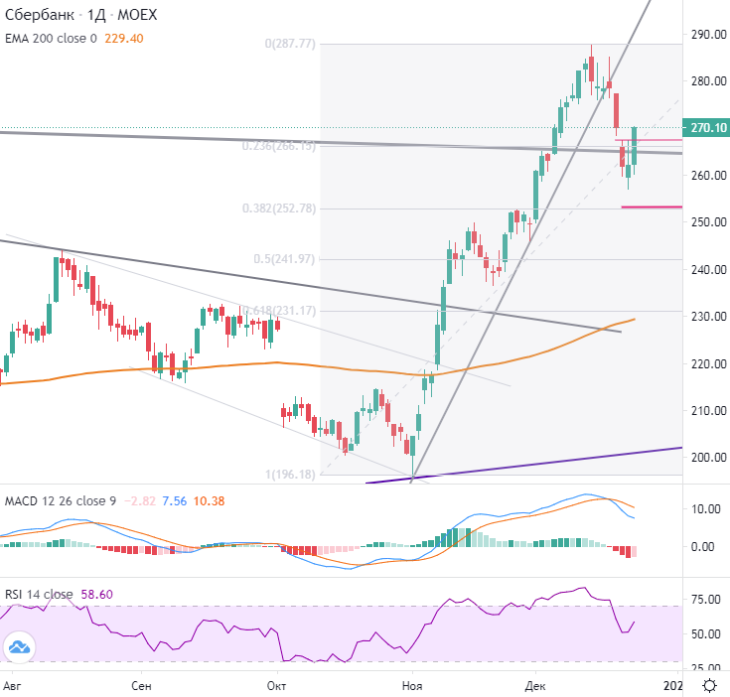 More forecasts and news on Fortrader's channel Telegram
Market forecasts, analytics and stock news