Trading results
At the previous trading session, Sberbank shares fell 0.25%, closing at 263.15 rubles. The paper looked worse than the market. Trading volume amounted to 21.1 billion rubles.
Short-term picture
Sberbank shares on Tuesday tried to develop the rebound that started the day before, but eventually lost a quarter of a percent. The price broke out of the short-term downtrend channel at the moment, breaking the resistance of its upper border at 266.5 on the second attempt. However, a downward reversal followed from 268.4.
The rollback is not even alarming as such – the price could well test the broken channel border from above, but it went into the "red zone" and closed almost at the lows of the day. Locally, the initiative returned to sellers after such a maneuver; opponents will be able to return it after a rise above 264.8. At the same time, the prospects for further recovery will open only after the breakdown of yesterday's highs.
At the end of the week, Sberbank will present its RAS report for January.
Resistance levels: 264.8 / 268.4 / 273.8 / 276.8
Support levels: 260/257/251/245
External background
The external background is developing moderately positive today. Asian indices show a predominantly positive trend. Futures on the S&P 500 in the morning rose in price by 0.3%. Brent crude is growing 0.5% today. The opening is expected to be higher than the close of the previous session.
Long-term picture
Sberbank's share price has historically been in an upward trend. In 2020, it was able to break up from broad consolidation and renew record levels. Of the last 9 months, 8 were closed with growth – the medium-term trend is now also growing.
The bank occupies a leading position in the Russian economy, developing many digital services not directly related to banking. The consensus forecast is at 344 rubles. per share.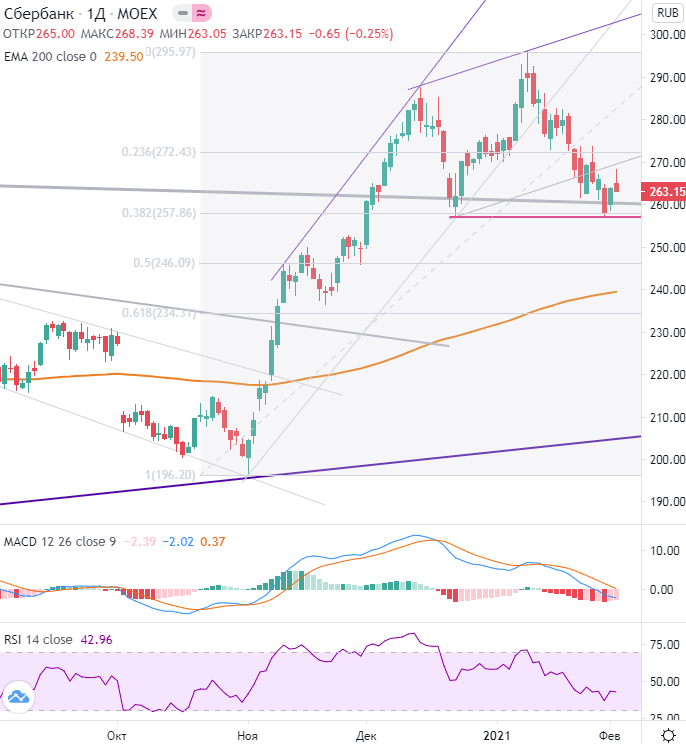 More forecasts and news on Fortrader's channel Telegram
Market forecasts, analytics and stock news