Trading results
Rosneft shares gained 0.15% in the last trading session. The closing price was 528.75 rubles. The paper traded better than the market. Trading volume amounted to 3.3 billion rubles.
Short-term picture
On Thursday, at the beginning of trading, Rosneft securities made a second attempt to break through the resistance level of 534, but failed again. Then the price returned to the buyers' interest zone 520-528 and went down to the level of 526. The technical picture shows the continuation of consolidation in the 520-528 zone, an impulse is needed to start the movement.
If the shares on the daily chart consolidate above the resistance area 534-538, then the growth targets will again become relevant: the resistance level 568 and the area 582-587.
On the 4-hour chart, the RSI curve is located near the neutral zone at 40 pips. There are no divergences from the chart on the RSI and MACD indicators. Technical indicators show neutral dynamics, so we are looking at the development of support and resistance levels: 538 and 522.
What to do? For open medium-term long positions, the reference for selling is in the 582-585 zone. The 520-528 zone is interesting for building up long positions with an eye on the long-term target of 620-650.
It is worth considering the risk of a breakdown downward of the 522 line, due to this, the securities can fulfill the last reduction targets in the area of ​​503-507.
Resistances: 528/534/538
Supports: 522/515/510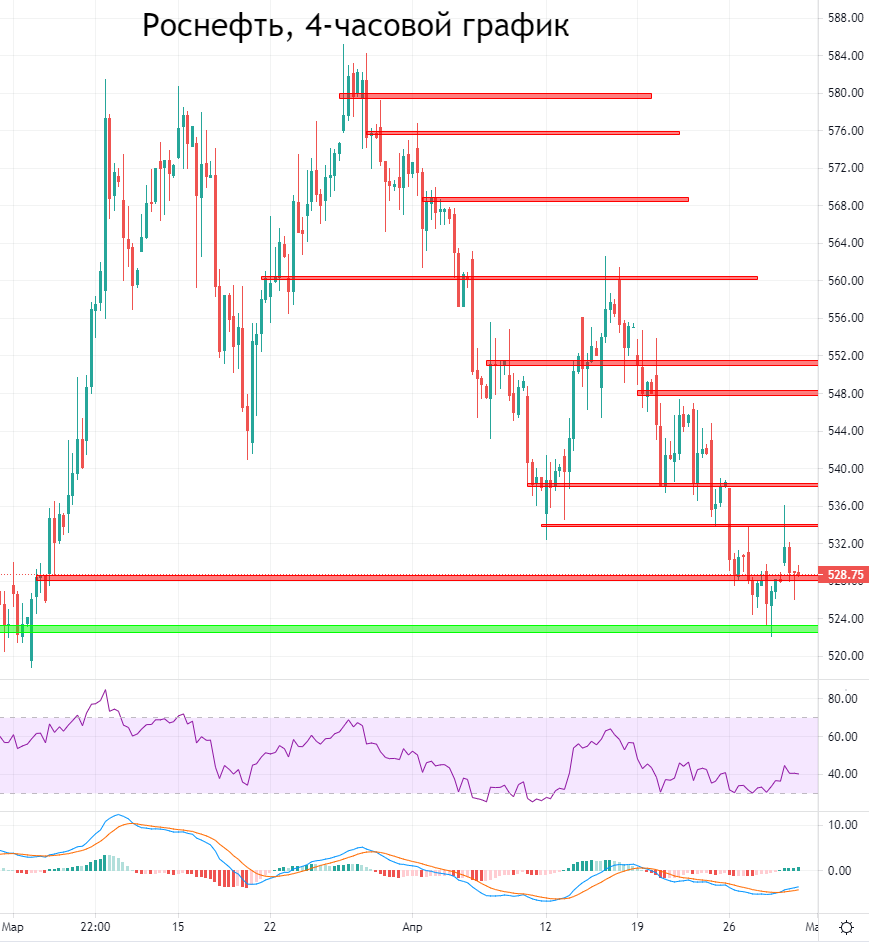 External background
The external background was moderately negative this morning. S&P 500 index futures are down 0.3%. Asian indices are trading mostly in the red. Brent crude is down 0.5%. The opening of trades in Rosneft shares will take place just below the closing level on Thursday.
Long-term picture
Rosneft is the first oil company to return to levels seen before the February-March sale. Since the lows of November 2020, Rosneft quotes have risen by 69%.
The formed movement achieved medium-term growth targets in the 548-560 area. There is still a global growth target of 620-650.
The weekly candlestick is below the level of 560, which indicates a possible correction to the support level of 520, after which the uptrend will continue (one cannot ignore the breakdown of 560 downward). The price consolidated below 545, the correction is relevant and the priority is to reduce. In a long-term picture, you need to look at the close of the weekly candle at the end of Friday's trading.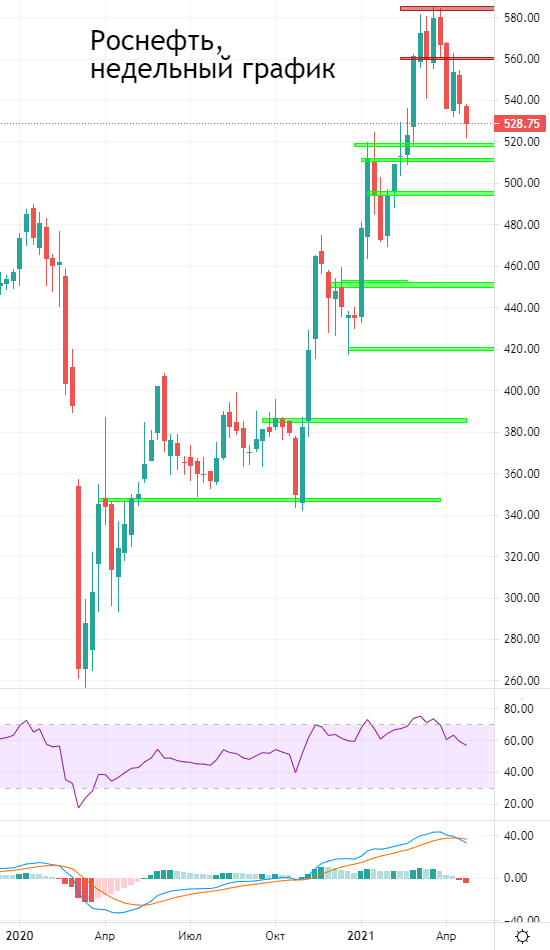 More forecasts and news on the Fortrader channel in Telegram
Market forecasts, analytics and stock news