Trading results
Rosneft shares gained 0.62% in the last trading session. The closing price was 539.35 rubles. The shares traded slightly worse than the market. Trading volume amounted to 3.3 billion rubles.
Short-term picture
On Monday, the securities went according to the scenario of a decline and reached the level of 532.5. The price approached the upper border of the buy zone 520-534 and remained above it. The technical picture allows for the end of the correction and an attempt to pass the resistance area 545–552 in the coming days. Holding long positions is important.
If on the daily chart the quotes consolidate above the resistance level 552, then the way will open to the medium-term target in the next area of ​​sellers' interest 594-612.
As long as the price is below 552, there are risks of a repeated decline in the buy zone 520-534 and renewal of the local minimum 532.
On the daily chart, the price is above the 50-day moving average, on the 4-hour chart – above the 200-day. On the 4 hours chart, the RSI curve is near the oversold zone at 33 bp. The RSI is showing a slight bullish divergence. These factors indicate that stocks are oversold and that there is room for growth. However, first of all, we look at the development of support and resistance levels: 552 and 534.
Resistances: 545/552/560
Supports: 534/530/525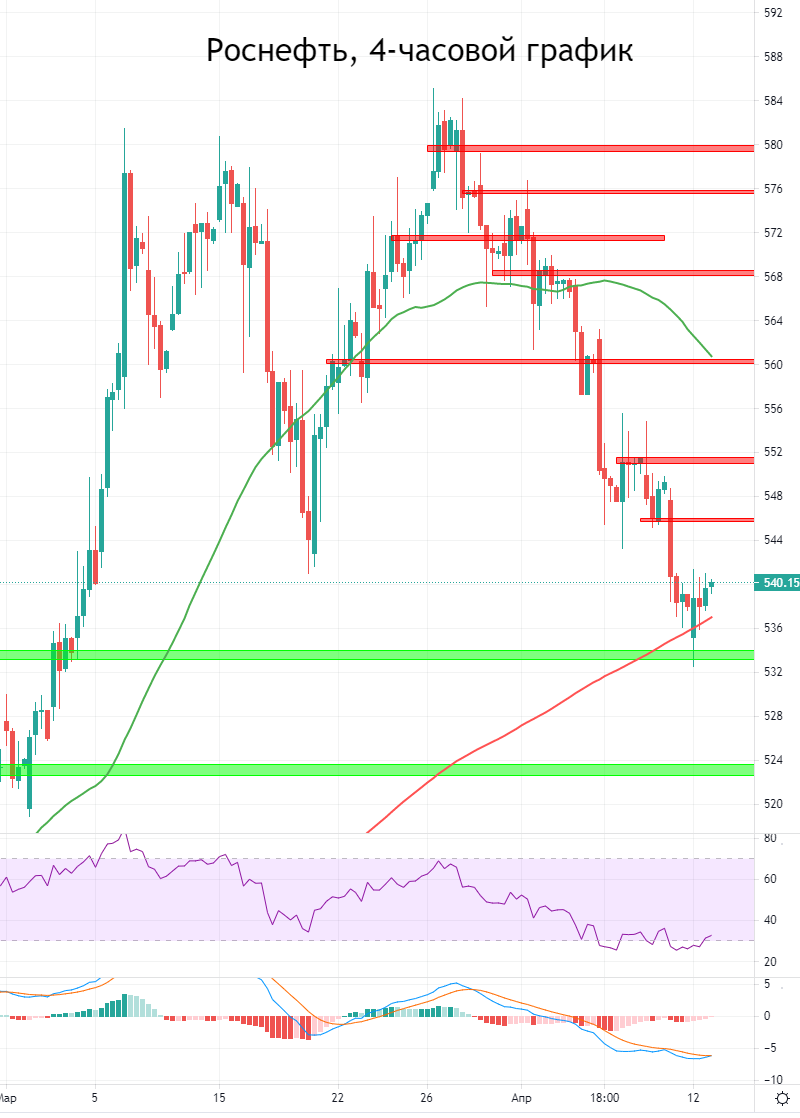 External background
The external background is neutral in the morning. The S&P 500 Index futures are trading at about 0%. Asian indices are trading mostly in the green zone. Brent crude is up 0.5%. The opening of trades in Rosneft securities will be held near the close of Monday.
Long-term picture
Rosneft is the first oil company to return to levels seen before the February-March sale. From the lows of November 2020, Rosneft quotes have risen by 69%.
The formed movement achieved medium-term growth targets in the 548-560 area. There is still a global growth target of 620-650.
The weekly candlestick is below the 560 level, which indicates the risks for the uptrend continuation and a possible correction to the 520 level.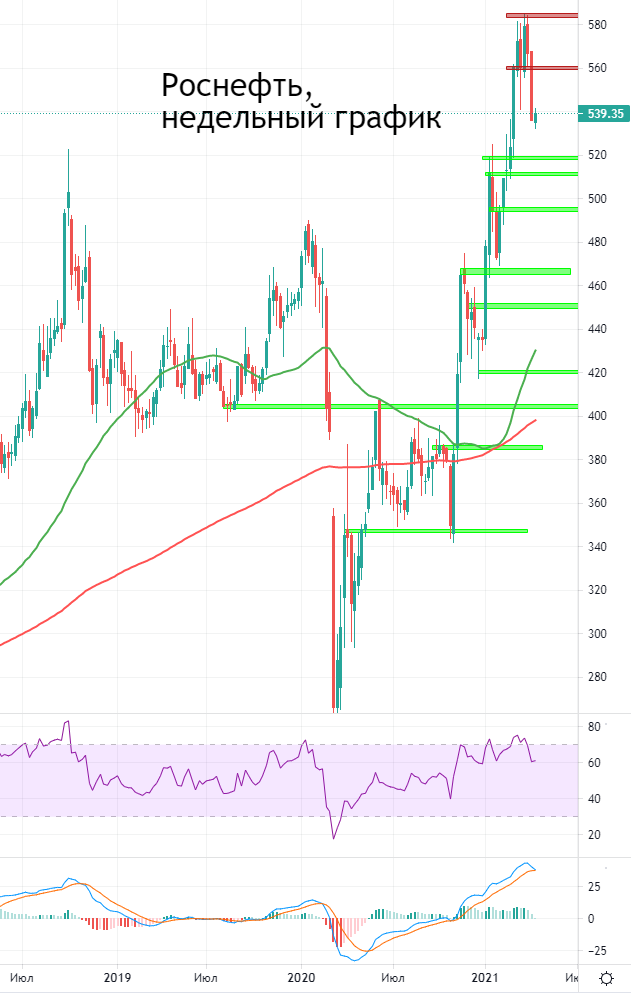 More forecasts and news on the Fortrader channel in Telegram
Market forecasts, analytics and stock news