Trading results
Rosneft shares in the last trading session of the week rose 0.82%. The closing price was 582.2 rubles. The paper traded worse than the market. Trading volume amounted to 5.9 billion rubles.
Short-term picture
On Friday, at the beginning of trading, shares opened with a gap up and broke through the resistance area of ​​578-580. Then the quotes set a new all-time high at 585.1. The technical picture is on the side of buyers and indicates an increase in the resistance zone of 595-600 in the coming days. More accurate support and resistance marks can be indicated after the formation of future local rollbacks to the resistance lines.
If the price consolidates below the local level of 578 on the daily chart, then a correction to the support line 560 is possible. Until there is a downward passage below the 557-560 area, the base scenario is the continuation of the uptrend towards the main growth targets in the 620-650 area.
On the 4-hour chart, the RSI curve is below the overbought zone at 67 pips. There are no divergences from the chart on the RSI and MACD indicators. These factors indicate that buyers have a reserve of strength to meet their growth goals. First of all, we look at the reaction of market participants to the resistance and support levels: 585 and 578.
Resistances: 585/620/650
Supports: 578/572/569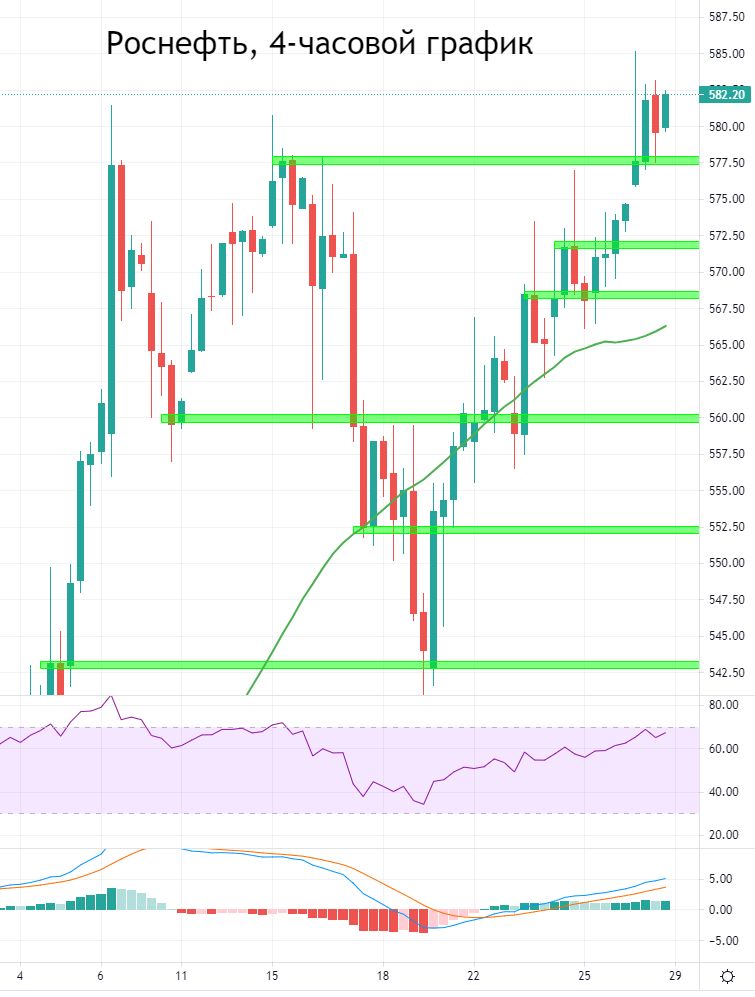 External background
The external background was moderately negative this morning. S&P 500 index futures are down 0.4%. Asian indices are trading in the green. Brent crude is down 1.2%. Futures on Rosneft shares in the morning session is down 0.1%. The opening of trading in Rosneft shares will take place just below Friday's closing level.
Long-term picture
Rosneft is the first oil company to return to levels seen before the February-March sale. From the lows of November 2020, Rosneft quotes have risen by 69%.
The RSI curve is in the overbought zone near the 73-point mark, the MACD histogram does not show divergences with the price movement, which indicates the beginning of overheating in the securities, but the strength for further growth remains.
The formed movement achieved medium-term growth targets in the 548-560 area. There is still a global growth target of 620-650.
The weekly candlestick is above the 560 level, which indicates a continuation of the uptrend.
More forecasts and news on the Fortrader channel in Telegram
Market forecasts, analytics and stock news