Trading results
On the previous trading day, the shares of Gazprom fell by 0.45%, closing was at around 258 rubles. The paper looked worse than the market, which added 0.67%. Trading volume for the share on the main market amounted to RUB 7.5 billion. with an average monthly of 10.9 billion rubles.
Short-term picture
The triangle on the hourly chart of Gazprom is gradually narrowing, the actual support is located in the area of ​​257 rubles., The resistance is conditional – the bulk of market participants can be guided by the level of 260 rubles. If we talk exclusively about the technical picture, then the risks are shifted towards the breakdown of support and a pullback to the area of ​​255 rubles. But if we take into account the strong fundamental factor in the form of high gas prices, then the quotes may well return to growth. A combined scenario is also possible, in which the failure to 255 rubles. will be replaced by a new wave of an uptrend.
The mid-term outlook on the stock remains positive. The uptrend looks quite stable: local minimums are growing, drawdowns are shallow and quickly redeemed, trend indicators are looking up. Overbought on oscillators has decreased over the past three days, which may indicate a potential decrease in pressure on shares from sellers.
Nearest support levels: 257/255 / 252.5
Nearest resistance levels: 260/264 / 268.4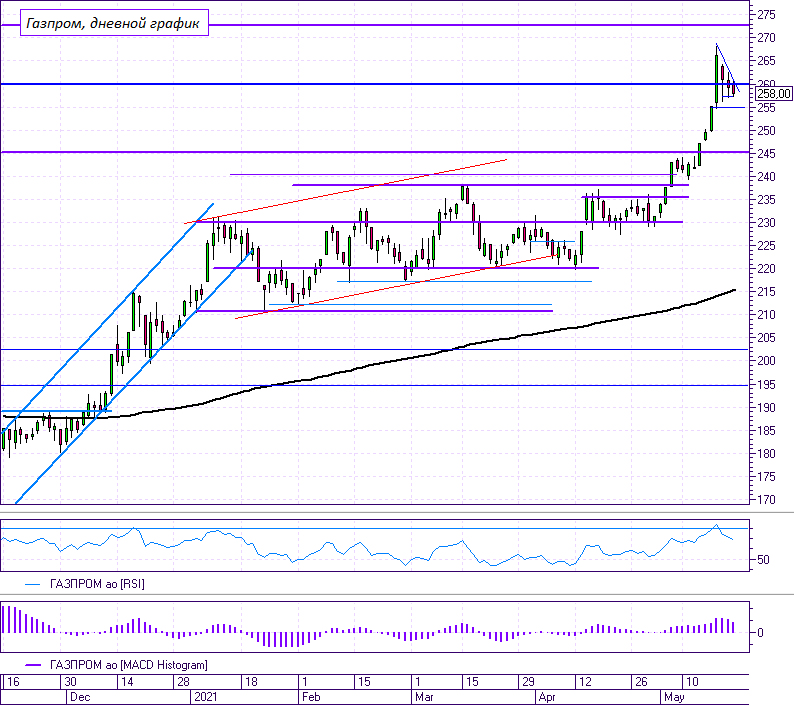 External background
The external background is neutral in the morning. American indices declined slightly after the close of the main session at the Moscow Exchange. Asian indices are trading in positive territory. S&P 500 futures are up 0.2%. Brent crude is up 0.3% today. Futures on Gazprom shares lost 0.02% during the morning session. All this suggests that if the background remains unchanged, the opening will take place near the closing level of the previous trading day.
Long-term picture
Gazprom shares have returned to pre-pandemic levels, and the situation on the gas market allows us to hope that the growth will continue. High prices for hydrocarbons, the prospect of high dividends and the likely completion of Nord Stream 2 may support quotations and contribute to the movement above 300 rubles. per share.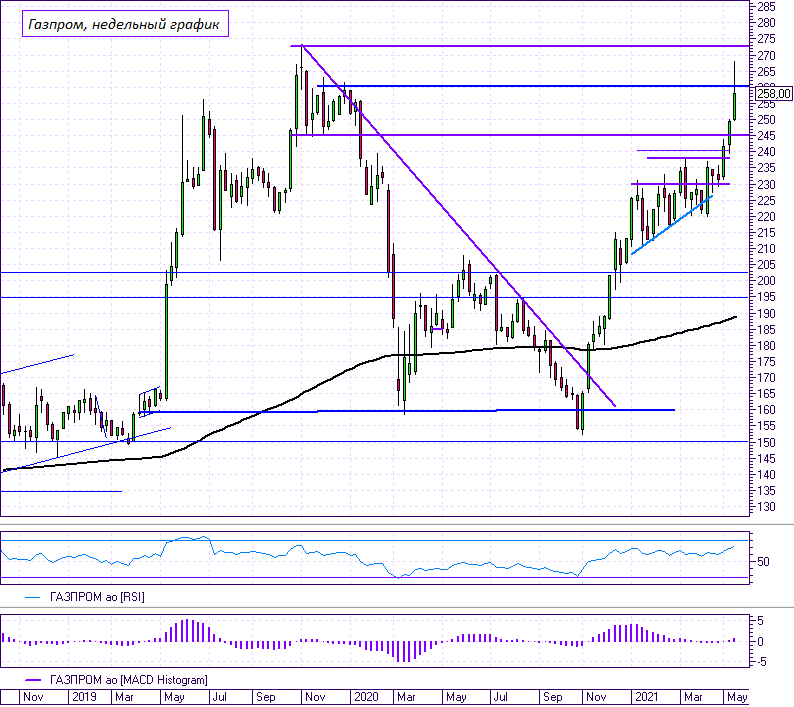 More forecasts and news on the Fortrader channel in Telegram
Market forecasts, analytics and stock news