Evotrade is an online forex broker whose goal is to provide its clients with the ultimate trading experience. Several reasons they suggest you choose them include:
ethical terms of trade;
security of funds;
fast execution;
a rich experience.
Examine the website and the services provided to see if the evotrade.com broker is actually achieving its goals.
Step-by-step registration in your personal account – where to start
Opening an account on the Evotrade website is quick and easy. You simply fill out the form on the website, confirm your email address and submit your ID for verification. The process takes about 10-15 minutes, and once completed, you can fund your account and start trading. Support is available if you need help with the process.
What you can trade with Evotrade broker
Evotrade offers traders a huge range of instruments including forex, cryptocurrency, indices, metals, energy and other trading instruments.
Currency pairs
Trade a wide range of currency pairs, including major, minor and cross rates, with competitively low spreads and instant execution.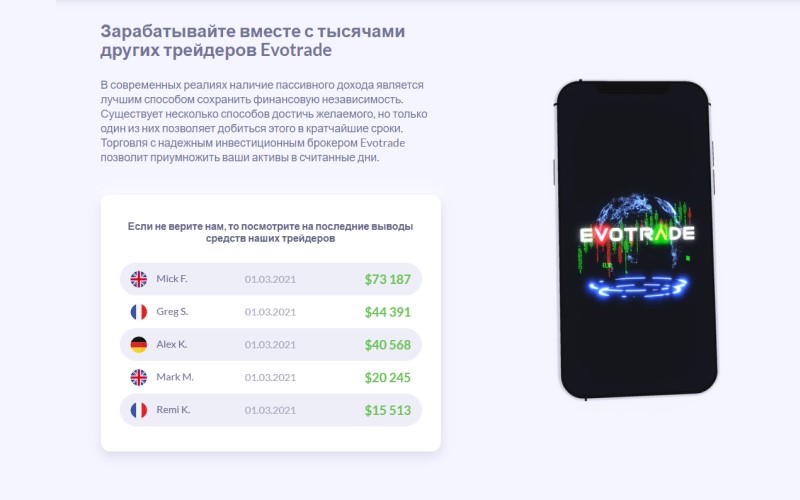 Indexes
Trading indices allows you to trade a portfolio of the best stocks that reflect the performance of a country's economy or business sector. Spreads are very competitive while traders can trade long or short. If you leave the position open until the next day, there will be no additional costs.
Precious metals
Manufacturers use gold, silver and platinum to make electronic components, jewelry, dental equipment, and catalytic converters, among others. On the other hand, traders have the opportunity to trade price differences on the Evotrade website.
Cryptocurrencies
Due to the widespread popularity of cryptocurrencies, traders on the Evotrade broker's website can trade well-known tokens. Evotrade supports Bitcoin, Ethereum, Litecoin, Dash and Ripple trading.
Energy carriers
Energy trading is carried out in accordance with a wide range of market rules and regulations that have been established in different ways around the world.
Demo account for beginners – test yourself without risk
Evotrade also provides a demo account if you are in doubt about whether to open a live account. The biggest advantage of using a demo account is that it allows you to practice your skills without risking money. Since you will have no fear of loss, you will be able to execute all types of transactions and see how they work for you. If you lose your virtual money, then you shouldn't take it as a failure, because it is not real money. However, you will need to view this transaction as a vital lesson that you should avoid in the future when using a live forex trading account.
Withdrawal of earned money and account replenishment
Deposits and withdrawals from your Evotrade trading account are quick and easy with several methods available for all individual needs, including bank transfer, credit card, and e-wallets such as PayPal and Skrill. Some methods may have additional fees and you will have to cover the exchange rate if you deposit in a currency other than your bank's currency. Accounts can be opened in euros, US dollars, pounds sterling, etc.
Personal bonuses from the online broker Evotrade
To keep up with the times and always be on par with competitors, the broker offers various bonuses, including personal ones. You can find out the conditions for their receipt and use on the website. You can also contact support directly for details.
Additional earnings on your dividends
In addition to the potential rise in share prices, receiving dividends can be an attractive incentive for many investors. Evotrade experts study dividends in detail, including how they work, when they are paid and how they affect stock prices.
Dividends are a portion of a company's profits that it decides to return to its shareholders. This is one of the ways in which a shareholder can make money on investments without having to sell shares. Dividends are paid based on how many shares the investor owns and can be paid monthly, quarterly, semi-annually or annually. As soon as the broker receives the dividend payment on any of your shares, it will immediately credit it to your account. You can either reinvest the payout or withdraw it.
Features of the MT5 trading platform, WebTrader and others
Evotrade offers two main trading platforms and several additional ones: the very popular MetaTrader 5 (MT5) and the award-winning WebTrader. Both platforms are designed to provide optimal performance for new and advanced traders through easy-to-use interfaces and advanced charting tools.
One of the main advantages of these platforms is their simplicity, which makes the programs popular among new traders. That being said, both platforms still have enough advanced features for more experienced traders. They have a fast learning curve and a wide range of built-in indicators for in-depth chart analysis of various markets.