The statistics on US crude oil inventories brought noticeable relief to the market, as it strengthened the view that production is recovering slowly, even despite the warming in the US. Stocks fell by ~ 5.9 million barrels, more than doubling the forecast. Gasoline inventories also declined, and more than expected, indicating strong consumer demand.
The report apparently came as a surprise to the market. The release prices jumped up, breaking through the range that formed after the last oil mini-collapse:
Fixation above the upper border of the trading range allows counting on the resumption of growth. Production in the US is indeed recovering slowly despite the fact that the number of oil rigs is growing, i.e. on the supply side, the picture is still quite favorable for price growth: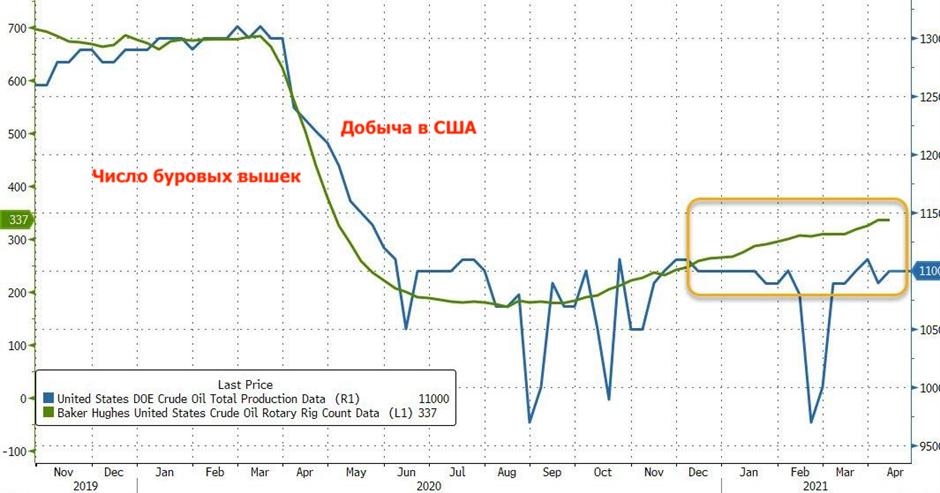 The IEA's monthly report released on Wednesday also pushed prices higher. The agency has significantly raised its forecast for oil consumption in the second quarter of 2021, which makes it possible to count on the market to better cope with the forthcoming increase in OPEC production.
The geopolitical factor also accompanies the rise in oil prices. The chances of a quick conclusion of a nuclear deal between Iran and the United States have diminished due to the escalation of the conflict between Israel and Iran, which means that a quick return of Iranian barrels to the market (potential 2 million bbl / d) is not to be expected.
Another piece of data on inflation in the US again exceeded expectations, but the market response was small. Import and export prices for March were significantly higher than the forecast, indicating that supply is not keeping up with demand. This is a perfectly reasonable assumption, given the series of fiscal stimulus in the US that has sparked a surge in consumer demand. By looking at prices in terms of their signaling function to producers, firms will begin to adjust their output in response to price increases, so we first need to see inflation.
It is becoming increasingly difficult for the Fed to maintain the status quo amid hints of inflation coming from "all the cracks in the economy". Therefore, commenting on what is happening, officials are increasingly saying that inflation is not a problem and monetary incentives are not endless. Yesterday the head of the Central Bank Powell said that the curtailment of QE will begin "much earlier" than the rate hike, and the Fed is going to keep rates at the current level at least until the end of 2022 (previously the deadline was until the end of 2023).
The early withdrawal of monetary incentives is one of the main threats to the growth of risky assets. An important component of their fundamental assessment is the cost of financial resources, which justifies their high sensitivity to any hints about an early tightening of the Central Bank's policy.
How to manage deals? 17 methods from a practicing trader. Read life hack
Market forecasts, analytics and stock news