Company Nokia Corporation (NYSE: NOK) increased revenue in the first quarter of 2021. This event turned out to be a complete surprise for investors. According to experts' forecasts, Nokia's revenues in the first quarter were expected at the level of USD 5.65 billion, while the actual figure turned out to be USD 500 million higher. As a result, the price of shares at the moment has risen in price by more than 10%.
In today's article, we will analyze what contributed to the increase in the company's revenue, and whether there is potential for its further growth.
Nokia Corporation
Nokia Corporation is a Finnish multinational company that manufactures telecommunications equipment for mobile, fixed and broadband networks. In the 2000s, the company was the leader in the mobile phone market, but then gradually began to lose share, giving way to Samsung.
Nokia and Microsoft collaboration
To strengthen its position in the market, Nokia began to actively cooperate with Microsoft Corporation (NASDAQ: MSFT), as a result of which it had to abandon its Symbian operating system and move to Windows Phone. This event further aggravated Nokia's position and the company sold its mobile business to Microsoft.
In 2016 Nokia decided to return to the mobile phone market and entered into an agreement with HMD Global Oy, which now makes smartphones under the Nokia brand, while the company has plunged into the development of the next generation of 5G wireless networks. And now the moment has come when you can collect the fruits of your activity.
Sanctions against Huawei
In the 5G market, a Chinese company was a serious competitor to Nokia Huawei, but intervened in the matter Donald Trump, which imposed sanctions on Huawei, thus clearing the market for Nokia and other companies.
In May 2019, Donald Trump imposed a state of emergency to protect US communications networks and blacklisted Huawei. In fact, this meant a ban on the purchase of Huawei products by American companies.
Following this, the British government ordered operators to abandon Huawei equipment. Further, India and Sweden joined the "movement against", and eventually the entire world business began to gradually curtail cooperation with Huawei. The share of Huawei in the global market was significantly reduced and competitors, including Nokia, rushed to take it. It was this event that led to a sharp increase in the company's revenue.
Nokia contracts in April
Now Nokia continues to actively promote its services in the market for 5G wireless networks. In April, almost every two days, news about the concluded contracts of the Finnish company was published.
Companies from all over the world were among Nokia's clients. So, Telefonica Spain signed a contract to upgrade its IP network, which will allow it to increase the number of subscribers and provide them with 5G wireless services.
American NewCore Wireless announced a partnership with Nokia to deploy a wireless network for rural and hard-to-reach areas. This will allow the population to work remotely in a pandemic, and will also help reduce unemployment in these regions.
Claro chile chose Nokia to equip Gold Fields Salares Norte mine with high-performance 5G wireless network. Mining operations require reliable networks that can span both large surface areas and deep underground corridors. Nokia's solution will connect thousands of workers, machines, sensors and equipment into one network. This will help improve safety at the site, which is very important in the mining industry.
Company KATCH Network also wished to be among the customers of Nokia. KATCH provides telecommunications services in Aichi Prefecture in Japan. Together with Nokia, the company plans to equip enterprises with industrial-grade autonomous wireless networks.
Chunghwa Telecom chose Nokia to expand 5G coverage in Taiwan. With the help of Nokia's equipment, Chunghwa Telecom plans to achieve 80 percent population coverage and increase its subscribers by 20 percent.
On April 19, Nokia signed a contract with a South Korean mobile operator LG Uplus, according to which the Finnish company will help in the deployment of indoor 5G networks.
Chinese China Mobile also listed among Nokia customers. On April 13, it became known that the Finnish company will be involved in the deployment of the China Mobile cloud service.
And this is not a complete list of all new Nokia contracts since the beginning of this year. If I described each of them separately, then this article would be 2 times longer. Nokia's vigorous activity in the first quarter will naturally translate into further revenue growth in subsequent quarters.
Competition with Samsung
Since the introduction of sanctions against Huawei, Nokia has been actively capturing the wireless network market, but competitors are also on the alert, and the company still lost a contract with one very large customer.
In September 2020, it became known that Nokia had lost a contract for the supply of new 5G equipment for the largest cellular operator in the United States – Verizon Communications Inc. (NYSE: VZ). The amount of the contract was 6.64 billion USD and it went to a competitor – a Korean company Samsung Electronics…
This event disappointed Nokia investors, and securities began to plummet in price. In two months, shares fell 65%.
Yes, Nokia lost the contract, but big customers like Verizon always work with multiple vendors to diversify risks and Nokia continues to partner with the mobile operator, but not on the same scale as Samsung.
Investors put their trust in the company again
By November 2020, Nokia shares were worth 3.20 USD, and this price still attracted investors, as the company continued its active activity in the 5G market, and the loss of one contract could not put an end to global companies.
The shares gradually began to rise in value and in January reached the level of 4.20 USD, bringing investors 1 USD for each purchased share. Perhaps the securities would have continued to gradually grow in value if one random event had not happened that had nothing to do with the company and its activities.
Reddit and Nokia
Community members Reddit rushed to buy shares GameStop (NYSE: GME), since they found a large number of short deals in this security and wanted to force shortists to close their positions, which would provoke demand for GameStop shares now from sellers. And they did it. In 15 days, the company's shares rose from USD 20 to USD 490 per share. Inspired by the success, Reddits rushed to buy up shares of other companies with high Short Float.
A complete mess began in the community: many who previously bought shares and kept them in their portfolio also wanted them to rise in value. And since in a short period of time the number of members in the community has grown to several million users, as soon as someone wrote the ticker of the company, everyone began to buy these shares and only then figure out what they bought.
Nokia was one of those companies. The issuer's short float did not exceed 2%, and a scheme like GameStop was not applicable to this company.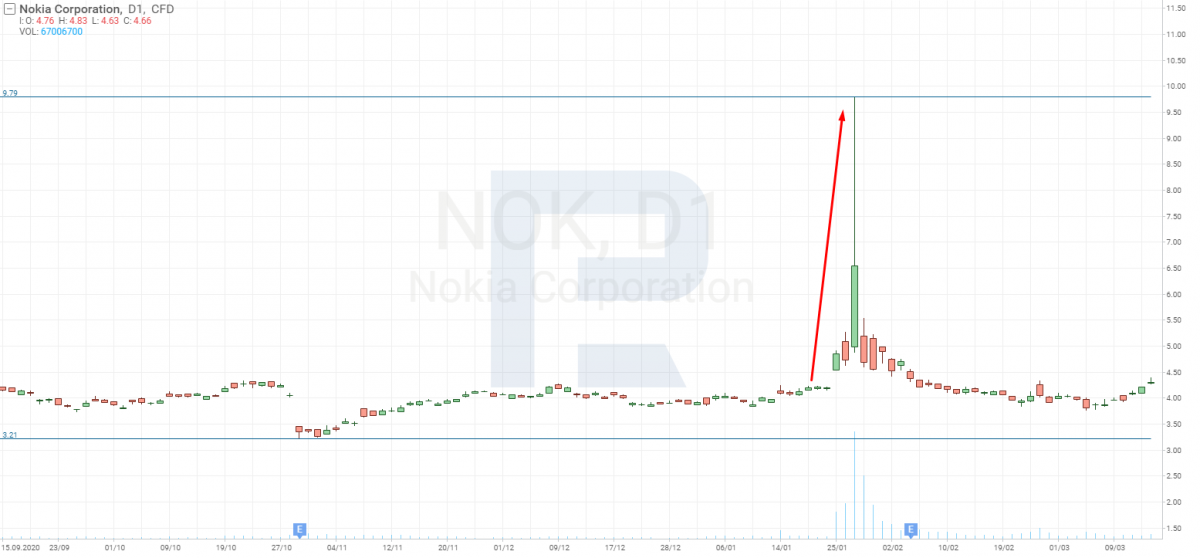 However, for some inexplicable reason, Reddit members from the numerous tickers in this community turned their attention to Nokia and started buying shares of the issuer. As a result, in three days the securities rose in price by 130%, after which, of course, a drop in quotations followed. And investors who had previously bought Nokia shares with a long-term perspective, taking advantage of the situation, began to take profits. This event caused the price to fall below 4 USD.
Right now, Reddit members are oblivious to the company, and Nokia stock is once again becoming popular with long-term investors. The shares consolidated above the 4 USD level and continued to trade in a narrow range until the company published its quarterly report.
Nokia quarterly report
According to the results of the first quarter, the company's revenues increased by 14% compared to the same period last year and reached the figure of 6.2 billion USD. EBITDA increased by 380% and net profit reached USD 315 million. After a disastrous 4 quarter, Nokia is once again making a profit. Revenue growth was driven by 5G equipment sales and an 18% decrease in administrative expenses.
After an unexpectedly strong report, the CEO Pekka Lundmark pledged to do his best to make Nokia a leader in 5G.
Output
The sanctions on Huawei were imposed less than a year ago, but Nokia's financial reports are already showing us the effect of this event. The Finnish company's active activity in the wireless network market will definitely affect its revenues this year, and we will see Nokia's revenue growth more than once.
Stock market investors live on expectations. They will price future earnings gains and buy stocks. Therefore, the potential for further increase in the value of securities still remains.
Invest in American stocks on favorable terms! Real shares on the R Trader platform from $ 0.0045 per share with a minimum commission of $ 0.25. You can try your trading skills in the R Trader platform on a demo account or open a real trading account, for this you just need to register on the RoboForex.com website and open an account.
---