Trading results
In the previous trading session, shares of the Moscow Exchange rose by 0.06%, closing at 162.89 rubles. The papers looked approximately at the market level. Trading volume amounted to over 786 million rubles.
Short-term picture
On Monday, Moscow Exchange shares began to show a recovery after last week's decline, but yesterday this trend faded away and the price was able to gain a foothold slightly above the previous resistance (162.8).
The technical picture is neutral at the moment. Oscillators Beas and Bulls Power report a slight dominance of buyers. The RSI indicator on the daily chart is above the neutral value (50). And the MACD curves did lie on top of each other and move in a neutral direction – a signal of the trend direction uncertainty.
The external background is neutral this morning, but shows slight improvements. Without support, buyers will find it difficult to resume growth, so today it is possible that the movement in the range of 163-161.5 rubles. If a short-term incentive is still found, then a breakdown of 163.3 rubles may occur. from bottom to top, which will open the way to levels above 165 rubles.
Taking into account the previous negative and market uncertainty, the scenario of a repeated decline is not excluded. This is signaled by a decline below 160 rubles, which may again lead to a test of 156 rubles, where the 50-day moving average is slightly higher.
Resistances: 163.3 / 167.6 / 169
Supports: 156 / 152.8 / 150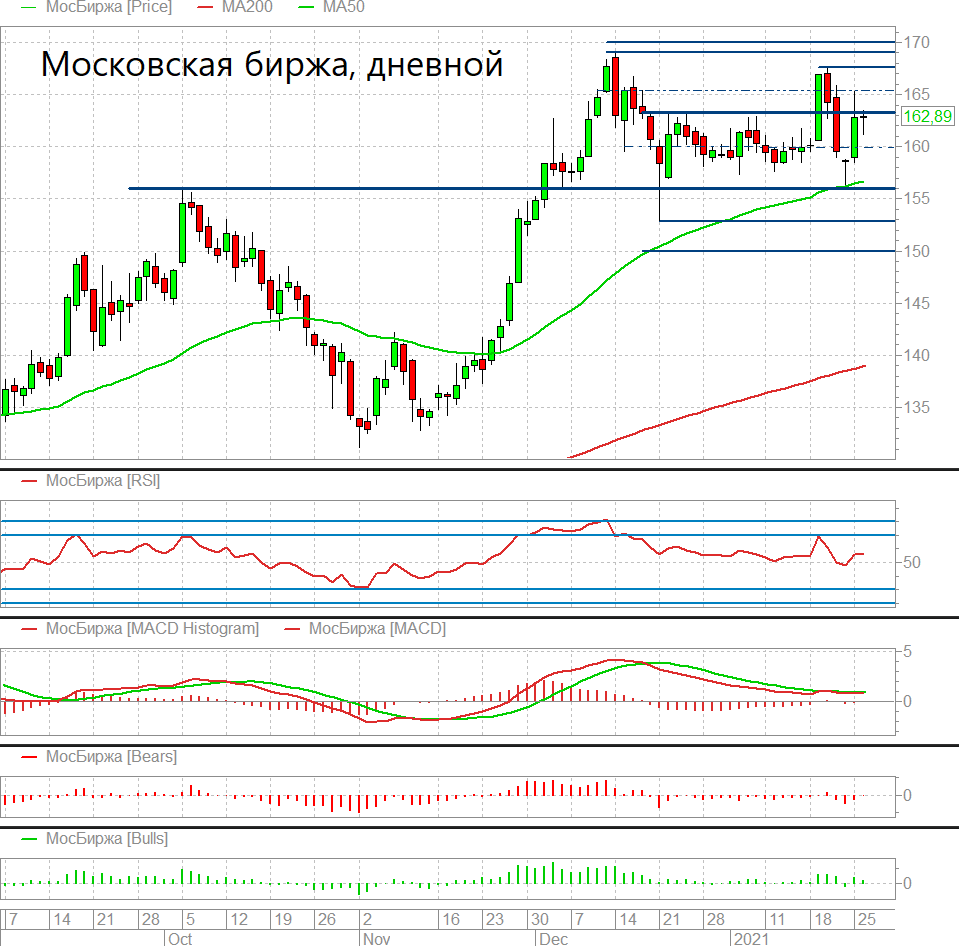 External background
The external background is neutral this morning. American indices after our close on Tuesday remained at about the same levels. Asian sites are trading in different directions today and do not show uniform dynamics. Futures on the S&P 500 index are down 0.08%, Brent oil is up 0.43% and is near the level of $ 56.15.
Taking into account the results of the previous evening trading, it can be assumed that if the current background persists, the opening on the Moscow Exchange shares will take place near the closing level of Tuesday.
Long-term picture
Long-term expectations are positive. There has been an upward trend since March last year. The trend indicators on the weekly chart are directed upward at the moment. The RSI indicator is slightly below the overbought zone. MACD curves tend to cross.
The likely scenario is now that stocks will rise, but at a less rapid pace than at the beginning of the uptrend. The current task of buyers is to break above 170 rubles, then levels above 180 rubles will become the new benchmark. The negative scenario is that the price will fall below 130 rubles: the upward trend will be broken, and a decline to 128-125 rubles may begin. Such a scenario is not yet expected, but a correction or continuation of sideways consolidation is not ruled out.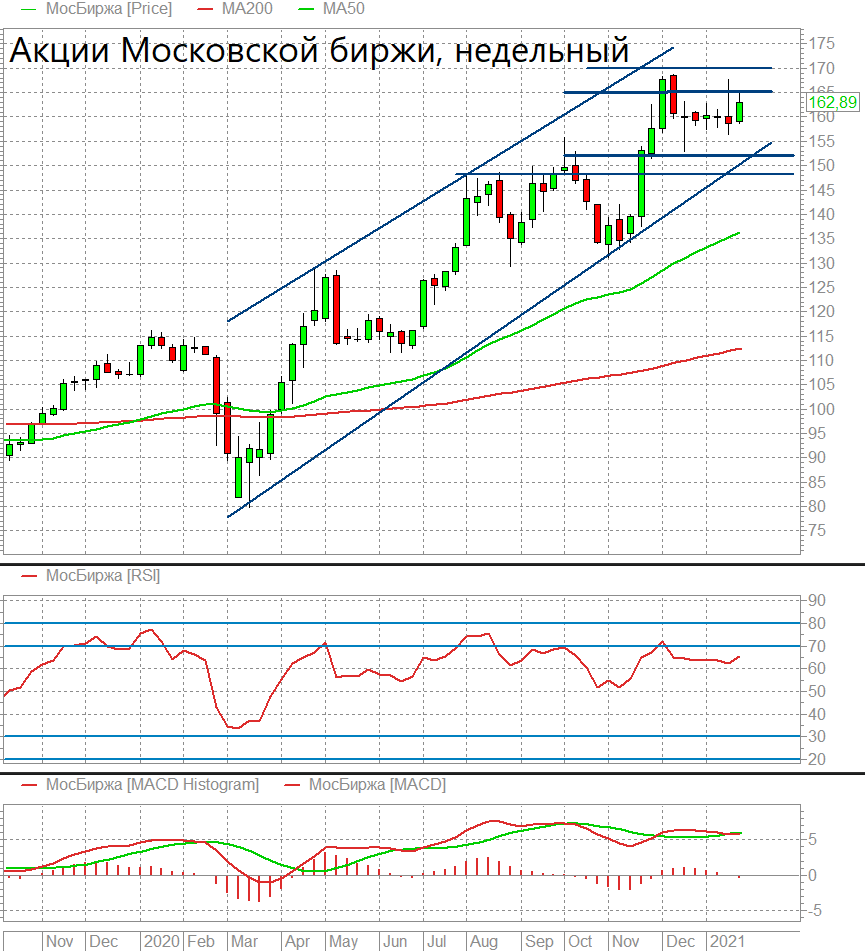 More forecasts and news on Fortrader's channel Telegram
Market forecasts, analytics and stock news