Trading results
In the previous trading session, MMK shares fell 1.76%, closing at around 52.14 rubles. The papers looked worse than the market. Trading volume amounted to more than 1.6 billion rubles.
Short-term picture
MMK shares stopped testing technical resistance, instead, the price returned to the 50-day moving average. Oscillators Bears and Bulls Power are reporting an increased lead for sellers.
MMK shares no longer look overbought by RSI, but risks of a deeper correction still remain. If the level is 51.5 rubles. will be passed from top to bottom, the new reference point will be the range of 50.5-49 rubles.
However, today the external background is positive, which can support buyers. In this case, the goal will be the same – 54 rubles. Overcoming the level from the bottom up opens the way to 57 rubles. in the medium term.
The overall technical picture looks uncertain, which is due to the fact that the price is in the range of support and resistance of the last 7 trading sessions – 54-51.5 rubles. It is difficult to assess the short term while sideways consolidation is taking place. The mid-term outlook remains moderately positive, but a deeper correction is not ruled out either.
Resistance levels: 54/55 / ​​56.7
Support levels: 51.5 / 50.2 / 49.5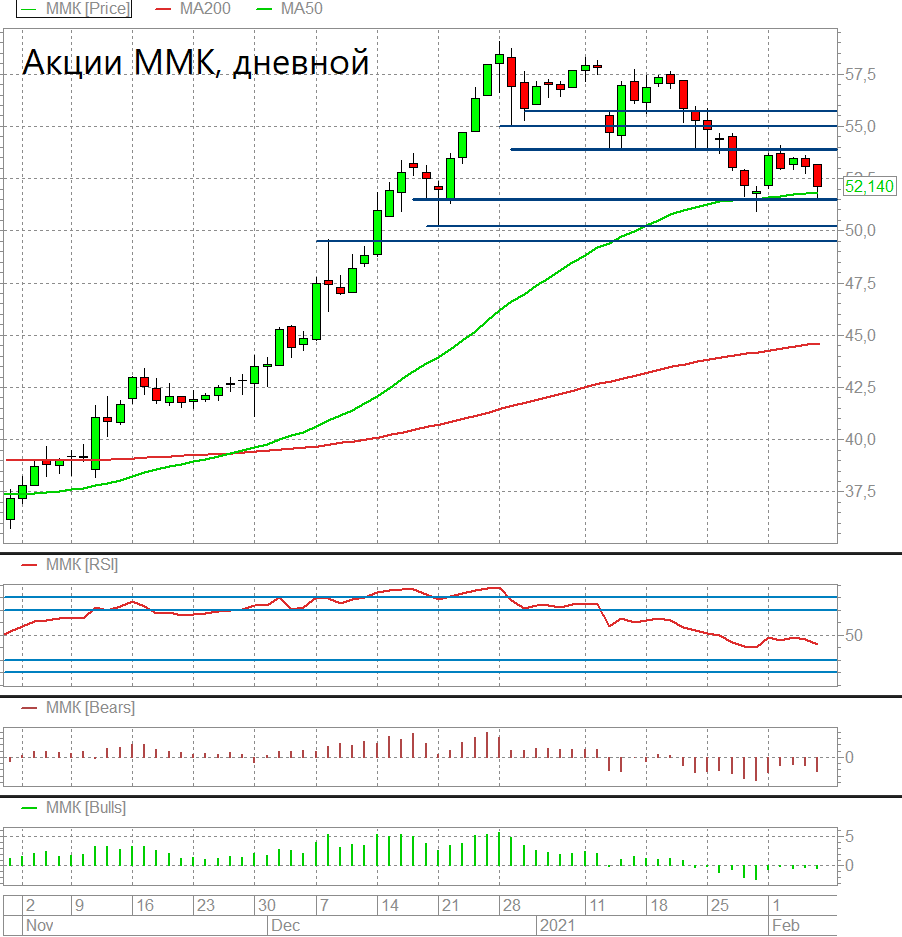 External background
The external background is positive this morning. American indices after our close on Friday remained at about the same levels. Asian sites are currently trading mainly in positive territory. S&P 500 index futures are up 0.44%, Brent oil is up 0.96% and is around $ 59.9.
Taking into account the results of the previous evening trading, it can be assumed that if the current background persists, the opening of MMK shares will be slightly higher than Friday's closing level.
Long-term picture
On the weekly chart, trend indicators show an upward direction. RSI indicator has left the overbought zone. MACD curves tend to cross, which can serve as a signal for further price decline, that is, the risk of continuation of the correction increases.
Financial performance may improve in 2021 due to the planned increase in production. Now this is a driver of growth or maintaining a relatively high price. The long-term outlook is moderately positive. Buyers need to gain a foothold above 60 rubles, which will open the way to levels above 65 rubles.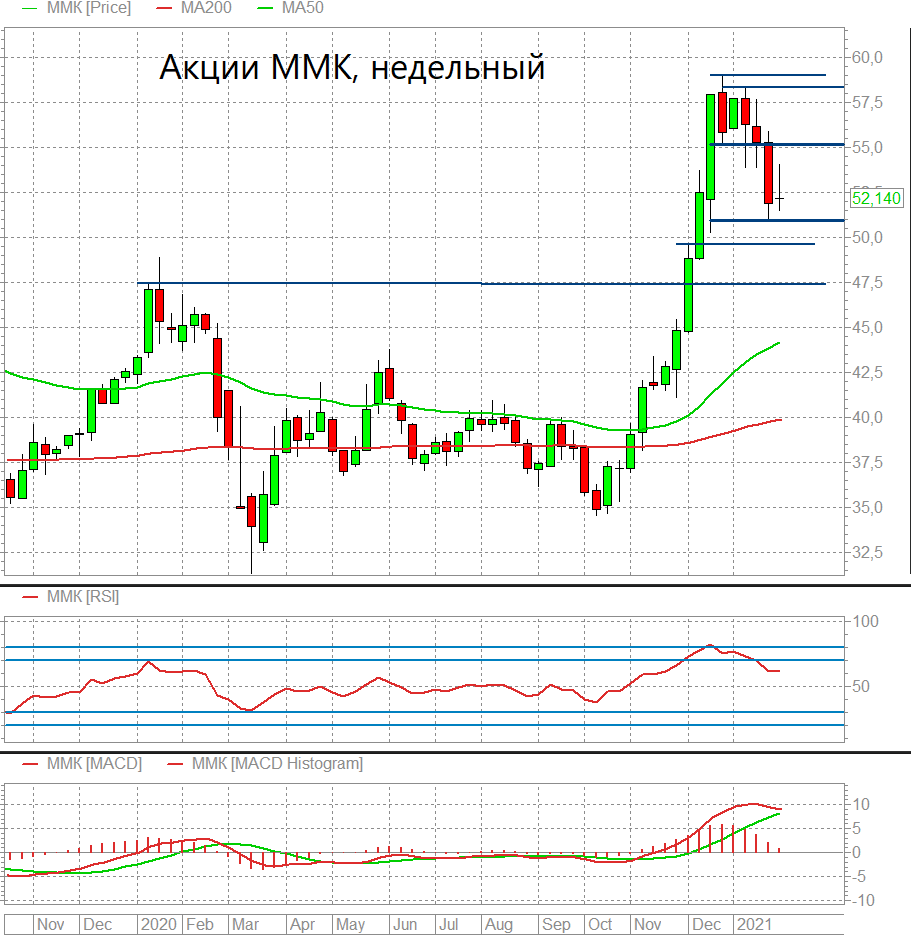 More forecasts and news on Fortrader's channel Telegram
Market forecasts, analytics and stock news