Trading results
On the previous trading day, Lukoil shares fell 1.27%, closing at 6363 rubles. The paper outperformed the market, which sank 2.28%. The volume of trades in a share on the main market amounted to RUB 10.2 billion. with an average monthly of 10.7 billion rubles. The 5-day average daily range is 300 minimum steps.
Short-term picture
Lukoil shares on Wednesday declined along with the market, but by the end of the session showed more stable dynamics. The rising wedge on the 4-hour chart widened due to the formation of a new local low, which cannot be called a positive signal. At the same time, the stability of the stock against the market and the rebound formed in the evening session give hope for a recovery if sentiment improves. At the same time, the growth potential is still limited by the pre-pandemic price zone of 6500–6560 rubles. For a more significant rise in drivers has not yet been observed.
In the implementation of the correctional scenario, the depth of the first downward wave will be of interest. If the local minimum is above RUB 6150. (the level of the 50-period average on the 4-hour chart), then this will be a good help for a quick recovery. In the event of a deeper drawdown before updating the tops, we can see horizontal consolidation in the region of 6000–6300 rubles.
Nearest support levels: 6300/6200/6100
Nearest resistance levels: 6500/6560/6600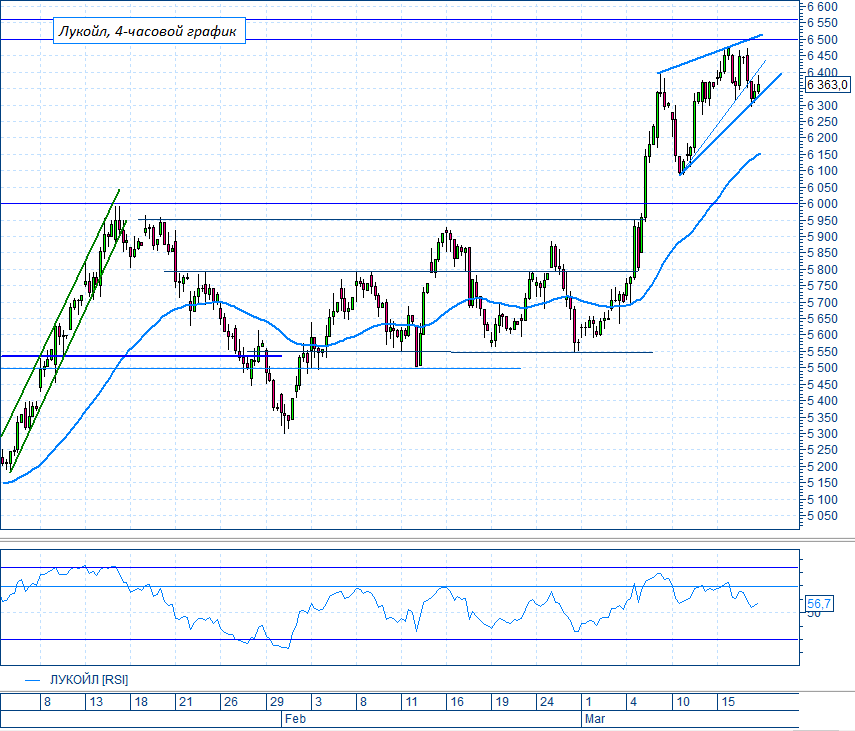 External background
In the morning, the external background is developing moderately positive. American indices rose after the close of the main session at the Moscow Exchange. Asian indices are trading in positive territory. S&P 500 futures are up 0.08%. Brent crude is down 0.2% today. All this suggests that if the background persists, the opening will take place near the closing level of the previous trading day.
Long-term picture
After leaving the protracted consolidation in the region of 5500-6000 rubles. Lukoil quotes are ready to continue recovery. The upside potential is located in the area of ​​the levels of the beginning of 2020, when the quotes indicated an all-time high at around RUB 6,810. The record can be rewritten. The psychological level that investors can focus on as a target for fixing profits may be 7,000 rubles.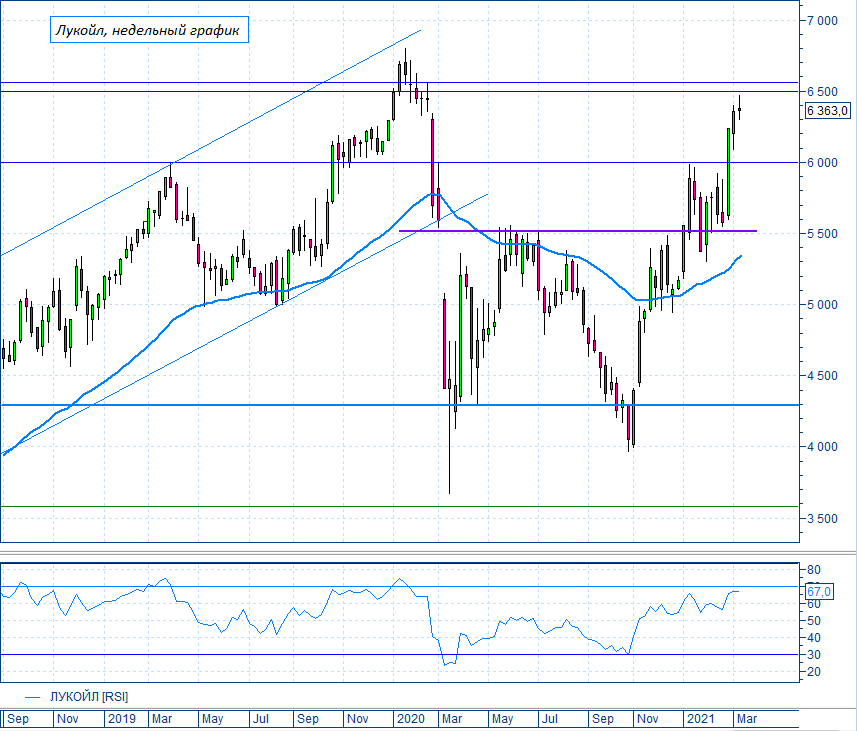 More forecasts and news on the Fortrader channel in Telegram
Market forecasts, analytics and stock news