Trading results
On the previous trading day, Lukoil shares fell 2.58%, closing at RUB 5,711. The paper looked worse than the market, which added 0.04%. Trading volume for the share on the main market amounted to RUB 7.7 billion. with an average monthly of 6.5 billion rubles.
Short-term picture
Lukoil securities on Thursday updated their lows and found support only at around 5700 rubles. After the breakdown of the inclined resistance in early May, the quotes failed to build a new growing wave, but even stayed in the sideways range, which can be regarded as a clear sign of the weakness of the security. In such a situation, it is difficult to count on any significant growth, except for a local rebound after reaching the bottom.
About the bottom. Yesterday the quotes crossed the inclined trend line, broken at the beginning of the month, in the opposite direction. Some market participants may perceive this signal as the realization of the correction potential. The signal is very weak and subjective, although when sentiment warms, it may well work out. This morning, no such positive background has been observed, and speculators can be careful before the weekend. The only positive confirmation signal is the 3-month maximum oversold level on the RSI oscillator on the 4-hour chart. In my opinion, it is too early to bet on the recovery, although for medium-term and long-term investors, price levels may be quite profitable for building up long positions.
Nearest support levels: 5700/5650/5550
Nearest resistance levels: 5760/5850/5950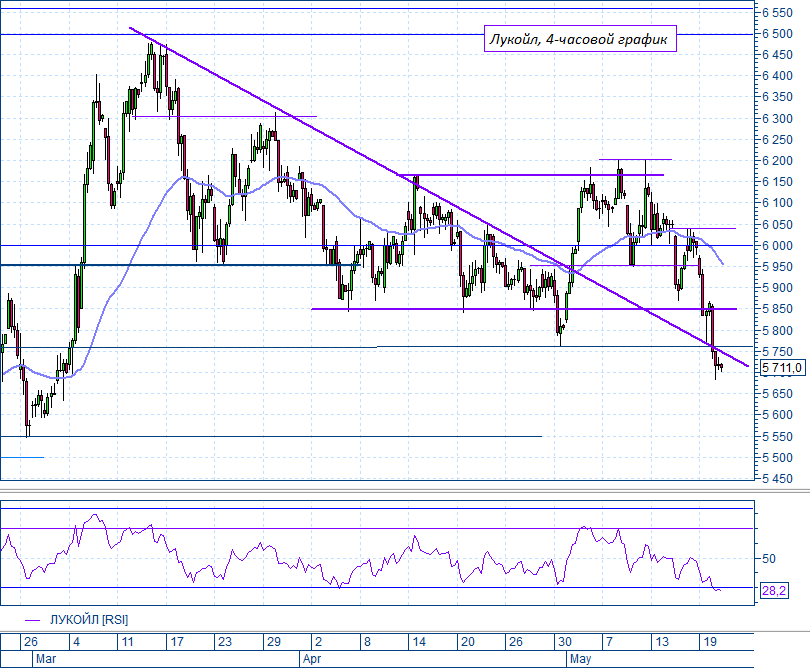 External background
The external background is neutral in the morning. American indices remained at the same levels after the close of the main session at the Moscow Exchange. Asian indices are trading in negative territory. S&P 500 futures are up 0.1%. Brent crude is up 0.1% today. Futures on Lukoil shares added 0.00% during the morning session. All this suggests that if the background remains unchanged, the opening will take place near the closing level of the previous trading day.
Long-term picture
After leaving the protracted consolidation in the region of 5500-6000 rubles. Lukoil quotes are ready to continue recovery. The upside potential is located in the area of ​​the levels of the beginning of 2020, when the quotes indicated an all-time high at around RUB 6,810. The record can be rewritten. The psychological level that investors can focus on as a target for fixing profits may be 7,000 rubles.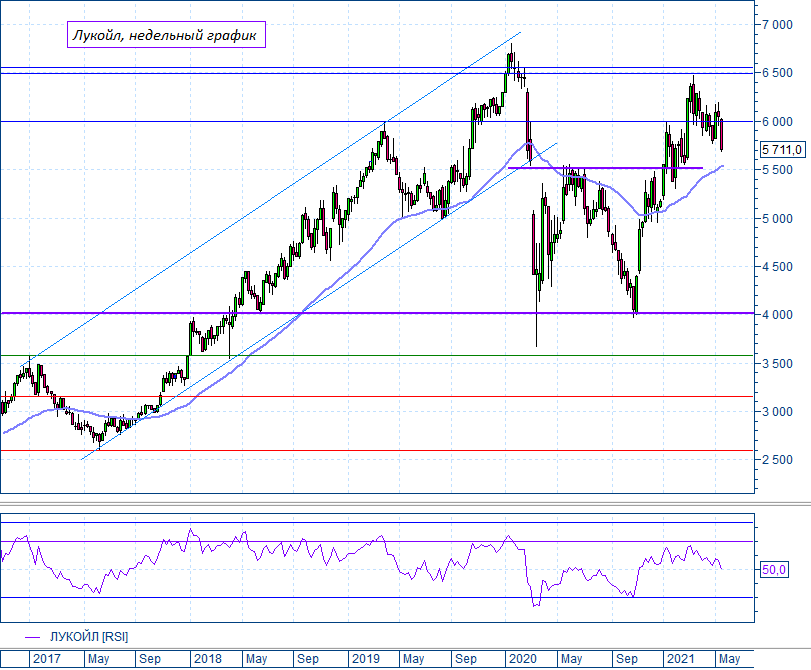 More forecasts and news on the Fortrader channel in Telegram
Market forecasts, analytics and stock news