The world of mobile games has been developing very dynamically in recent decades. The advent of smartphones has breathed new life into it: some mobile games even compete with their versions on the personal computer. The economics of such applications allows developers to profit and grow the industry. To create games, you need an infrastructure that allows you to create a product, monetize it, and conduct analytics.
The developer of the platform for creating mobile games, the company Applovin Corporation, filed on March 2 with the SEC an application for an IPO on the NASDAQ stock exchange with the ticker "APP". The company was founded in 2012 and is headquartered in California. Applovin Corporation is focused exclusively on games, which sets it apart from other companies that develop platforms for creating applications. Let's talk more about its business model and financial results, based on which is how we will evaluate how interesting its shares are to investors.
Business Applovin Corporation
Applovin has developed a platform for creating gaming mobile applications that developers use. They get a streamlined system for their business development, marketing and monetization. It should be noted that the most advanced part of this design is marketing. In the gaming business, as in any other business, selling a product is almost more difficult than creating one.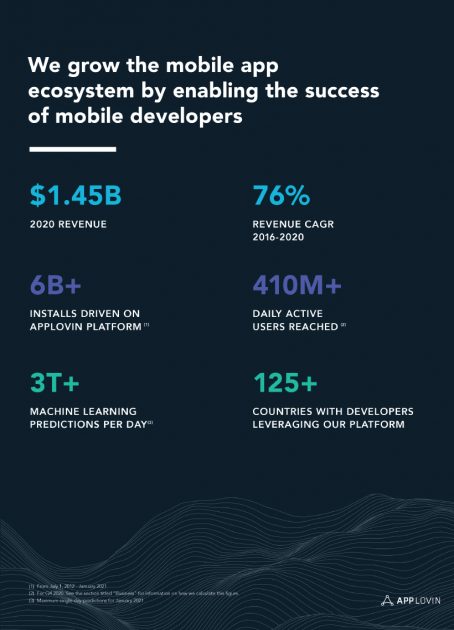 The platform is based on the following elements:
AXON: A machine learning based recommendation platform that predicts and matches users with relevant ad content. Thanks to this mechanism, advertisements for an application will appear on the device of the user most interested in the product. AXON processes almost 10 terabytes of data per day, based on which it makes over 3 billion predictions. This data is provided by the built-in App Graph, which reads and stores anonymous data from hundreds of millions of devices around the world.
MAX and AppDiscovery software. The latter coordinates supply and demand in the advertising market through an auction mechanism. MAX regulates the cost of advertising resources by adjusting the rates in the application.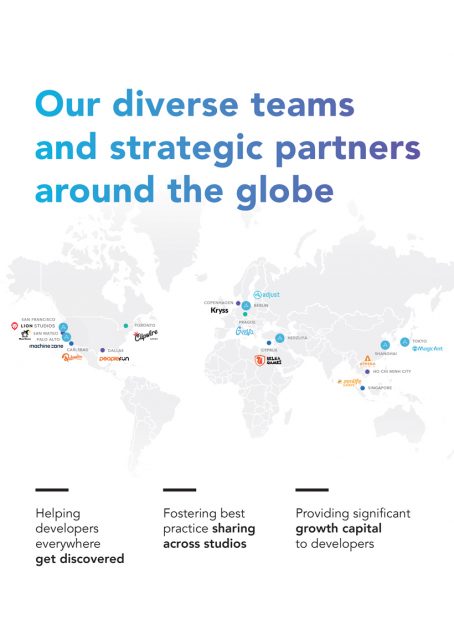 In 2018, the company began creating its AppLovin Apps content development strategy. Applovin Corporation now has over 200 free games in 5 genres in its portfolio, managed by twelve studios (Owned Studios and Partner Studios). According to Sensor Tower Since 2018, 31 games from the company's portfolio have regularly made it into the top 10 most popular.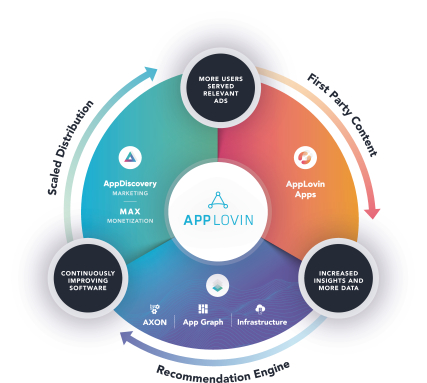 Applovin Corporation has spent over USD 1 billion on acquisitions and mergers of 15 strategic companies. Among them are such gaming companies as Redemption Games, Clipwire Games, Machine Zone, and Geewa… Applovin is still in a series of acquisition or acquisition negotiations. The company now has over 705 million active users, with a monthly reach of 2 billion devices. All this opens up great prospects for the company, so let's talk about the mobile games market.
Market and Competitors Applovin Corporation
According to Sensor Tower, the market for gaming mobile applications in 2020 was 189 billion USD. By 2024, it will reach USD 283 billion with an average annual growth rate of more than 12%. Of all downloaded applications, games make up about 39%, but they occupy 79% of the consumer spending market in the respective stores. If readers have children under 5 years old, then at least once they have definitely asked you to buy them a miracle sword to complete a level in another toy on a smartphone.
We assess the mobile games market, as the company works with their developers. According to the same Sensor Tower, in 2019 more than 80% of games were created by 1% of developers. The company's platform fully meets their needs and allows them to effectively manage monetization, focusing on improving their product. The comprehensiveness of the customer offer sets Applovin apart from other platform developers.
The company's competitors are DraftKings Inc, Playtika Holding Corp, Unity and Roblox corp… They have already gone public, and their placement was a great success.
Financial performance of the company
At the end of 2020, Applovin Corporation recorded a loss, so for the assessment we use the company's revenue. It is important to note that the company also made a profit – we will talk about this a little later.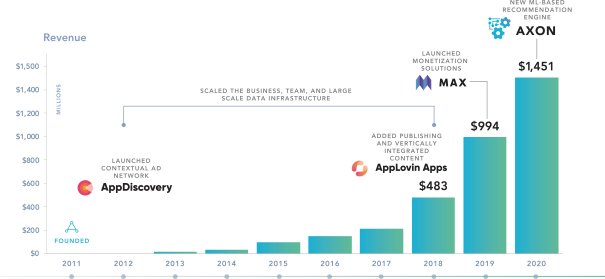 Applovin's revenue in 2020 amounted to USD 1.45 billion. The growth compared to 2019 was 45.97%. If we compare 2018 and 2019 by this indicator, we will see an even more significant growth – 105.66%. Thus, the average annual growth rate is 78.82%. Therefore, even with a slowdown in the rate of increase in revenue, we can talk about an impressive growth of the business and its market share.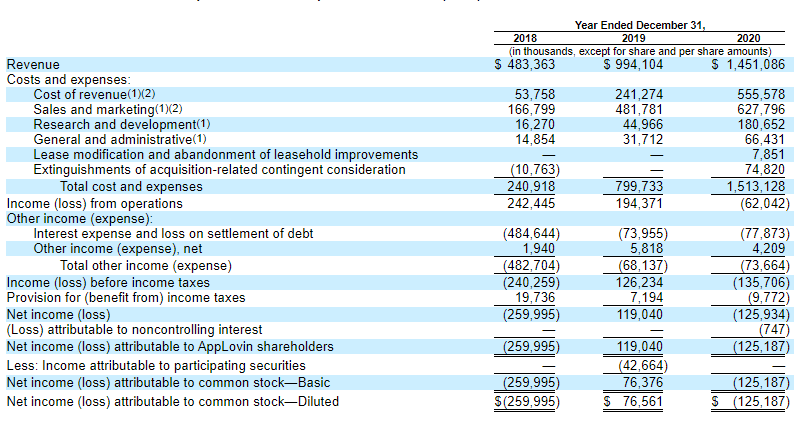 The loss for 2020 amounted to USD 125.93 million, which is almost equal to the net profit in 2019 of USD 119.04 million. In 2018, a loss of USD 260 million was also recorded. The main reason for the negative financial result is the growth of acquisition and expansion costs, so we can say that the business model itself brings net profit. If Applovin does not carry out acquisitions next year, we will be able to see net income in the report again.
In total, the company has USD 317.24 million on its balance sheet. Current liabilities amount to USD 238.88 million, so we can speak of a fairly high financial stability. Long-term liabilities amount to USD 1.17 billion.
Strengths and weaknesses of Applovin Corporation
Let's summarize the interim results of our research, highlighting the strengths and weaknesses of the company. The advantages of Applovin include the following factors:
The company's revenue is growing by over 70% on an annualized basis.
The business model is profitable.
The potential market of the company reaches 180 billion USD.
Applovin operates worldwide, not exclusively associated with the United States.
The company offers its clients a comprehensive solution to their problem within a holistic ecosystem.
Applovin applies advanced machine learning techniques to data analytics.
Risk factors include:
Volatile bottom line: 2020 closed with a loss.
The current rate of revenue growth will slow down.
High competition in the market.
The company further plans to spend funds on expansion and acquisition.
IPO Details and Applovin Corporation Capitalization Estimation
During its existence, the company raised USD 1.39 billion, and USD 400 million was raised in the last round of financing. The underwriters of the IPO were LUMA Securities LLC, LionTree Advisors LLC, William Blair & Company, LLC, Raine Securities LLC, Citigroup Global Markets Inc., Goldman Sachs & Co. LLC, Credit Suisse Securities (USA) LLC, UBS Securities LLC, Oppenheimer & Co. Inc., Stifel, Nicolaus & Company, Incorporated, Truist Securities, Inc., Morgan Stanley & Co. LLC, JP Morgan Securities LLC, KKR Capital Markets LLC and BofA Securities, Inc. As you can see, the world's leading investment structures are participating in the placement. During the IPO, the company plans to raise about USD 1 billion, but, according to Applovin, this is not yet an exact amount. These funds are likely to be spent on new mergers and acquisitions.
Since the company's net profit is unstable, we use the multiplier (ratio) P / S (capitalization / profit) to assess the potential capitalization. The average P / S in the gaming platform sector is 21.5. Therefore, the capitalization of Applovin Corporation can reach 32 billion USD. Thus, with the volume of attracted USD 1 billion, one can count on a high upside of securities in the lock-up period. Therefore, I recommend this company for medium and long term investors.
Invest in American stocks on favorable terms! Real shares on the R Trader platform from $ 0.0045 per share with a minimum commission of $ 0.25. You can also try your trading skills in the R Trader platform on a demo account, for this you just need to register on the RoboForex.com website and open a trading account.
---