Buying consumer goods on credit has long become commonplace – such a scheme helps consumers to use the necessary things and pay for them calmly during operation. Therefore, retail chains in every possible way stimulate the development of lending directly at retail outlets. As more and more purchases are made in the online space, services for issuing loans on the Internet are gaining popularity.
November 18, 2020 company Affirm Holdings, Inc., which specializes in the issuance of short-term loans for the purchase of goods, has filed an S-1 IPO application with the Securities and Exchange Commission (SEC). The placement was postponed to the beginning of January next year on the NASDAQ with a ticker AFRM, so we have time to understand the advantages and disadvantages of the issuer.
Affirm Holdings business
Affirm Holdings, Inc. was founded in 2012 by Max Levchin and Peter Thiel, who already demonstrated their management talents at PayPal. They became the ideologues of changing approaches in assessing the reliability of the borrower. According to the management of Affirm Holdings, old scoring models reduced the income of the lender and seller of goods. The Affirm platform has over 1 billion data points that allow for more loans without an increase in bad loans.
The process of purchasing goods with Affirm is as follows: a customer of an online store selects goods, and when switching to payment methods, he can choose this company among them. Further, in the application of the company, the client chooses a payment plan – it is possible to issue an installment plan.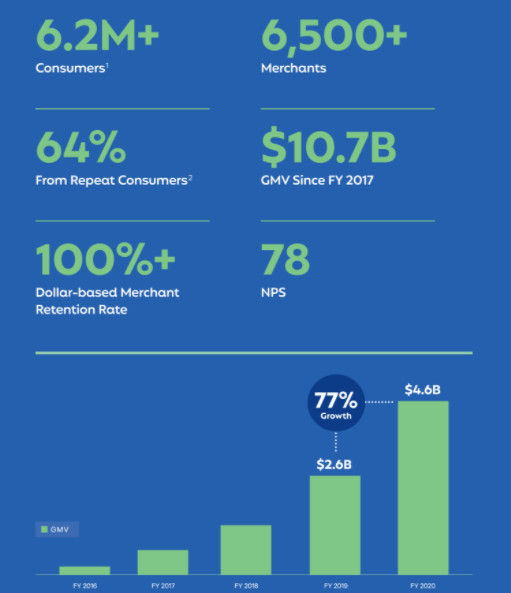 The company's scoring model increases the number of approved loan applications by 20%. This, in turn, stimulates sales and can increase the average order value (AOV). AOV estimates it could grow more than 85%.
Thanks to Affirm, customers of online stores can get an interest-free loan (installment plan), and in this case, the company earns commission from the store. It is also available to arrange loan products with simple interest, which do not imply additional fines and penalties in case of delay. Such loyal terms are popular with consumers, with the share of problem loans declining from 4% in 2018 to 1.5% in 2020.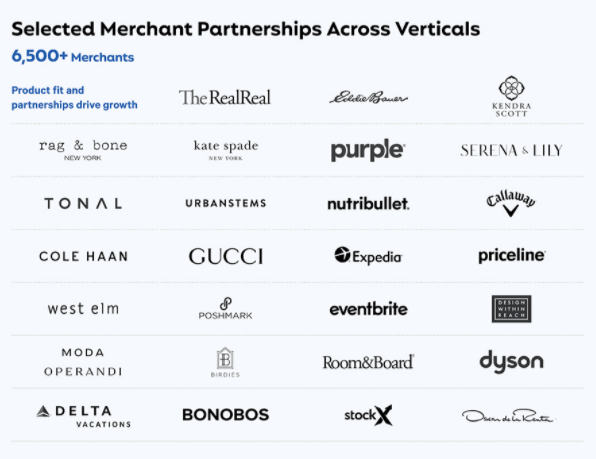 More than 6.2 million customers use Affirm Holdings services, and about 6,500 stores have become partners.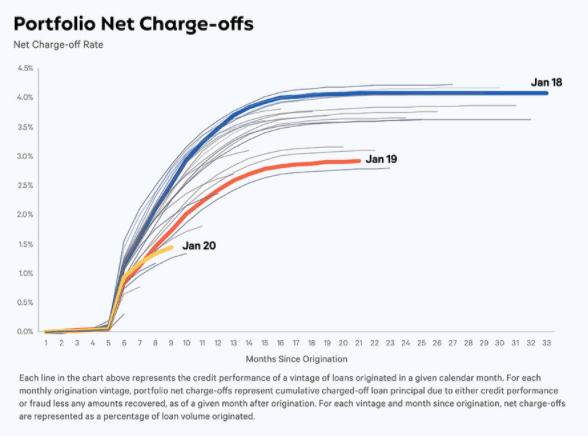 It should be noted that 62% of the users made repeat purchases at partner stores. The user loyalty index for Affirm Holdings (NPS) services is 78. The company's business model is distinguished by an original and flexible approach, otherwise it would not have been able to demonstrate such results in such a complex market with high competition, which will be discussed below.
Market prospects
Affirm Holdings, Inc. operates in two markets at once: e-commerce and lending, so it is necessary to consider the dynamics of development of each. According to an analytical study from eMarketer, the volume of the global e-commerce market in 2020 was 3.9 trillion USD, while the mobile segment accounts for 63% or 2.45 trillion USD. The average annual growth rate reaches 16.5%. At the same time, the share of e-commerce in the global trade turnover is 14% (in the USA it is slightly more – 16%). All this creates a market growth potential of USD 6.3 trillion until 2024.
Affirm's core customer base is comprised of Millennials and Gen Zers (born 1981-2012) who will dominate consumers for the next 20-25 years. This year, their aggregate demand reaches 2.5 trillion USD.
Lending is another strategic market for the company. This year, US citizens have borrowed 3.6 trillion USD.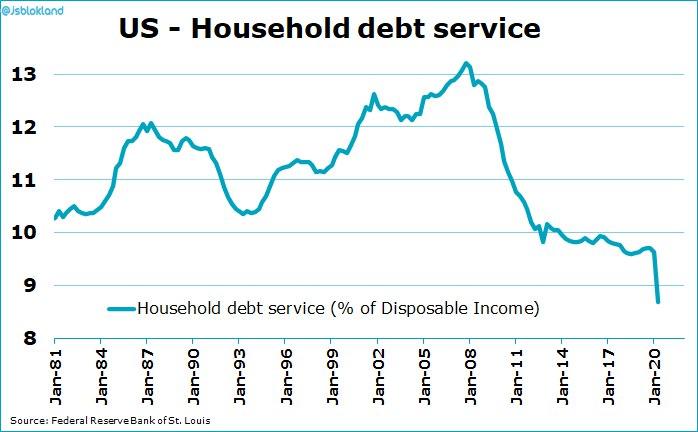 The average American owes USD 29,000 and spends up to 10% of his income on servicing a loan. This year, household spending on compulsory debt payments dropped even below 10% of real disposable income. Up to 16% of households must provide more than 50% of their income for servicing loans. Credit card debt is USD 1 trillion. In 2019, US citizens paid about USD 121 billion only in interest.
However, the situation in the future will most likely begin to change. More than 70% of Gen Z and millennials, according to Statista, oppose credit cards, preferring more "honest" online installments. There was even a whole movement BNPL ("buy now, pay later") – "buy now, pay later". BNPL accounts for 1% of e-commerce payments, and is expected to grow to 3% of e-commerce purchases by 2023. In developing countries, the BNPL share is 6%.
Thus, Affirm Holdings operates in two fast growing markets and its target client will be in the dominant generation for the next 20-25 years.
Financial performance of Affirm Holdings
Affirm is not generating profits at the time of filing an IPO application. Therefore, we will focus our attention on the revenue analysis. It should be noted that earlier, within the framework of funding rounds, investments from 23 donors were attracted from 1.5 to 1.8 billion USD. The largest investors were Thrive Capital, Jasmine Ventures, Singapore Wealth Fund, Khosla Ventures and others. During the last round in September, about USD 500 million were raised.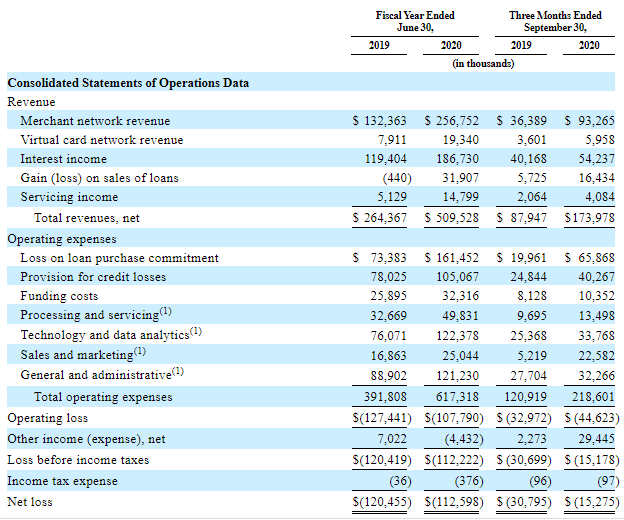 In the 2020 financial year, the company's revenue is 509.5 million USD, the growth compared to the 2019 financial year is 93%. Half of the company's revenue comes from commission payments of stores, totaling USD 256.7 million. Its growth in the current financial year is reaching a comparable rate relative to the rate of gross revenue. More than a third of revenue (37%) comes from interest payments from customers. Affirm also issues virtual cards for online purchases.
Operating expenses of the company increased in 2020 compared to 2019 by 57% to USD 617 million. As a result, the net loss amounted to USD 112.5 million in 2020, which is USD 7.9 million less than in 2019. In total, with the help of Affirm, goods were sold in the amount of 4.6 billion USD, an increase relative to the previous year is 77%.
We can draw intermediate conclusions: most of the company's revenue is the promising direction of BNPL. In addition, revenue is growing faster than operating expenses. This allows us to expect the company to become profitable in the foreseeable future.
Competitors and weaknesses of Affirm Holdings
The main competitors of the company are the Australian AfterPay (shares are traded on the Australian Stock Exchange) and the Swedish Klarna (one of its key investors is the VISA payment system). The first has 6.5 thousand partner stores in the United States, and the second has more than 200 thousand worldwide. Besides, indirect competitors of Affirm are:
Payment systems VISA and MasterCard.
All kinds of online wallets, for example, Pay Pal with the "Pay in 4" project.
Banks JP Morgan Chase, Capital One, Bank of America.
Online banks.
In this regard, to risks of investing in this company include:
Strong competitors with advanced BNPL technologies, which limits expansion to foreign markets (AfterPay and Klarna have achieved great success).
The revenue of a company that is heavily dependent on a single customer Peloton (30% of sales).
Credit infrastructure provided only by Cross River Bank, which actively cooperates with other fintech startups (for example, Upstart (UPST)).
The company is unprofitable and has no plans to pay dividends, even if it starts making a profit;
A dual share structure that leaves control of the company to its founders. A conflict of interests between founders and shareholders is likely.
All of the above disadvantages are compensated in a certain way by the perspective of the markets in which the company operates and its financial performance. At the time of the IPO, the revised S / 1-A form will be presented, where it is necessary to re-pay attention to the dynamics of revenue over the past 12 months.
IPO details and capitalization assessment of Affirm Holdings
The company submitted an initial application for raising USD 100 mn, but closer to the date of the placement, we believe that this amount will increase. The underwriters were Deutsche Bank Securities Inc., RBC Capital Markets, LLC, Goldman Sachs & Co. LLC, Truist Securities, Inc., Siebert Williams Shank. Co., LLC, Morgan Stanley & Co. LLC, Allen & Company LLC, Barclays Capital Inc. and Credit Suisse Securities (USA) LLC. As you can see, all the leading operators of the IPO market are represented. The date was postponed to January, as the USD 500 million raised in September is enough for another 6 months of work. According to various estimates, Affirm can attract USD 2-3 billion at the initial placement in order to increase marketing costs and return investments to donors.
To assess the company's capitalization, the P / S ratio (capitalization / revenue) ratio will be used. For the fintech sector, the average P / S value is 4.3, so the company's capitalization may reach 2.1 billion USD (0.509 billion * 4.3). Such an assessment will not suit the company's investors, since it is equal to the amount of their investments.
The average P / S of the industry leaders is 7.9, then the company will receive an estimate of 4.02 billion USD. This figure is also far from the previously announced USD 10-13 billion. I believe the company wants to go public after submitting Q4 reports, which will allow it to get more value from market participants.
Taking into account all of the above, we recommend that you consider this company for a medium-term investment. Especially if the company's revenue reaches USD 1 billion in 12 months as of the reporting date.
Invest in American stocks on favorable terms! Real shares on the R Trader platform from $ 0.0045 per share with a minimum commission of $ 0.25. You can also try your trading skills in the R Trader platform on a demo account, all you need to do is register at RoboForex.com and open a trading account.
---