To start trading stocks, you need the main instrument – a trading account. You can open it with a broker, or in a bank, but how can you choose the right and reliable company if you are taking your first steps in the financial markets?
We have prepared a checklist for you.
Checklist for choosing a broker
Make sure the financial institution is licensed. Such documents are always posted on the official website of the company and are easy enough to find.
Pay attention to the age of the company. It is no secret that the longer a company has been on the market, the more confidence it has in it. Choose brokers from the age of 5, and preferably from 10.
Check the trading conditions. You should be interested in:
Fees for depositing and withdrawing money from your accounts – how low or high they are;
Commissions for trading stocks – again, their size is important, the lower, of course, the better.
Also check the number and types of instruments for trading – if the broker only allows you to trade in premium stocks like Google and Tesla, you simply may not have enough funds to invest in such giants. Diversity is our everything.
look for information about brokers on aggregator sites and ratings. It usually contains all the information we talked about earlier, plus you will find reviews from other traders who can help you make a choice.
Once the choice is made, open a trading account.
How to choose the size of your investment in stocks?
Now is the time to decide how much to invest in stocks.
The answer to this question, on the one hand, is very simple: invest as much as you can afford to lose. This is the soundest and most rational approach.
The larger the investment, the greater the potential return, but the higher the risks. There is no magic number that is 100% correct for all traders in the world.
You should also focus on investment volumes (that is, how many shares to buy) and the cost of one asset (how much is 1 share of the selected company). In addition, some brokers set a minimum initial payment for trading stocks: this must also be borne in mind.
Now let's determine who to invest in or which trading instruments to choose.
What are the tools for investing in stocks?
Here we are not talking about specific companies, but about the types of assets. The fact is that:
Stock indices are formed from the shares of companies, in which you can also invest.
Shares can be traded using CFDs.
Also, there are ETFs on the market.
Let's analyze these concepts in detail:
Indices. An index is a basket or collection of stocks. For example, the popular Dow Jones Index (you've probably heard of it) includes the 30 largest companies whose shares are traded on the US stock exchanges. It is important to know that the index is never traded in its pure form – traders operate on its derivatives. For example, CFD.
CFD stands for Contract for Difference or Contract for Difference. This difference is in the price of the asset – at the time of purchase and at the time of sale. There are Index CFDs, Stock CFDs, Metals CFDs, and so on. The main difference in CFD trading over net asset trading is the ability to use leverage.
Well, ETF is, let's say unscientific, a set of stocks that are traded on the market as a single instrument. There are index ETFs – that is, copying a stock index, commodity ETFs for a specific group of commodities, for example, precious metals, industry ETFs – including shares of companies in a single sector, and others. ETFs are relatively new, but gaining popularity in the financial markets.
In summary, in the third step of preparing to trade stocks, you need to choose the type of instruments you want to invest in.
These can be CFDs on stocks – you can use leverage, as well as open positions for both buy and sell. We described in detail about leverage, what it is for and how to trade with leverage in this post. If you are too lazy to read, you can watch the video below.
You can also choose classic investments in stocks – in this case, the initial investment will be larger, but the risks will be slightly less.
Another option is ETF trading. You may be interested in investing directly in a certain sector of the economy or a stock index – in this case, ETF will be the most optimal solution.
What do we end up with?
Choose a broker and open an account.
We determine the available amount for investment.
Choosing the type of instruments for trading.
We finish the theoretical part and move on to the analytical part, in which we will tell you which stocks are the most promising for investment in 2021.
How can a beginner choose stocks for investment?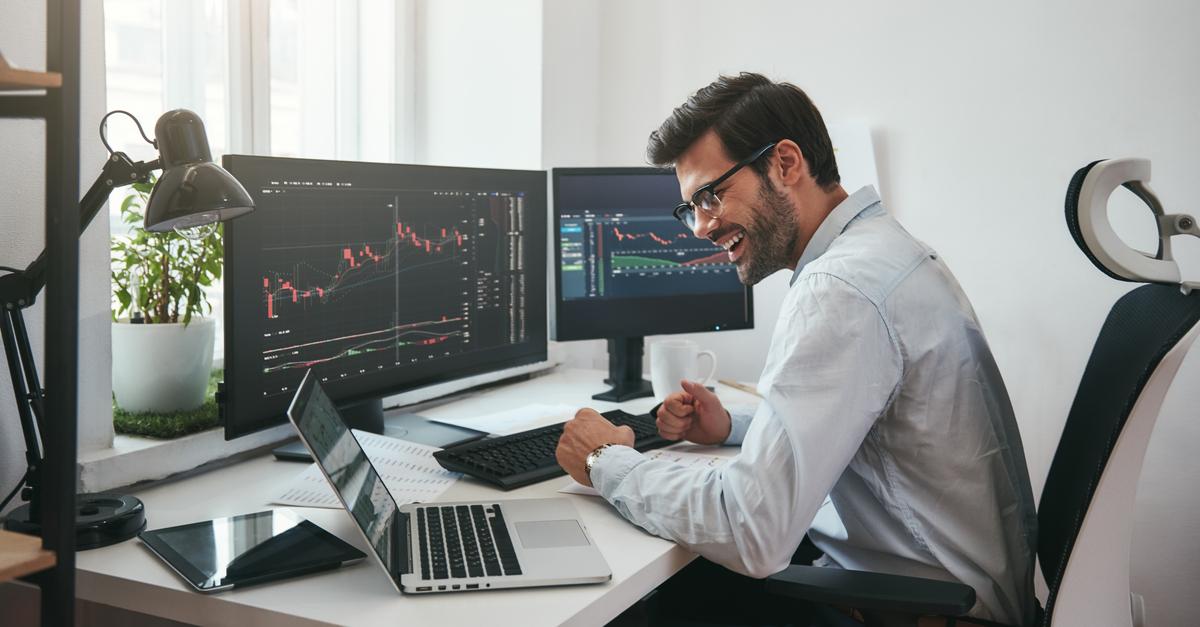 We need to determine which stocks of which companies or which sectors of the economy have the greatest growth potential at the beginning of 2021. To do this, we will analyze the situation on the markets this year. 2020 can be summed up in one word – coronavirus. It was he who became the driving force of the economy and it was he who drove some companies to the bottom, and raised others to the top.
Who are these outsiders and growth leaders at the end of 2020? Let's start with the first ones.
Outsiders 2020
The biggest losses this year were suffered by: the oil and gas sector, airlines and tourism. At some point, the health sector, with negative returns, was included in this list.
While everything is clear with oil, air carriers and tourism, the story with pharmacists is less obvious. The year began strong enough for them: government subsidies for vaccine work, investor enthusiasm, a 32% increase this spring. Something went wrong?
At the beginning of the year, in fact, money was given out to everyone who wanted to work on a vaccine. Now investors have become more choosy, and some have generally lost interest in this story altogether. Also, the drugs of many companies turned out to be ineffective already in the early stages of development, and in general, the work on the vaccine turned out to be more difficult than it seemed at the beginning of the year. Hence – the main recession of the entire sector.
Though. Finding a coronavirus vaccine could be a huge breakthrough in stock value for one pharmaceutical company. Just look at how the market reacted to the news about the Pfizer vaccine in early November – the company's shares soared from $ 36 to $ 41 per share in almost 1 day. But then, almost immediately, they began to slowly roll back to 36.
The growth of shares here occurred on emotions. And while large investors do not get involved in buying securities, such a swing is inevitable with every positive news. Plus, there are many pharmaceutical companies working on the vaccine. Why wonder which one will be most effective? It is more logical to buy shares of companies that will definitely grow, and it does not matter whose vaccine is on sale.
Therefore, we are deleting the pharmaceutical sector from our investment plan for the beginning of the year.
Let's now take a look at those who managed to grow up in the second half of 2020.
Growth leaders 2020
The first sector we'll talk about is the renewable energy sector. The demand for oil has dropped, interest in the environment and in alternative energy sources has grown.
Green energy
Company NextEra Energy (NYSE: NEE). Its shares have risen more than 20% since mid-summer. Another successful industry representative – Duke Energy Corporation (NYSE: DUK). Its stock saw a 17 percent rise over the same period. And in general, the sphere is growing by leaps and bounds – just look at the rise in prices of ETF funds, which include such companies. Many of them have added in price in the region of 200 – 300% since spring.
This trend, most likely, will not stop. Causes? Oil is now under pressure not only economic, but also socio-political – the victory of environmental parties in elections around the world is the main proof of this. An alternative to oil? Renewable energy.
However, it cannot be said that humanity will suddenly change dirty energy for clean energy like this, but there are still preconditions for the beginning of a change in priorities.
So, the first candidate for continued growth in 2021 is the renewable energy sector.
Electric cars
The sector for the production of electric vehicles and their components goes hand in hand with the environment. The most famous player in this field is Elon Musk. That is, Tesla.
In addition to her, this sector shines brightly:
Chinese NIO (NYSE: NIO), whose shares are up 340% and continue to move up;
General Motors (NYSE: GM), which has virtually bought out Nikola and is trading at 5-year highs;
And Workhorse Group (NASDAQ: WKHS) – Americans, producing electric vans, with a rise in stocks of more than 90%.
The manufacturers plan is to produce more electric cars and gradually reduce their cost so that every inhabitant of the planet has access to such a purchase. More potential consumers – more money for producers.
The sector is in the stage of active growth, so we are also adding it to our investment plan.
Communication sector
We will last look at the communications services sector, which posted a 5% return in the second half of 2020. It includes such companies as Alphabet (NASDAQ: GOOGL) (that is, the well-known Google), Facebook (NASDAQ: FB), Netflix (NASDAQ: NFLX), Zoom (NASDAQ: ZM) other. All of these companies are close to their historic highs.
This sector, I must say, has even been helped by the coronavirus crisis. Many companies switched to remote work and needed the appropriate products: software for video calls, cloud storage, project management software, and so on.
Now some large enterprises declare that they will continue to remove work even after the end of quarantines. This gives the communications sector a potentially lucrative future and future growth.
Therefore, we add it to the third list.
Conclusion
Well, our stock trading investment plan for 2021 is ready! We have included companies from the renewable energy sector, electric vehicle manufacturers and the communications sector.
Who would you include on this list? Write to us in the comments!
Happy investment!
Invest in American stocks on favorable terms! Real shares on the R Trader platform from $ 0.0045 per share with a minimum commission of $ 0.25. You can also try your trading skills in the R Trader platform on a demo account, all you need to do is register at RoboForex.com and open a trading account.
---