Speculative trading in commodities provides an investor with another opportunity to make money. Such goods are often the resources that support the global economy, and any change in it provokes fluctuations in commodity prices.
Many traders are turned off by trading such assets due to the complexity of perception and the simple habit of trading currency pairs. If you do decide to trade commodities, this article will show you what commodities are, what influences their prices and how to trade them.
What are commodities?
Commodities and raw materials in this case are synonymous. Raw materials are materials intended for further processing and production of finished products. Commodities include the results of agricultural activities, for example, grain, as well as minerals, oil, gas, gold – the list goes on for a long time.
This type of asset is characterized by protracted trends. Currency pairs are periodically in the sideways (price movement without a pronounced trend), and oil, for example, most of the time shows directional price movements. This must be taken into account when trading in goods. There is an opinion among experienced speculators that it is worth opening positions in goods for the future from six months.
What are the types of commodities?
All commodities are divided into categories, let's take a closer look at each of them.
Energy
Energy supplies include WTI and Brent crude oil, natural gas, fuel oil, gasoline and so on. It is worth noting that Brent crude oil has shown steady growth since the end of April 2020. Then prices fell to the level of $ 16 per barrel, and today quotations have reached $ 70 per barrel.
Boosting the economy during the coronavirus pandemic has boosted oil prices around the world. Already, large banks have begun talking about resuming a long-term cycle of growth in oil prices with the aim of raising above $ 120 per barrel. If you are interested in the peculiarities of trading this particular product, I recommend reading the article dedicated to it:
Metals
This group includes gold, silver, platinum, copper and other precious and mined metals. In times of crisis and economic turmoil, investors often invest in gold because of its defensive asset status.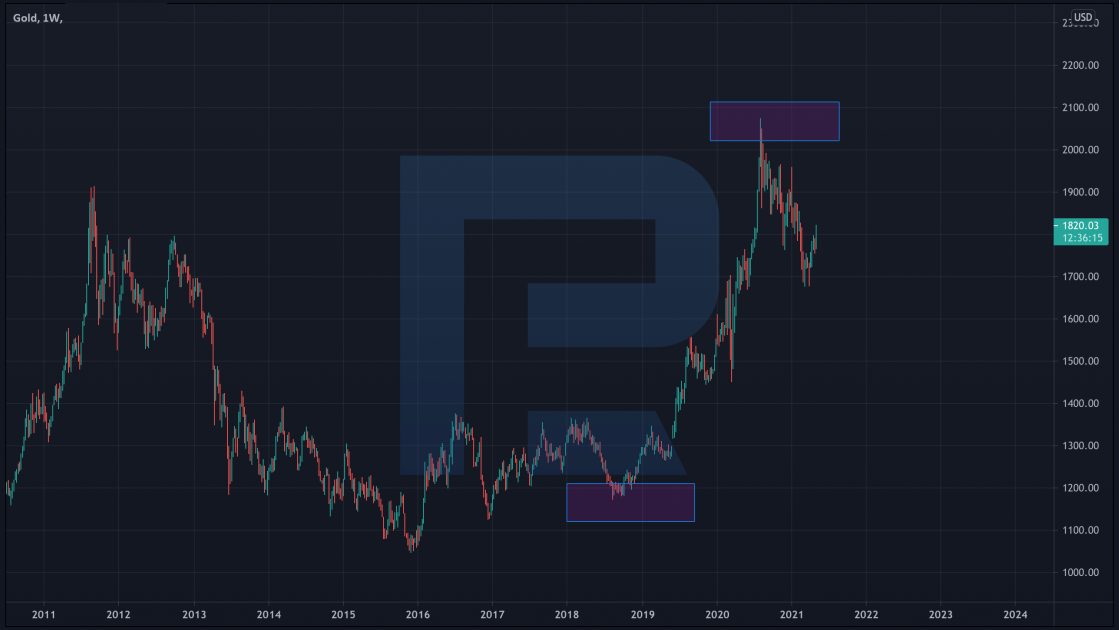 Indeed, the precious metal has been showing growth since mid-2018, and in 2020 it has renewed its next all-time high. Now the world economy is recovering and gold prices have sagged somewhat, the danger of the crisis has passed, but traders expect another attempt to rise to the tops in the near future. In the blog, we also have a separate article in which we talk about ways to invest in gold – in detail and with examples:
Agricultural products
This category includes assets such as cotton, coffee, corn, soybeans, sugar. Here weather conditions have a strong influence on quotes. If you are interested in investing in such assets, then remember that population growth and a weak product supply associated with unfavorable weather can actively push prices up, which will make it possible to profit from such investments.
How do I trade commodities?
Now that we have figured out what commodities are, let's move on to how to trade these instruments. There are several popular options for investing in raw materials.
Physical purchase
One of the options is the direct purchase of raw materials. After the purchase, the investor will have to wait for the price to rise, then find a buyer and sell this raw material to him in order to profit from the transaction. However, this method includes the material and time costs of purchasing, transporting, storing goods and finding a new buyer.
Experienced investors note that this option is only suitable for goods with high added value, for example, for gold and silver. Indeed, such a purchase allows you to get access to physical gold or other precious metals, and in the future you can feel the real results from such an investment. However, high costs, as well as investments only in non-ferrous metals, make this option not very attractive.
Commodity futures
One of the most common ways to trade commodities is to buy and sell futures contracts on an exchange. The essence of futures lies in the fact that the buyer undertakes to buy the commodity in the future at a certain price. However, the matter does not come to the real delivery, it must be closed by the end of the contract.
If a trader expects a rise in the price of a commodity in the future, it is enough for him to buy a futures contract: in the event of a real rise in prices, the trader will make a profit. The disadvantage of this approach is the presence of a commission for the transaction. The big plus is the absence of all those costs that accompany the purchase of a physical asset.
Commodity CFDs
A contract for a difference in the price of a commodity (CFD) is a financial instrument that allows you to trade any of the offered commodities without actually buying them, earning only on the price difference.
Some types of brokerage accounts allow a trader to trade CFDs without commission for opening and closing a position, and "pay" only the spread, that is, the difference between the price of buying and selling a product.
Promotions
Another option for commodity trading is to buy shares in companies that are directly related to a particular commodity. For example, instead of direct investment in oil, you can buy shares in an oil refining company.
However, here, too, the value of a share will directly depend on the value of the underlying commodity. If oil prices rise, then the stock of the oil refining company will go up. Traders point out that investing in commodity stocks is less risky than investing directly in commodities. Some companies may continue to make profits despite falling commodity prices.
Commodity ETFs
Commodity ETFs are a set of commodity stocks. These funds pool the money of small investors to create one large portfolio. The fund can also buy futures contracts or stocks of various companies from the commodity sector. It is believed that commodity ETFs are cheap and readily available, and also have high liquidity. Here, the investor with little money is able to access a wide range of commodities without having to complete portfolio management tasks.
The following examples can be cited in relation to the price movements of commodity ETFs. The soybean ETF (Teucrium Soybean) has shown a strong rise in value from $ 13 in early April 2020 to $ 23 today.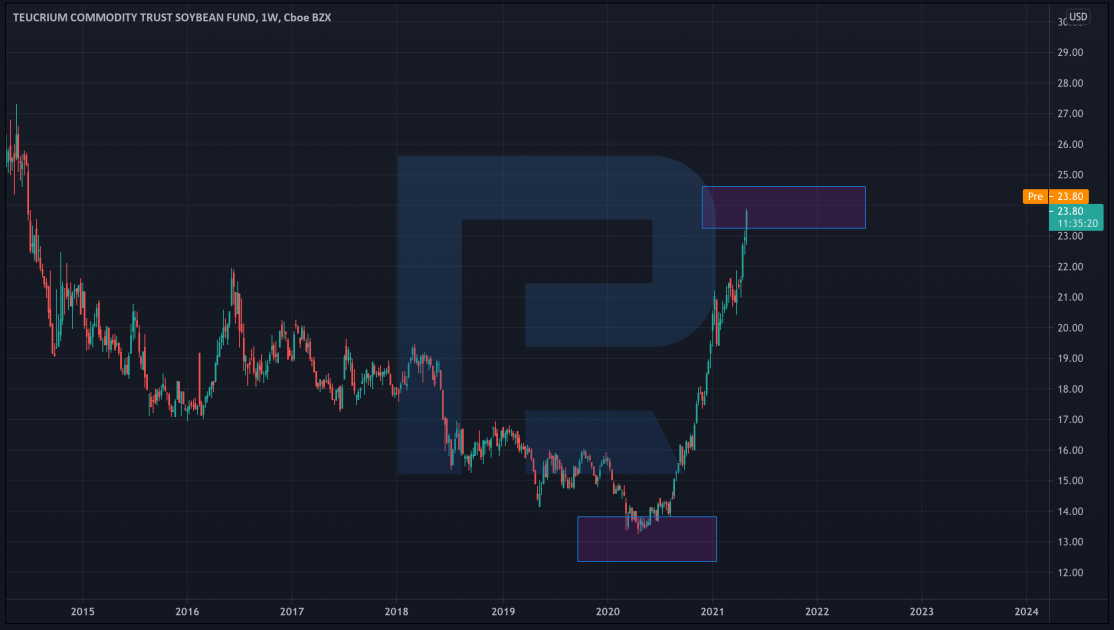 The sugar ETF (Teucrium Sugar) has broken the long-term downtrend line, which may also indicate a likely rise in prices. And the price of the Teucrium Corn ETF has doubled since the beginning of last year.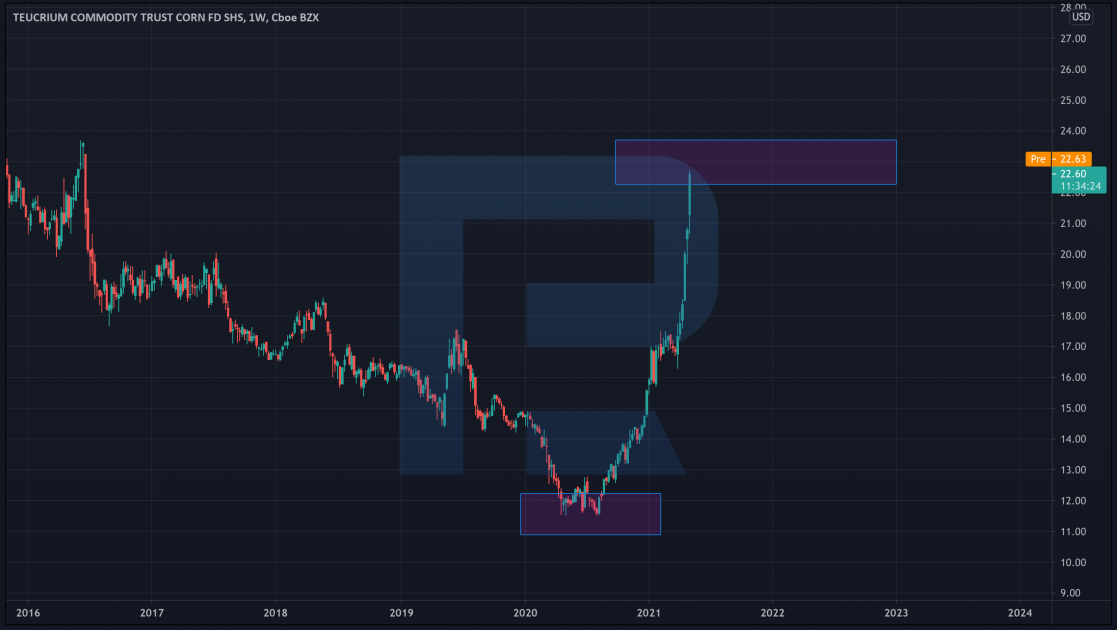 Conclusion
Commodity trading has its own characteristics. These instruments are characterized by strong trend movements and increased volatility. It is likely that the analysis of the commodity market using the Ichimoku indicator or simple moving averages will give a better idea of ​​the entry point than charting technical analysis tools.
The cost of a pip for gold and oil exceeds the same indicator for currency pairs, so it will not be superfluous to start with a demo account and a clear risk control system. However, this is not a reason to ignore such instruments, because you can always find a conservative trading option.
A big plus for investing in raw materials is the fact that this is a completely different market that is not related to the foreign exchange and stocks, so investors can use commodity trading to diversify their portfolio.
---