Trading results
On the previous trading day, Gazprom shares declined 0.37%, closing at 262.96 rubles. The paper looked in line with the market, down 0.22%. Trading volume for the share on the main market amounted to RUB 9.3 billion. with an average monthly of 10.9 billion rubles.
Short-term picture
At the end of the week, Gazprom shares consolidated near the upper limit of RUB 256–269. Local support, signaling the stability of the short-term uptrend, is the level of 261 rubles. Its breakdown may lead to an acceleration of sales, since for short-term speculators it can be a guideline for a stop loss. However, in the baseline scenario, the upward trend is more likely to persist.
On the hourly chart, stable supports are forming, gradually "marching" up. This is a positive signal that indicates a steady uptrend. Typically, such trends are backed up by strong fundamental outlooks. Gazprom shares are just such a case now, since high gas prices give rise to hope for a high dividend yield by the end of 2021.
The mid-term outlook on the stock remains positive. The uptrend looks quite stable, trend indicators are looking up. Oscillator overbought is small and leaves room for growth.
Nearest support levels: 261 / 259.6 / 258.5
Nearest resistance levels: 264.5 / 268.4 / 272.5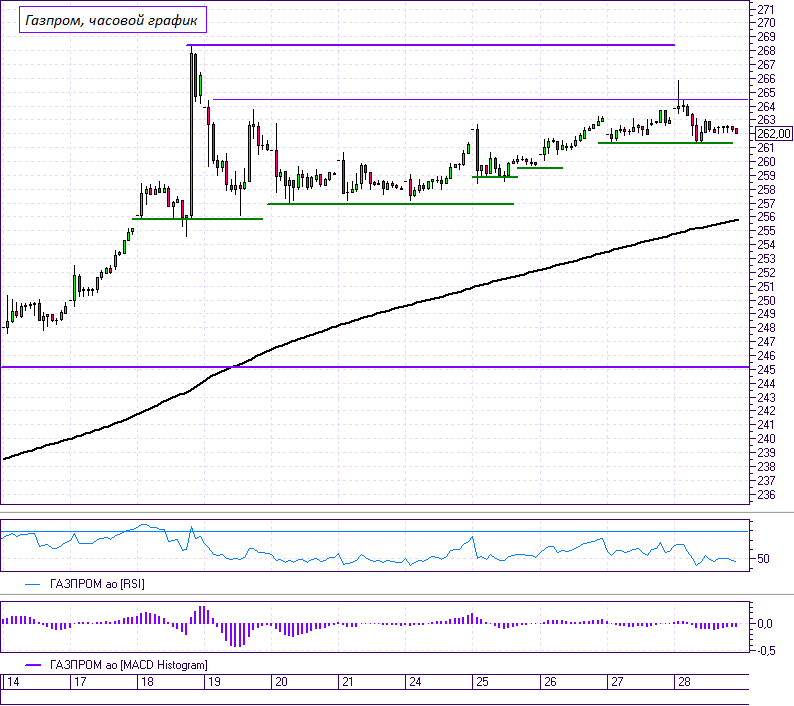 External background
The external background is neutral in the morning. American indices declined slightly after the close of the main session at the Moscow Exchange. Asian indices are mostly in negative territory. S&P 500 futures are up 0.1%. Brent crude is up 0.1% today. Futures on Gazprom shares during the morning session added 0.27%. All this suggests that if the background remains unchanged, the opening will take place near the closing level of the previous trading day.
Long-term picture
Gazprom shares have returned to pre-pandemic levels, and the situation on the gas market allows us to hope that the growth will continue. High prices for hydrocarbons, the prospect of high dividends and the likely completion of Nord Stream 2 may support quotes and contribute to the movement above 300 rubles. per share.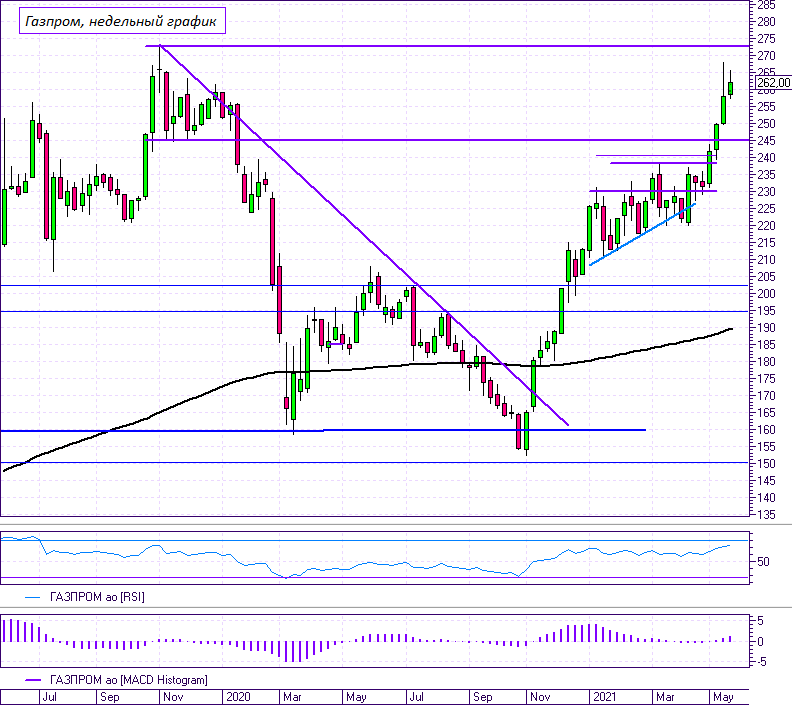 More forecasts and news on Fortrader's channel Telegram
Market forecasts, analytics and stock news