Trading results
In the previous trading session, Gazprom shares fell 0.59%. Closing took place at around 205.03 rubles. The paper looked worse than the market as a whole. The trading turnover amounted to approximately 4 billion rubles.
Short-term picture
At the last trading session, Gazprom shares continued their correction in the absence of foreign investors. Quotes returned to the lower border of the ascending channel. Buyers tried to seize the initiative, but the close took place near the start of trading. The candlestick formation does not carry a clear signal. Trading turnover was low. The external background in the morning can support the paper.
Despite the generally positive external background, the dynamics of hydrocarbon prices are not encouraging. Prices for gas futures on NYMEX are losing more than 8% today, oil is in a slight minus. If buyers at Gazprom are unable to follow external stock exchanges, quotes may return to the mid-term support trend line in the region of 203 rubles. Also, a potential target could be the support range of 198-200 rubles.
However, if we proceed from the sentiments on external stock exchanges, today the scenario of an attempt to continue growth in the upward medium-term channel is more likely. In this case, the main goal of buyers again washes to become the resistance of 207 rubles. After consolidating above it will be possible to talk about another attempt to fully close the gap of 217 rubles.
Resistances: 206–207 / 212/217
Supports: 200/198/194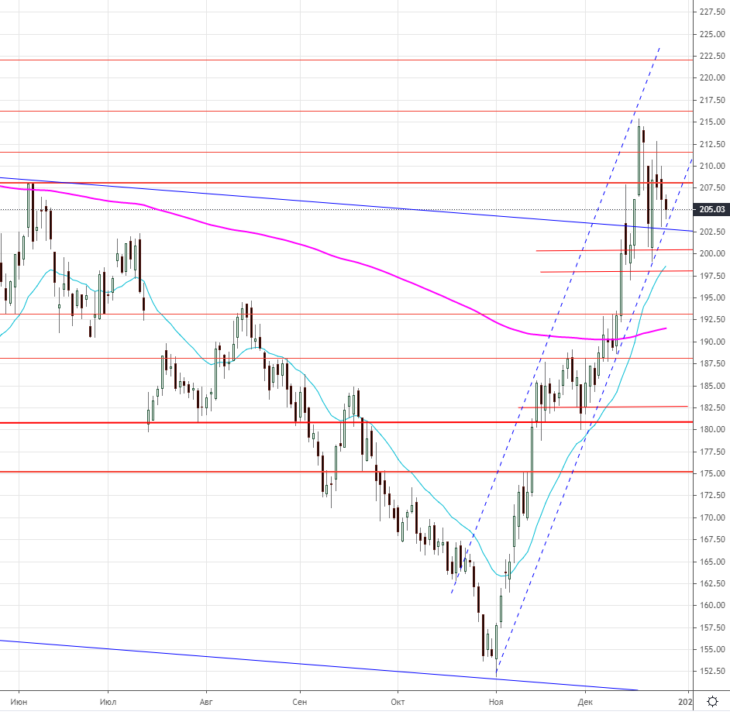 External background
In the morning, the external background is developing moderately positive. American markets were not traded. S&P 500 futures are up 0.5%. Brent crude is down 0.3%. Asian sites are trading in positive territory. All this suggests that if the background persists, the opening will go above the closing level of the previous trading day.
Long-term picture
Gazprom quotes reached the psychologically important level of 200 rubles. against the backdrop of positive corporate news. Last week, the June local maximum in the area of ​​207 rubles was overcome. Quotes rushed to the resistance of 217 rubles. But it didn't work out to close the February gap or just stay close to the indicated marks.
After a fairly rapid correction, the quotes were below the level of 207 rubles. and reached the support of 200 rubles. Buyers were able to get the stock back above the mid-term support trendline. But threats of new sanctions against Nord Stream 2 carry high short-term uncertainty. There are risks of deepening the drawdown to the support of 194 rubles. A more significant reduction will help avoid the recovery in gas prices.
More forecasts and news on Fortrader's channel Telegram
Market forecasts, analytics and stock news