Trading results
On the previous trading day, Gazprom shares fell 0.38%, closing at 221.7 rubles. The paper looked worse than the market, which added 0.72%. Trading volume for the share on the main market amounted to RUB 9.6 billion. with an average monthly of 10.2 billion rubles. The 5-day average daily range is 350 minimum steps.
Short-term picture
An attempt to grow in the first half of the day ended with sales in the evening session, when the western grounds went into negative territory. As a result, being under pressure from the external background, the quotes returned to the support zone of 221-222 rubles, as the day before. The support is being tested for the third time, and against the background of deteriorating sentiment, it may well be broken. The decline in local maximums confirms the high probability of such a scenario. In the event of a breakdown, the first target of decline may be the level of 217 rubles, after which a significant support may appear only in the region of 210 rubles.
In the mid-term horizon, in the baseline scenario, Gazprom shares may show neutral dynamics in the range of 200-230 rubles. The focus may be on the size of dividends for 2020, which will be incorporated by the market into quotes as the dividend cutoff approaches. In case of the appearance of positive drivers, we can see a breakdown of the level of 230 rubles. and a new wave of growth in the medium-term upward trend, the target of which will be the area of ​​245-250 rubles.
Nearest support levels: 221/217/210
Nearest resistance levels: 225/227/229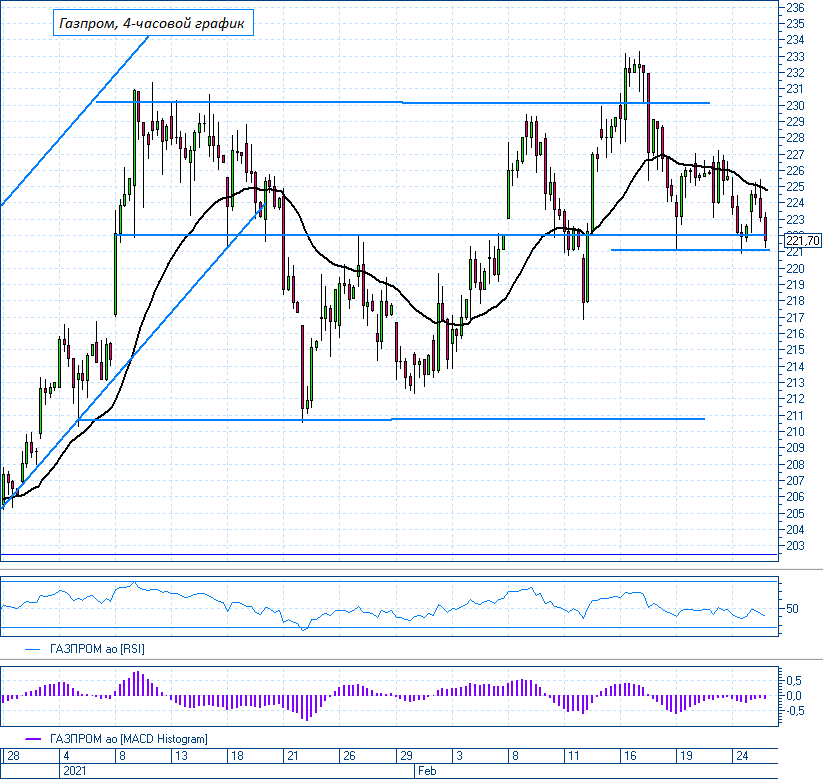 External background
The external background has been forming moderately negative in the morning. American indices fell after the close of the main session at the Moscow Exchange. Asian indices are trading in negative territory. S&P 500 futures are up 0.1%. Brent crude is down 0.5% today. All this suggests that if the background persists, the opening will take place near or below the closing level of the previous trading day.
Long-term picture
The potential of the first wave of growth after the reversal of the 2020 downtrend was realized. After a slight correction, quotes show the potential for continued growth. The long-term outlook on the company's shares is positive. A rebound in gas prices, attractive dividend size and prospects for the completion of Nord Stream 2 could support quotes and support a recovery to late 2019 levels.
More forecasts and news on the Fortrader channel in Telegram
Market forecasts, analytics and stock news