Trading results
In the previous trading session, Gazprom shares fell 0.13%, to close at 212.71 rubles. The paper looked worse than the market. Trading volume amounted to 11.9 billion rubles.
Short-term picture
The price of Gazprom shares at the end of December on the last trading day of 2020 made a spurt upward, breaking through the downtrend from the highs of the month, which promised the acceleration of the movement that we received. Yesterday, its development was observed in the first hours.
The price reached 216.6 at the highs of the day, almost closing the February gap left at 217.5. By and large, the price gap has been filled and is no longer an attractive benchmark for quotes. Therefore, a rather deep intraday pullback looks negative.
On the daily chart, we see that it led to the formation of a Doji-type reversal candlestick, the shadow of which was at multi-month highs. A confirmation of the prospects for a short-term correction will be a breakdown of the level of 210, where a two-month uptrend takes place. Until then, there is a chance of consolidation at current levels in the coming days.
Resistance levels: 216.6-217.5 / 220.5 / 225
Support levels: 210/205/200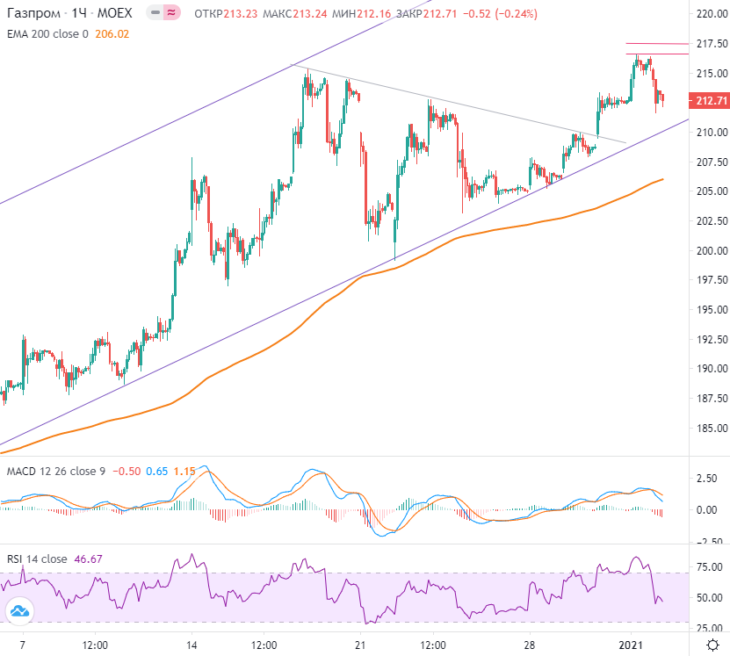 External background
The external background is now becoming neutral. Asian indices are showing a negative trend. Futures on the S&P 500 in the morning rose in price by 0.2%. Brent crude is growing 0.15% today. The opening is expected in the area of ​​the closing level of the previous session.
Long-term picture
Since early November, Gazprom shares have shown a rapid rally amid rising demand for risk following the US elections and news of the COVID-19 vaccine. Semi-annual sloping resistance was broken at high trading volumes, which signaled a significant change in sentiment in the positive direction.
By the end of 2020, quotes were at 10-month highs. The upside potential remains, however the rate of the upward movement may slow down. There are signs of overheating of the paper.
Following a correction that removes excessive overbought, a new wave of growth is likely with the potential to return to late 2019 levels. Favorable fundamental outlooks, including a recovery in the hydrocarbon market and high potential dividend yield, give hope for such a scenario.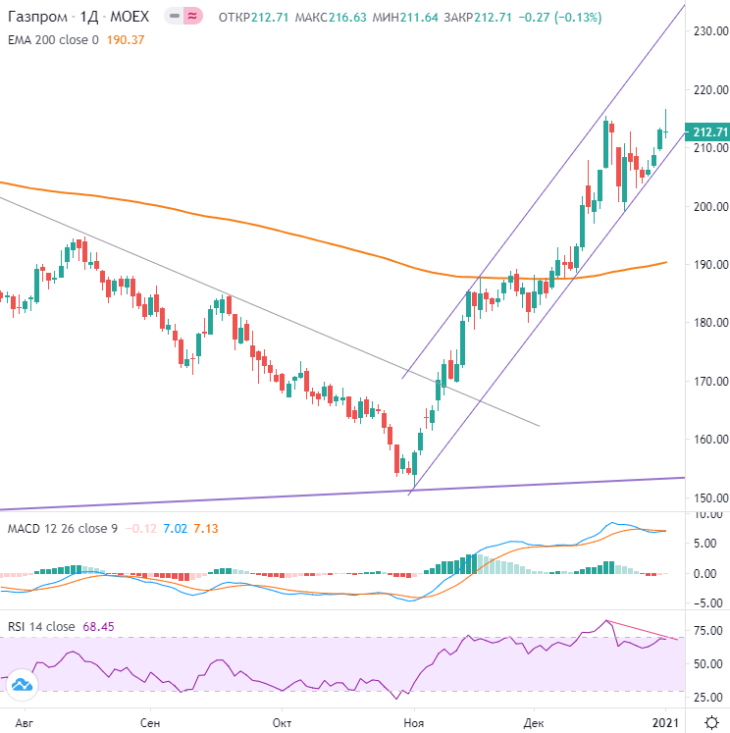 More forecasts and news on Fortrader's channel Telegram
Market forecasts, analytics and stock news