Trading results
On the previous trading day, Gazprom shares rose 0.45%, closing at 242.5 rubles. The paper outperformed the market, which sank 1.16%. Trading volume for the share on the main market amounted to RUB 8.7 billion. with an average monthly of 8.7 billion rubles.
Short-term picture
Since the opening of trading, Gazprom shares fell below 240 rubles. However, the drawdown was promptly bought out, the instrument ended trading in positive territory against a decline in the market. The strength of the quotes strengthens confidence in the potential for further growth. From the continuation of the uptrend, the instrument separates the mirrored resistance level of 245 rubles.
The mid-term outlook remains positive. The uptrend is in force, as indicated by the steadily growing local lows on the 4-hour and daily timeframes. Gas prices remain high, supporting optimism about Gazprom's earnings forecasts. With a favorable sentiment, the levels are 250-260 rubles. can be achieved by summer.
Nearest support levels: 240.5 / 238 / 235.5
Nearest resistance levels: 244/245 / 247.5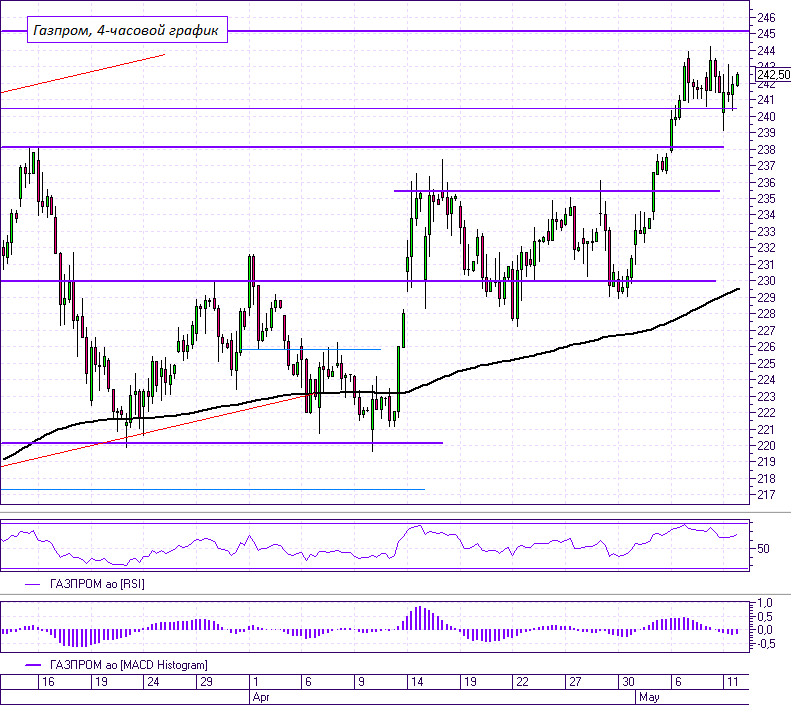 External background
The external background has been developing moderately negative in the morning. American indices remained at the same levels after the close of the main session at the Moscow Exchange. Asian indices are mostly in negative territory. S&P 500 futures are down 1.4%. Brent crude is down 0.05% today. Futures on Gazprom shares during the morning session lost 0.14%. All this suggests that if the background persists, the opening will take place near or below the closing level of the previous trading day.
Long-term picture
The potential of the first wave of growth after the reversal of the downtrend in 2020 was realized. After a slight correction, the shares attempted to gain a foothold above RUB 230, but the buyers very quickly gave in to the sellers, and the quotes returned to their previous levels. The lateral period is likely to be a little longer. Nevertheless, in the future, relatively high prices for hydrocarbons, the prospect of high dividends and the likely completion of Nord Stream 2 may support quotes and help to recover to 12-year highs of about 270 rubles.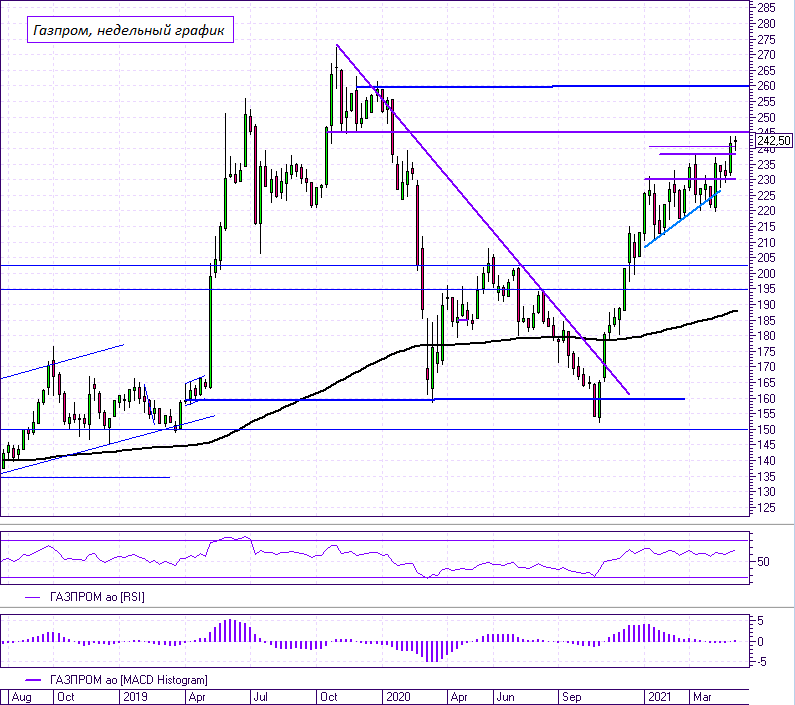 More forecasts and news on the Fortrader channel in Telegram
Market forecasts, analytics and stock news