Trading results
On the previous trading day, Gazprom shares rose 0.64% to close at RUB 228.4. The security looked in line with the market, adding 0.87%. Share trading volume on the main market was RUB 2.9 billion. with an average of 9 billion rubles per month. The 5-day average daily range is 410 minimum steps.
Short-term picture
Gazprom shares rose slightly on Friday. The last time the trading turnover was lower than on Friday was on February 20, when due to holidays the trading day fell on Saturday.
The technical picture has generally remained the same. On the 4-hour chart, one can observe a steady rise in local minimums. The 200-period moving average supports quotes. From above, the uptrend is holding back the resistance of RUB 230, a full breakdown of which will open the way to the following targets.
In this case, the sidewall has already been fairly tightened. This is a nervous situation for bidders who bought above 220 rubles. hoping for further growth and are still holding long positions. For a month and a half, the instrument has not been able to gain a foothold above 230 rubles already three times. Another false breakout can provoke a wave of sales, which in turn can lead to a formal reversal of the uptrend and a short-term decline below 220 rubles. The likelihood of such a scenario encourages a cautious view of the paper.
The medium-term outlook is moderately positive. Even in the case of the above-described corrective scenario, the forecast will still assume a recovery if the fundamental picture persists. With a favorable sentiment, the levels are 245-260 rubles. can be achieved by summer.
Nearest support levels: 225.5 / 224/222
Nearest resistance levels: 230/232/235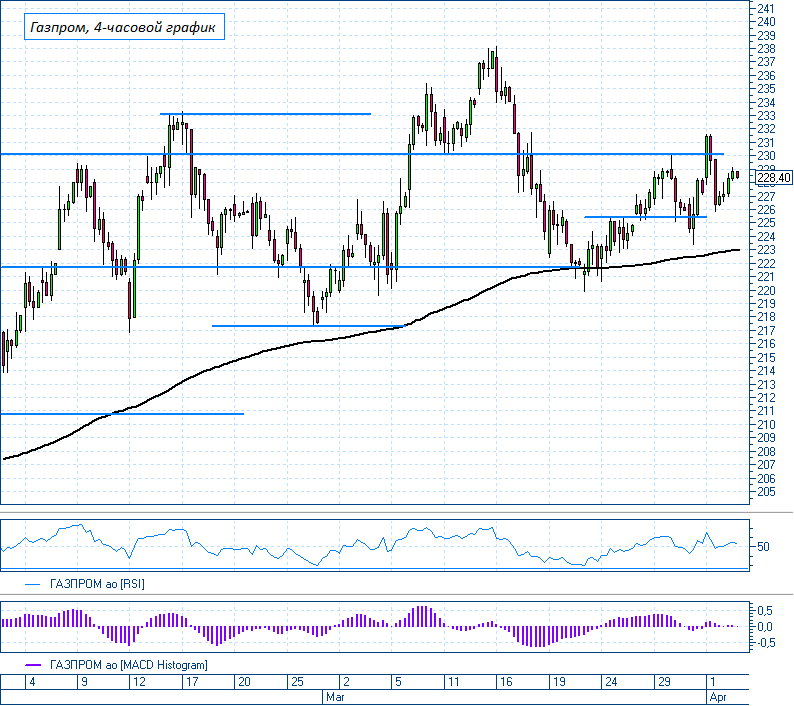 External background
The external background is neutral in the morning. American indices were not trading on Friday. Asian indices are trading in different directions. Brent crude is down 0.6% today. Futures on Gazprom shares added 0.1% during the morning session. All this suggests that if the background remains unchanged, the opening will take place near the closing level of the previous trading day.
Long-term picture
The potential of the first wave of growth after the reversal of the 2020 downtrend was realized. After a slight correction, the shares attempted to gain a foothold above RUB 230, but the buyers very quickly gave in to the sellers and the quotes returned to their previous levels. The lateral period is likely to be a little longer. Nevertheless, in the future, relatively high prices for hydrocarbons, the prospect of high dividends and the probable completion of Nord Stream 2 may support quotes and help to recover to 12-year highs of about 270 rubles.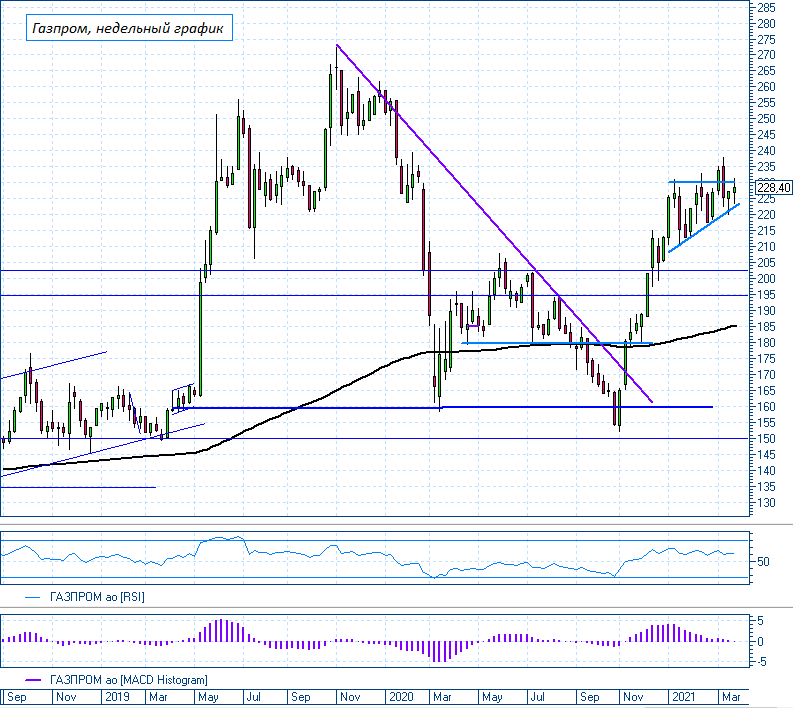 More forecasts and news on the Fortrader channel in Telegram
Market forecasts, analytics and stock news