Trading results
At the previous trading session, Gazprom Neft shares rose 0.84% ​​to close at RUB 373.1. The papers looked slightly better than the market. Trading volume amounted to more than 222.5 million rubles.
Short-term picture
The stable situation on the oil market contributed to the implementation of a positive scenario in Gazprom Neft shares. Quotes literally creep in the range of 370–375 rubles, trying to overcome it from the bottom up.
On the daily chart, the technical picture looks moderately positive. The RSI indicator is pointing up, but does not indicate overbought, and the MACD curves maintain an upward direction.
The external background is mixed today, so we can assume that quotes will continue to move within 375-370 rubles. With the stabilization of the market situation, an exit from this range may occur from the bottom up, opening the way for the test of 385 rubles.
The risks are the same: if oil prices go down, Gazprom Neft shares may go sideways. The worst-case scenario would be a return below the 50-day moving average, which is around RUB 361.5. In this case, the risks of a repeated test of support increase 353 rubles.
Resistance Levels: 385/390/397
Support levels: 353/340/330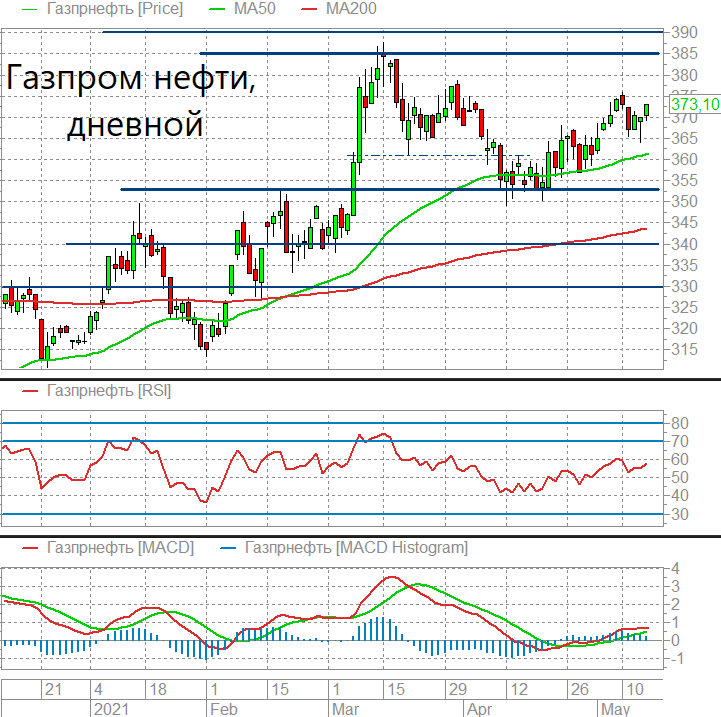 External background
The external background is mixed this morning. American indices rose after the close of our main session on Friday. Asian markets are trading in different directions today and do not show uniform dynamics. Futures on the S&P 500 index are down 0.25%, Brent oil is up 0.15% and is near the level of $ 68.9.
Long-term picture
Gazprom Neft shares have been moving in a steep uptrend since 2016. The rise in quotations was accompanied by two corrective waves in 2017 and 2018.
In 2020, the impact of the coronavirus on world markets and oil prices led to a breakdown of the growing trend of Gazprom Neft, shares from historical highs lost more than half of their value at the moment. At the same time, the potential for a return to an upward trend remains with a decrease in the impact of the coronavirus and a recovery in energy demand.
On the weekly chart, the price has consolidated above the 50- and 200-week moving averages. The RSI indicator is below the overbought zone. MACD curves continue to show the formation of an upward trend.
It is important for buyers to gain a foothold above 390 rubles, which will open the way to levels above 410 rubles. However, the risks around the pandemic remain, and this may negatively affect the quotes of Gazprom Neft.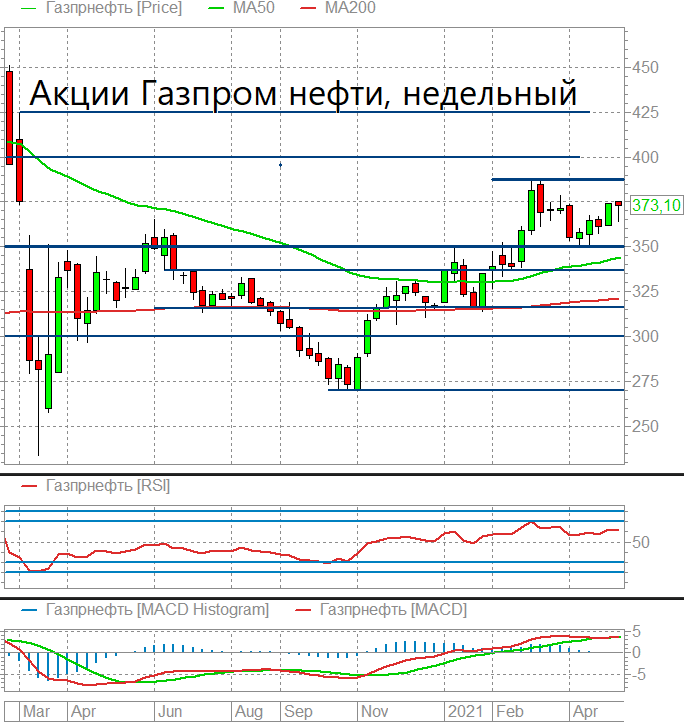 More forecasts and news on the Fortrader channel in Telegram
Market forecasts, analytics and stock news