Trading results
At the previous trading session, Gazprom Neft shares fell 2.85%, closing at 339 rubles. The papers looked worse than the market. Trading volume amounted to more than 520.5 million rubles.
Short-term picture
Gazprom Neft shares dropped below the previous support level of 340 rubles. We said earlier that this creates risks of further decline. However, today oil quotes are growing on the news of stimulus in the United States.
Now oil growth is estimated as a short-term effect, which at the same distance may support Gazprom Neft quotes. We can assume that today shares may rise to 345 rubles, paving the way for a new test of 350 rubles. From the technical point of view, the scenario is justified.
Medium-term expectations are moderately positive, overcoming RUB 350. from the bottom up, it opens up opportunities for the formation of a new wave of growth. However, on March 4, a meeting of the OPEC + alliance will take place, where they will discuss the possibility of increasing the level of oil production. This creates risks of correction in oil prices, which will negatively affect Gazprom Neft shares.
Sideways consolidation will become a more neutral scenario. At the same time, a descent to the moving averages can be a signal for a deeper decline. These risks are worth considering as they can hinder the growth of stocks.
Resistance levels: 350/355/360
Support levels: 337.5 / 331.5 / 327.3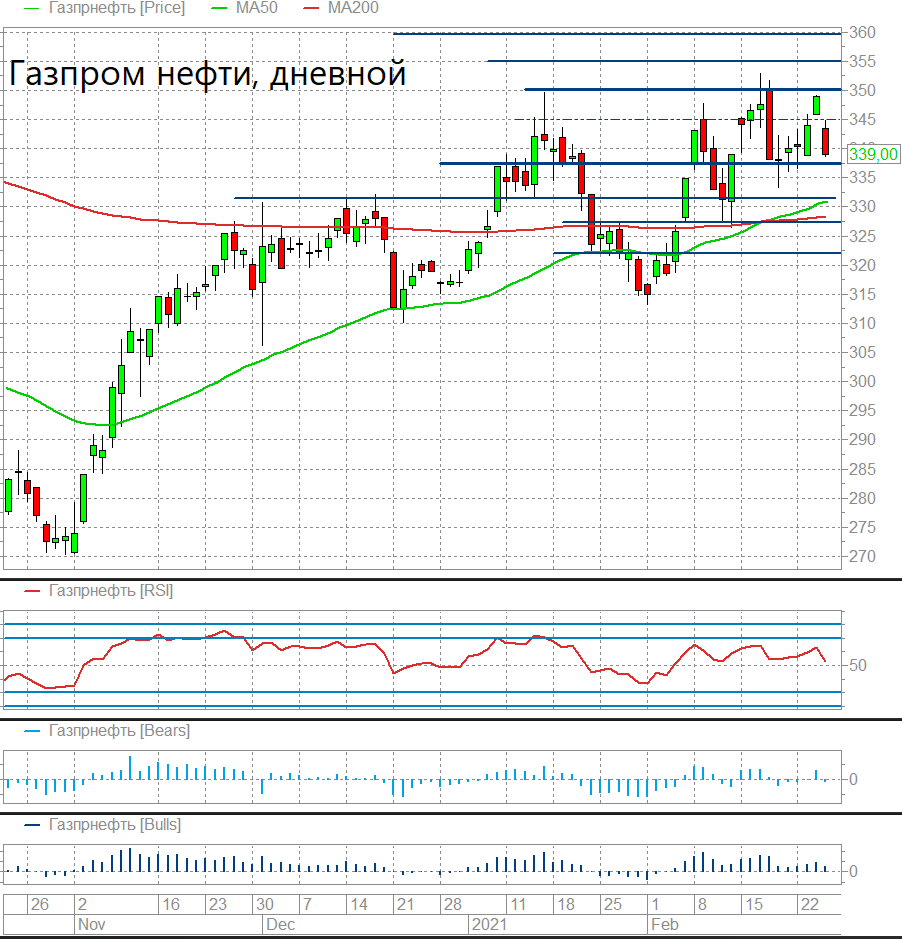 External background
The external background is positive this morning. American indices declined after the close of our main session on Friday. Asian markets are trading in positive territory today. Futures on the S&P 500 index are growing by 0.8%, Brent oil is in positive territory by 1.57% and is near the level of $ 65.45. Stock futures on the Moscow Exchange added 1.39%.
Long-term picture
Gazprom Neft shares have been moving in a steep uptrend since 2016. The rise in quotations was accompanied by two corrective waves in 2017 and 2018.
In 2020, the impact of the coronavirus on world markets and oil prices led to a breakdown of the growing trend of Gazprom Neft, shares from historical highs lost more than half of their value at the moment. At the same time, the potential for a return to an upward trend remains with a decrease in the impact of the coronavirus and a recovery in energy demand.
On the weekly chart, the price has consolidated above the 50- and 200-week moving averages. The RSI indicator is above the neutral point (50). The MACD curves continue to show the formation of an upward trend.
It is important for buyers to gain a foothold above 350 rubles, which will open the way to levels above 370 rubles. However, the risks around the pandemic remain, and this may negatively affect the quotes of Gazprom Neft.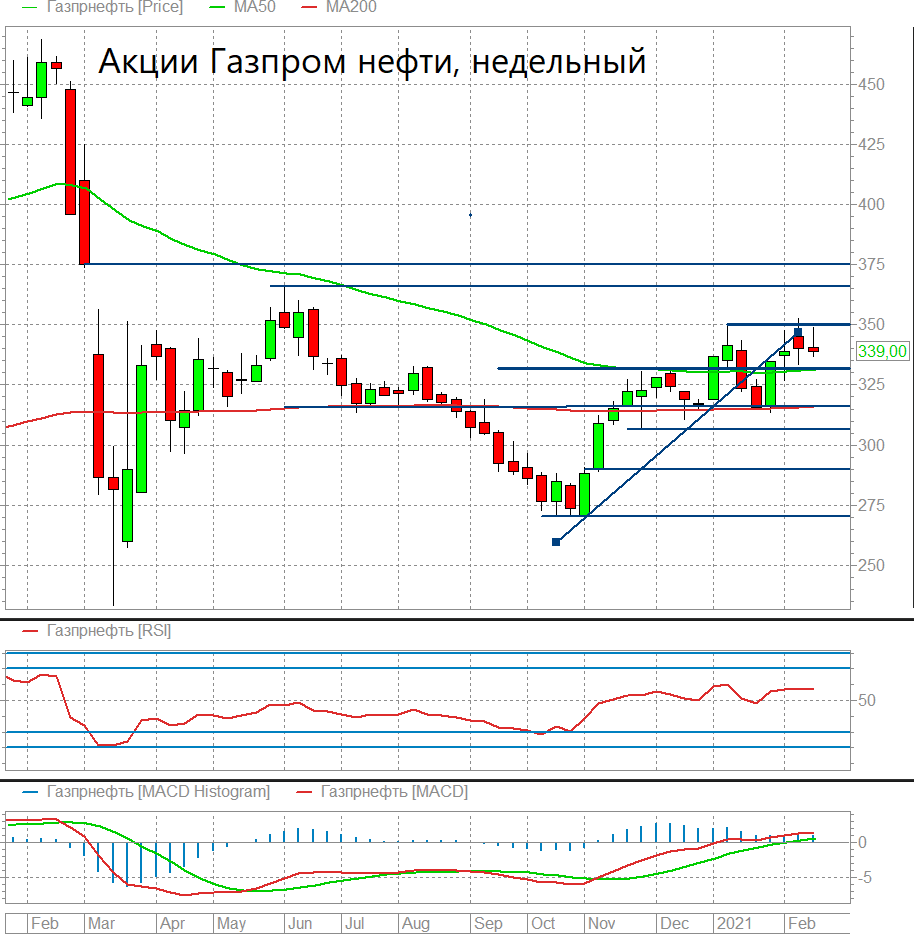 More forecasts and news on the Fortrader channel in Telegram
Market forecasts, analytics and stock news