Current dynamics
Gold price hit the resistance level of 1871.00 amid falling US dollar to its lowest since late February. The positive dynamics in the instrument is connected with investors' fears about the growing inflation in the US, as well as the fall of the dollar index, which by the end of yesterday dropped by 0.47% to the level of 89.740.
The weakening of the American currency is also related to the negative macroeconomic statistics published on Friday. Thus, the volume of industrial production in the United States in April rose by 0.7% instead of 1.0%, as analysts expected. Consumer Sentiment Index from the University of Michigan for May (preliminary data) came out at 82.8, which is less than the forecast of 90.4. The volume of new home construction in April amounted to 1.569 million against the forecast of 1.710 million. Based on the data obtained, it can be concluded that the US economy is entering a phase of correction after a rapid recovery period this winter.
Meanwhile, Vice President of the US Federal Reserve Richard Clarida said that the regulator will respond to high inflation, if necessary, but he stressed that now is not the time to start talking about raising interest rates. To assess the situation, time and careful analysis are needed before the department embarks on a course of tightening monetary policy. Thus, the indecision of the US Federal Reserve leads to a weakening of the American currency and the flow of capital into gold.
Support and resistance levels
In the long term, the instrument moves in an uptrend. Gold left the price channel upwards, breaking through the sloping resistance line. Growth is possible to the maximum of 2020 in the area of ​​2060.00.
Buyers are now testing the resistance level of 1871.00. In case of its breakdown, the price may rise to the level of 1950.00, but if this level is held, one should expect a correction of the rate to the support of 1814.00.
Resistance levels: 1871.00, 1950.00
Support levels: 1814.00, 1767.00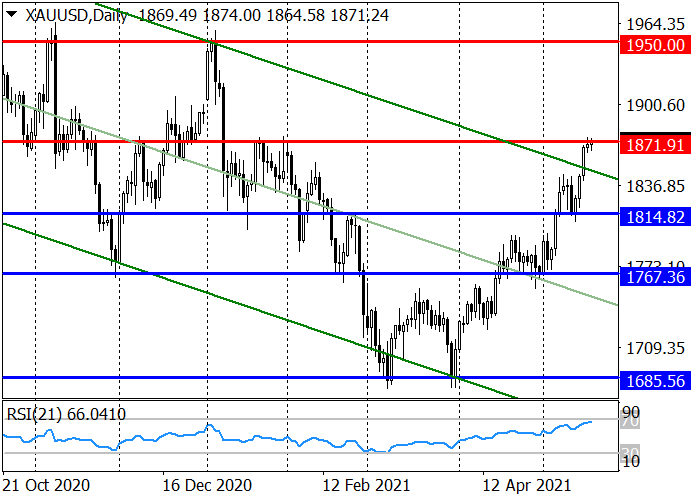 Market forecasts, analytics and stock news