Current dynamics
In April, gold quotes rose 4.3%. The trend is likely to continue amid the continuing decline in the US dollar.
Tomorrow will be published the decision of the US Federal Reserve on the interest rate. It is most likely that it will remain at 0.25%, as there is no reason to change monetary policy now. The regulator has repeatedly stated that to tighten it, it will be necessary to achieve an inflation rate of 2% or higher in annual terms. This position does not allow the US dollar to strengthen, despite the fairly rapid growth of the US economy.
The second factor positively affecting the gold rate is the difficult epidemiological situation in Japan and India. The Japanese government introduced a third lockdown in the country from April 25 to May 11 amid a sharp increase in the number of cases of COVID-19. India also set a new anti-record for infections per day: on April 25, according to official figures, 352,991 cases of infected were registered.
If the pandemic situation remains unstable, the price of the safe-haven asset will rise.
Support and resistance levels
In a global perspective, the instrument is moving in an uptrend. In March, prices reached the trend line at 1685.00. It was withheld, after which the quotes began to grow towards the nearest target at around 1810.00. The main target is the inclined border of the price channel in the region of 1870.00-1840.00.
In the medium term, gold is trading in a downtrend. Last week the rate reached the trend border – the target zone 1786.00-1776.00. The zone is being held, which means a possible decline in the price towards the area of ​​the level of 1756.00. A breakdown of the 1796.00 mark will lead to a trend change to an upward one.
Resistance levels: 1810.00, 1843.00, 1871.00
Support levels: 1745.00, 1685.00, 1625.00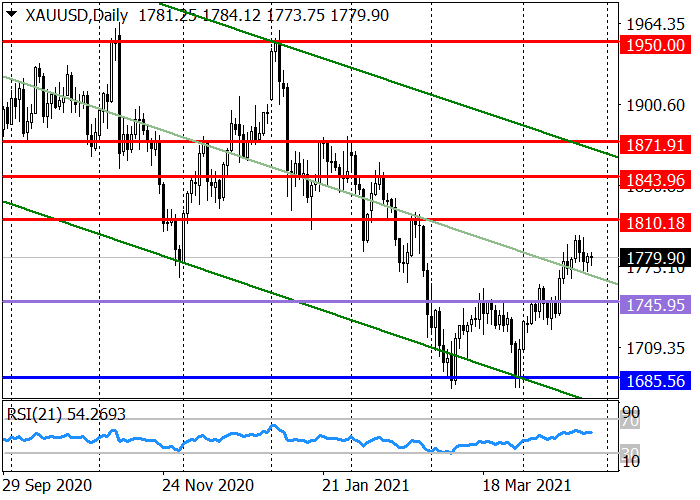 Market forecasts, analytics and stock news