Trading results
On the previous trading day, shares of Lukoil rose 3.35%, closing at 5556.5 rubles. The paper outperformed the market, which added 2.49%. Trading volume for the share on the main market amounted to RUB 11.4 billion. with an average of 5.6 billion rubles per month. The 5-day average daily range is 240 minimum steps.
Short-term picture
Lukoil shares at the end of last week almost reached a 9-month high and closed trading above 5550 rubles. The daily candle closed at intraday highs, indicating that the move was incomplete. Nevertheless, this morning the external background has deteriorated, which may not allow further growth in the upcoming trading. Weakness in oil may support corrective sentiment. The primary potential for correction may reach 5,400 rubles, after which buyers can again seize the initiative.
On the mid-term horizon, the outlook on the instrument is moderately positive. There has been a steady upward trend since November 2020. After the removal of the local overbought, the upward movement may continue. As stable fixation is higher than 5550 rubles. the potential for a return above RUB 6,000 will open up.
Nearest support levels: 5550/5400/5300
Nearest resistance levels: 5600/5700/5800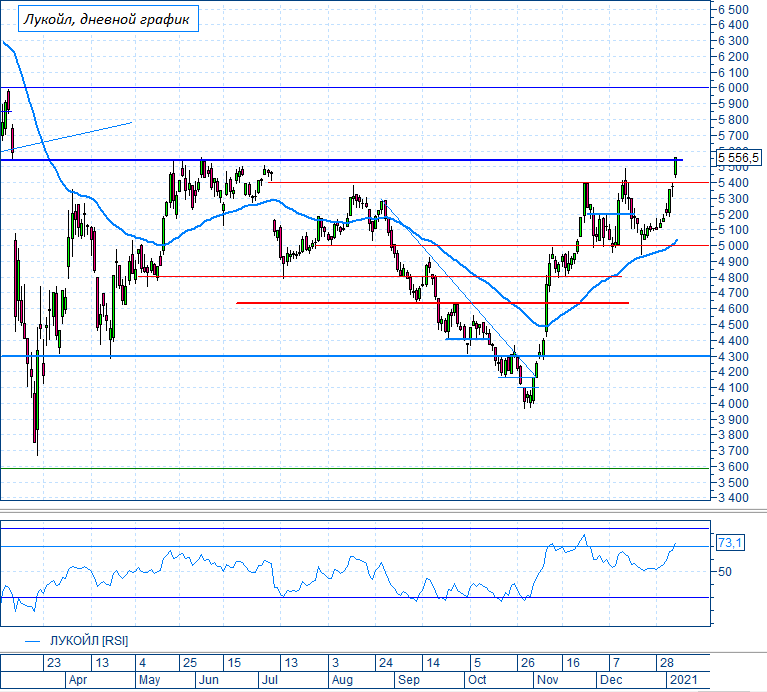 External background
The external background has been forming moderately negative in the morning. American indices rose after the close of the main session at the Moscow Exchange. Asian indices are mostly in negative territory. S&P 500 futures are down 0.7%. Brent crude is down 1.7% today. All this suggests that if the background persists, the opening will take place near or below the closing level of the previous trading day.
Long-term picture
After exiting the consolidation 4000–5550 rubles. Lukoil shares may return to a long-term upward trend. On the horizon for the first half of 2021, optimism in the oil market and a strong fundamental case of the company dispose of recovery above RUB 6,500. The first signal for the possible implementation of such a scenario will be fixing above 5550–5600 rubles.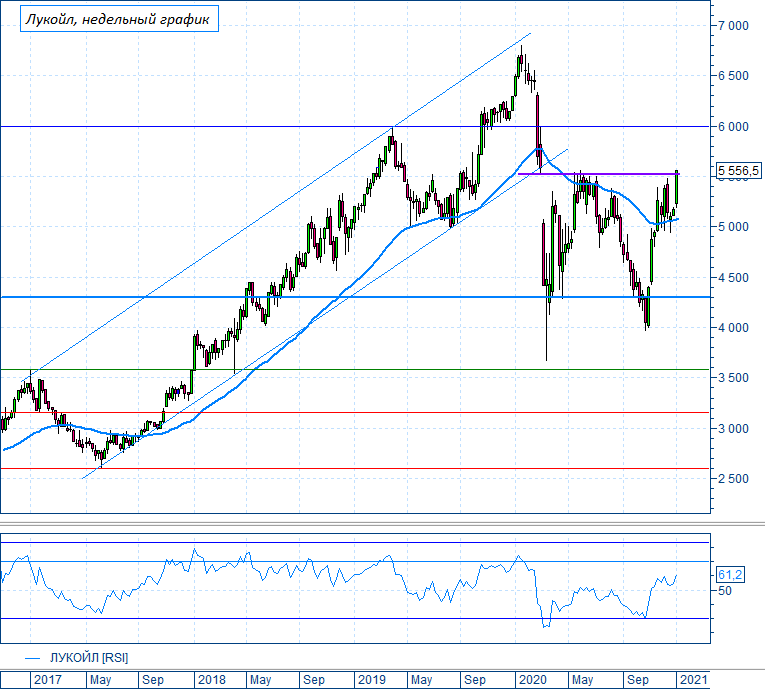 More forecasts and news on Fortrader's channel Telegram
Market forecasts, analytics and stock news