Trading results
In the previous trading session, VTB shares fell 1.91% to close at 4.86 kopecks. The papers looked significantly worse than the market. The trading turnover amounted to more than 2.5 billion rubles.
Short-term picture
On Monday, VTB reported for May. The results were strong, which contributed to the rally in quotes. But yesterday the price corrected and consolidated slightly below the 21-day moving average. There is no longer a strong growing momentum, as in previous reports.
The technical picture remains unremarkable, there are no signals to move in one direction. The external background today can support buyers, and they can try to test 5 kopecks. Next, you need to break above 5.12 kopecks. to resume the upward trend.
There are still risks of a deeper decline, as the securities are in the sideways. When consolidating below 4.75 kopecks. the landmarks will drop towards 4.6-4.5 kopecks.
Resistances: 5 / 5.12 / 5.25
Supports: 4.75 / 4.6 / 4.5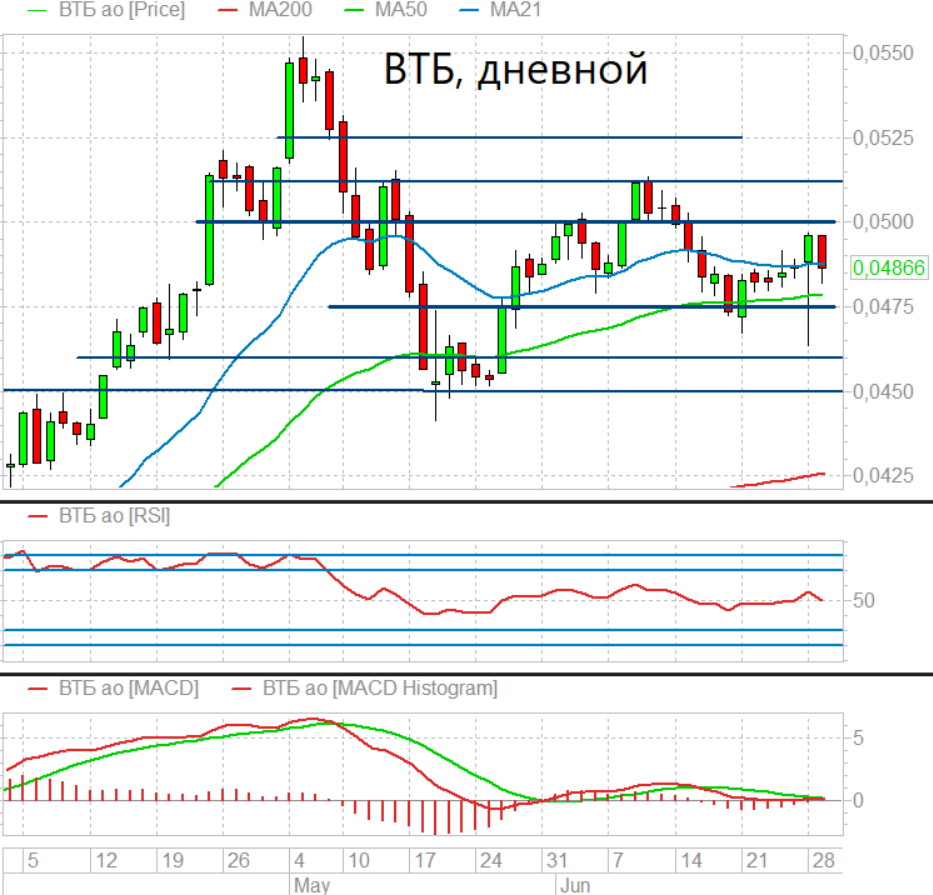 External background
The external background is moderately positive this morning. American indices remained at about the same levels after the close of our main session on Tuesday. Asian markets are trading mostly in positive territory today. Futures on the S&P 500 index are growing by 0.11%, Brent oil is in positive territory by 0.41% and is at $ 75.07.
Taking into account the results of the previous evening trading, we can assume that if the current background persists, the opening on VTB shares will take place close to the closing level of Tuesday.
Long-term picture
Long-term expectations for the security are moderately positive. In the first quarter of 2021, VTB posted a record quarterly profit, which became a strong driver for growth. The management plans that the II quarter also promises to be successful, and the profit targets for the year will be achieved, and at the upper limit (270 billion rubles). All this creates favorable conditions for further growth of quotations.
After updating local peaks on strong results of the first quarter, VTB shares corrected, unloading overheated oscillators. The overall picture remains growing, with trend indicators looking up. While the shares are above 4.4 kopecks, the current targets are at the top of about 6.2 kopecks. An intermediate technical obstacle is the zone of 5.55-5.70 kopecks.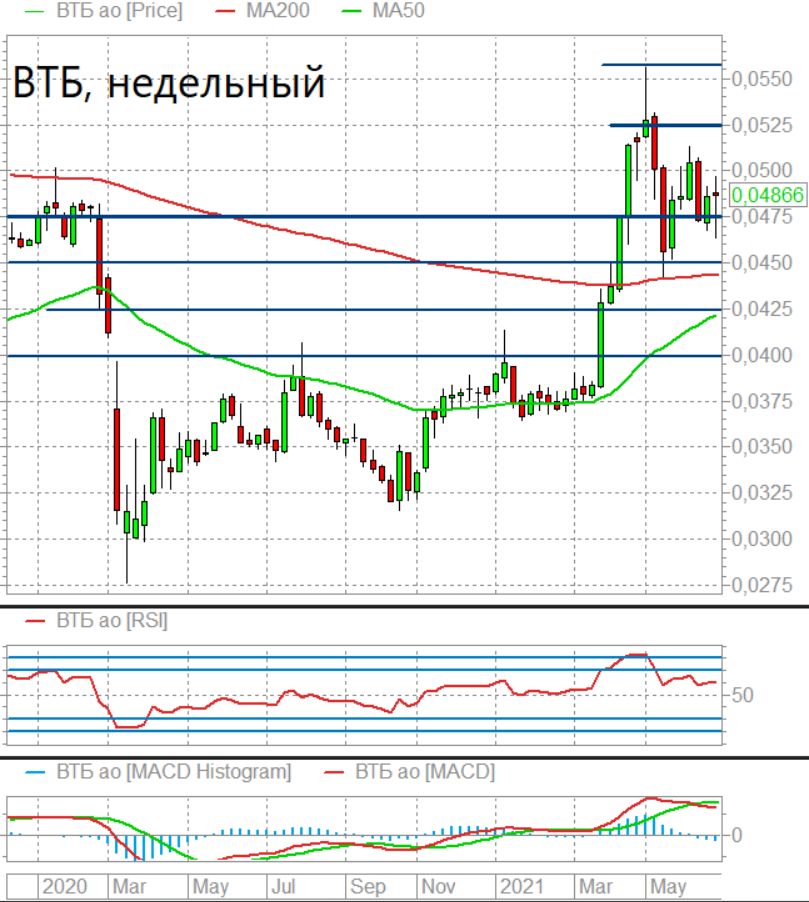 More forecasts and news on Fortrader's channel Telegram
Market forecasts, analytics and stock news