Current dynamics
This week, the EUR / USD pair broke through the 1.1846 support level and is now trading below it, targeting the March low of this year at 1.1717.
The general trend for the strengthening of the US dollar continues. Despite weak statistics from the US, it traded in the 13-week high all day yesterday. Last week, the number of initial applications for unemployment benefits increased to 373 thousand, which is higher than analysts' forecast of 350 thousand. The previous figure was adjusted upward from 364 thousand to 371 thousand. Investors continue to redirect their assets to their usual investment vehicle – the American currency as the mood is deteriorating amid the growing number of people infected with the new COVID-19 delta strain. The market is worried about the imminent recovery of the global economy.
On the other hand, the single currency managed to strengthen yesterday after the European Central Bank (ECB) announced a new monetary policy strategy that creates space that the bank believes will allow inflation to reach and slightly exceed its 2% target.
The euro is supported above the 1.1800 level and the optimistic forecasts of the European Commission on inflation and GDP growth in the euro area. The GDP growth forecast for 2021 was raised from 4.3% to 4.8%, and for 2022 – from 4.4% to 4.5%. Inflation is expected to be 1.9% in 2021 and 1.4% in 2022.
Support and resistance levels
The long-term trend remains upward. The key support is at the 1.1717 area. Now a correction is developing for the instrument, the probable goal of which is to test the key support.
The readings of the RSI indicator, which is now very close to the oversold zone, stop market participants from selling the euro at current prices. There is a risk of developing an upward movement.
The medium-term trend is downward towards the target zone 3 (1.1738-1.1720). The key resistance of the trend is at the levels 1.1975-1.1957.
Resistance levels: 1.1864, 1.1937
Support levels: 1.1717, 1.1627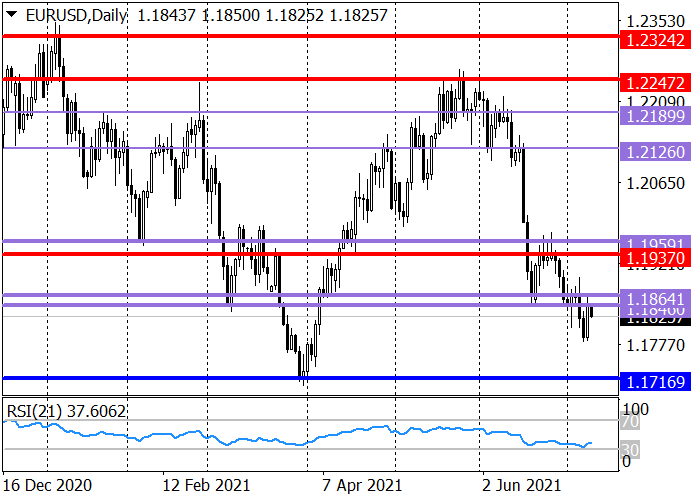 Market forecasts, analytics and stock news