Recently, the topic of semiconductor shortages has been very actively discussed in the media. The situation escalated when car manufacturers one after another, they began to announce production cuts or incomplete assembly of cars due to the lack of these components. Today we will analyze the topic of the shortage of semiconductors in the automotive industry, we will tell you what led to this and what investment idea can be put in this situation.
Impact of the COVID-19 pandemic on semiconductor demand
It has long been known that the pandemic has had a negative impact on manufacturing processes. The introduction of quarantines, the closure of factories, an increase in unemployment – all this led to a decrease in production and a drop in demand for goods and semiconductors.
But the crisis cannot last forever, and gradually the situation began to improve. The demand for goods revived, as can be seen from the growing inflation, factories started up, and the leaders were those who could calculate the situation in advance and prepare for economic recovery.
The return of production volumes to the previous levels led to a sharp increase in demand for semiconductors, as demand from carmakers added to the traditional consumers of these products.
Automakers, unfortunately, have not given much thought to the fact that there may be a shortage of semiconductors, which will affect their production volumes. As a result, they ended up in outsiders and are now struggling to catch up.
Why are carmakers last in line for semiconductors?
The 2020 pandemic accidentally became the period that was marked by an active transition of automakers from the production of cars with an internal combustion engine to electric vehicles. In 2020, against the backdrop of lockdowns, car production fell sharply, and by the end of the year it turned out that now it was necessary to engage in the production of electric cars.
In the past, automakers did not require much computing power in a car, therefore, their demand for semiconductors was minimal. And as time has shown, they did not think much about what was happening in this market.
Such well-known concerns as Toyota (NYSE: TM) and Volkswagen (BATS: VOW) spend about 4 billion USD per year on semiconductor products. If you compare them with Apple (NASDAQ: AAPL) or Samsungthat consume this product in the amount of USD 58 billion and USD 36 billion annually, then auto concerns for semiconductor manufacturers will turn out to be small customers. Automakers, in turn, thought that they were buying a small amount and if they needed to buy more, they would allocate not 4, but 6 billion USD for the purchase of semiconductors, and their demand would be easily satisfied. After all, such an increase in demand, by their standards, is insignificant within the framework of the global production of these components.
But everything turned out differently. Manufacturers of smartphones, televisions, and other computing equipment were pre-concerned about future orders and took their "turn" in semiconductor factories. And since they are regular and large customers, they are served first of all. The carmakers found themselves at the very end of this "queue".
Auto concerns turned to the government for help
To solve this problem, automakers went to their governments and "complained" that they were not being sold semiconductors in the required volume. German automakers are urging the government to increase production of electronic components in Europe, but building factories and starting production is a long process.
As a result, the German government turned to the Ministry of Economy of Taiwan, where the world's largest semiconductor factory is located. Taiwan Semiconductor Manufacturing Co Ltd (NYSE: TSM), and asked them to increase semiconductor production.
The Ministry of Economy of Taiwan approached Taiwan Semiconductor to ramp up production. But the factory is already working at 100% load, but the management promised to take this problem into account and think about how to increase the volume of supplies.
I want to note that Taiwan Semiconductor plans to build a semiconductor plant in the United States, but this decision was made earlier and was associated with the trade wars between the United States and China. The launch of the plant is scheduled no earlier than 2024.
American automakers have also gone to their government with complaints. Bottom line – Intel (NASDAQ: INTC) allocates 20 billion USD for the construction of two semiconductor factories in the United States. Summing up, it can be noted that the problem will be solved in the future, but there is demand now and it is very difficult to satisfy it. Consequently, carmaker revenues in 2021 could suffer.
Carmakers' revenues expected to fall
The automakers' business is not distinguished by high margins. If we compare, for example, the profitability of Intel and General Motors (NYSE: GM), then we get the following figures: Intel's profitability is currently 26%, and GM is 5%.
Ford (NYSE: F) after the pandemic, it did not even go into the positive zone, the profitability turned out to be negative: -1%. The decline in production volumes and the accompanying costs for the purchase of higher prices for semiconductors will put additional pressure on the revenues of the automakers.
According to experts, the revenue of General Motors in 2021 may drop by 3.4%, in monetary terms it is about 2 billion USD. Against this background, Ford may lose 1.8% or 2.5 billion USD.
What is the investment idea?
Based on the above, it remains to wait for the quarterly reports of the auto concerns, which will show the fall in income. On expectations and on the day of publication of reports, the value of shares may fall.
But we understand that the decline in revenue is a temporary phenomenon. Ultimately, semiconductors will cease to be a scarce commodity, and the factories of automakers will return to the previous production volumes. As a result, the decline in prices for shares of auto concerns in 2021 can be used to buy them.
What companies are we talking about?
First of all, it is worth paying attention to American automakers, since their shares are available for investment to everyone. These are General Motors and Ford. The purchase of Volkswagen shares will also be a good investment.
Volkswagen AG
Volkswagen is already the largest seller of electric vehicles in Europe with a market share of 24%. Tesla is losing leadership in the region and its market size has dropped from 29% to 13%. Volkswagen's competitive advantage over the company Mask is scaling. According to UBS forecasts, VW may surpass Tesla in terms of sales by 2022.
Information that large automakers have begun to actively engage in electric cars has led to an increase in the value of their securities, and at the moment the shares look overbought. The shortage of semiconductors cooled the enthusiasm of investors a little, and the stocks are gradually beginning to correct.
Immediate support for VW shares is at 273.00. Its breakdown is expected and the price will fall further to the level of 245.00. At this level and below, shares will again become attractive for long-term investment.
General motors
General Motors shares also rose in price, but not as actively as VW shares. Negative quarterly reports may lead to a fall in the value of securities to support at 50.00. It is not ruled out that it will break down and the quotes will drop to the level of 45.00. For General Motors shares, prices below 50 USD are attractive for long-term investments.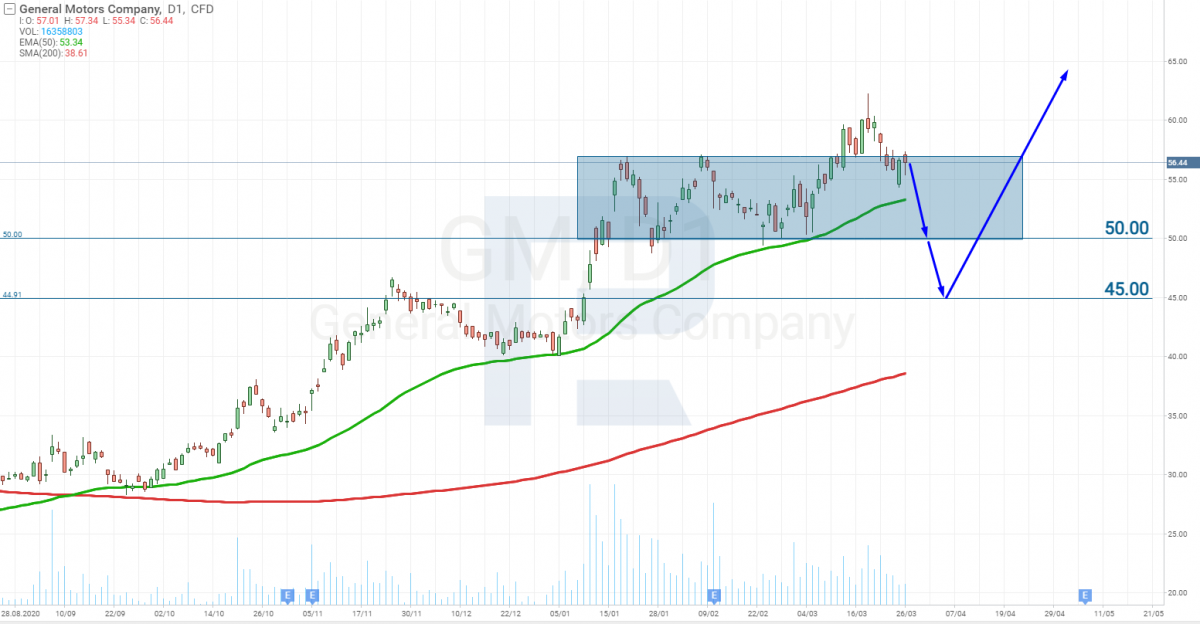 Ford
Ford shares are five times cheaper than General Motors. In these securities, the correction in monetary terms may be insignificant. Ford is currently trading slightly above 12 USD. A breakdown of the 12.00 level and a decline in quotations to the nearest support at 11.30 is expected. Prices below
11.30 am attractive for long-term investment.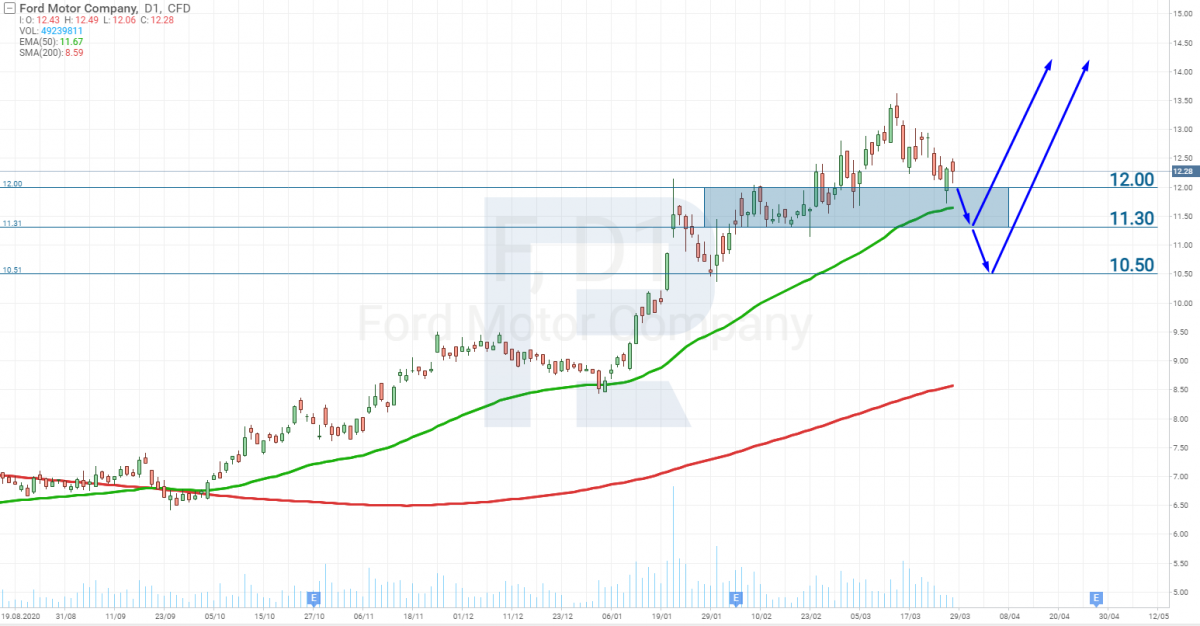 Output
While I was writing this article, it became known that the Chinese company NIO against the background of a shortage of semiconductors, it is forced to stop the production of electric cars. The ranks of automakers suffering from component shortages are being replenished.
So we know that a shortage of semiconductors is likely to negatively affect companies' earnings. The automakers' shares are already correcting, that is, investors are pricing in the expected drop in revenue.
The investment idea will pay off only if the share price continues to fall and the quarterly reports confirm expectations. But since the market is always ahead of the curve, after the release of negative reports from auto concerns, it will be possible to start buying shares.
Ultimately, the shortage of semiconductors will become a thing of the past, and there is no point in waiting for this to happen, because by that time, investors who bought shares in the fall will begin to think about taking profit, and the potential for further growth will be small.
Invest in American stocks on favorable terms! Real shares on the R Trader platform from $ 0.0045 per share with a minimum commission of $ 0.25. You can also try your trading skills in the R Trader platform on a demo account, for this you just need to register on the RoboForex.com website and open a trading account.
---