Current dynamics
Brent crude hit its lowest level since early February on Tuesday, falling 15% from recent highs in early March.
The day before trading in futures closed at 60.79, the spread for Brent and WTI Crude Oil turned into contango, where contracts for the coming months are cheaper than in later months, which indicates a decrease in demand for crude oil. Market sentiment remains bearish as analysts fear a slowdown in demand recovery after new restrictions due to the pandemic in Europe. Thus, Germany, the largest consumer of "black gold" in the region, extended its isolation until April 18. In the US, the number of new infections may also rise during the spring break.
In addition, US crude oil inventories, according to the American Petroleum Institute, increased by 2.9 million barrels over the past week, despite analysts' expectations of a decline of 900 thousand. Official data from the Energy Information Agency (EIA) is due today. According to the forecast, a slight decrease in reserves is expected by 272 thousand barrels.
Support and resistance levels
Yesterday the key support of the long-term uptrend 63.03–62.61 was broken. The next downside target is the level 59.33.
Within the medium-term downtrend, the target zone 3 (60.96-60.60) was reached. In case of breakdown of the level of 60.40, the decline will continue to target zone 4 (57.36-57.00). The trend border shifts to 65.48–65.01.
Resistance levels: 63.03, 65.00, 67.55
Support levels: 60.40, 59.33, 57.17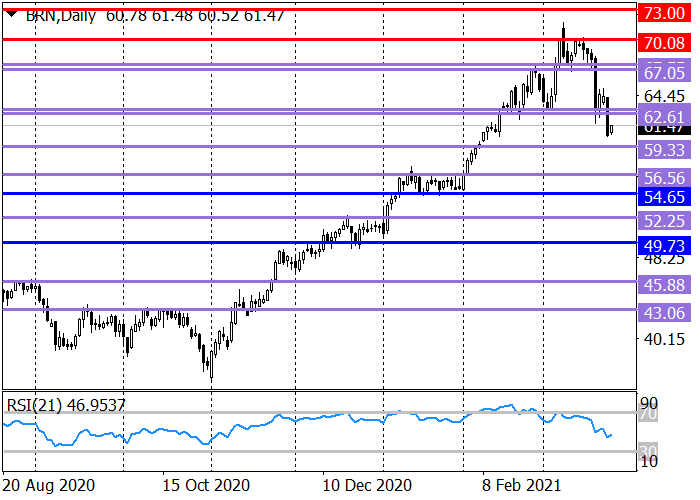 Market forecasts, analytics and stock news