Trading results
In the previous trading session, Sberbank shares fell 1.19%, closing at 303.34 rubles. The paper looked worse than the market. Trading volume amounted to 9.9 billion rubles.
Short-term picture
The price of Sberbank shares last Tuesday broke through the medium-term uptrend after a week-long siege. Trading volumes almost doubled as compared to Monday.
The negative signal was the renewal of Friday-Monday lows: a drop below 304.7, which opened the way up to 301, where the lower border of the short-term descending channel passes. At the lows of the day, quotes went to 302.4.
The breakdown of the trend opens the way for the development of the correction to 296. Earlier, in January and March, in the area of ​​this boundary, the growing dynamics was restrained. Now this level acts as support.
A full breakdown of the trend will be recorded with the renewal of the previous minimum, that is, with a drop below 293-296. In the meantime, the probability of movement in the direction of this range has increased.
Resistance levels: 303.9 / 306.5 / 308.8
Support levels: 302.4 / 300/296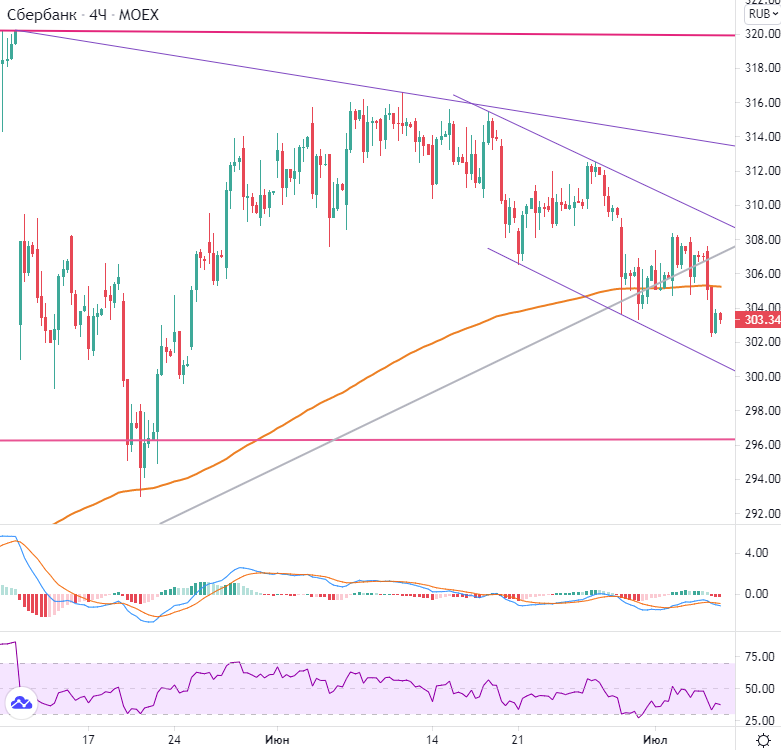 External background
The external background is neutral this morning. Asian indices show a predominantly negative trend. Futures on the S&P 500 in the morning depreciated by 0.05%. Brent crude is growing 0.02%. Futures on the bank's shares are showing zero dynamics relative to the close of the evening session. The opening is expected in the area of ​​the closing level of the previous session.
Long-term picture
Sberbank's share price has historically been in an upward trend. In 2020, it was able to break up from broad consolidation and renew record levels. However, the medium-term upward trend was broken and there were risks of strengthening the correction and retreat to 296.
The bank occupies a leading position in the Russian economy, developing many digital services not directly related to banking activities. The consensus forecast is at 370.4 rubles. per share.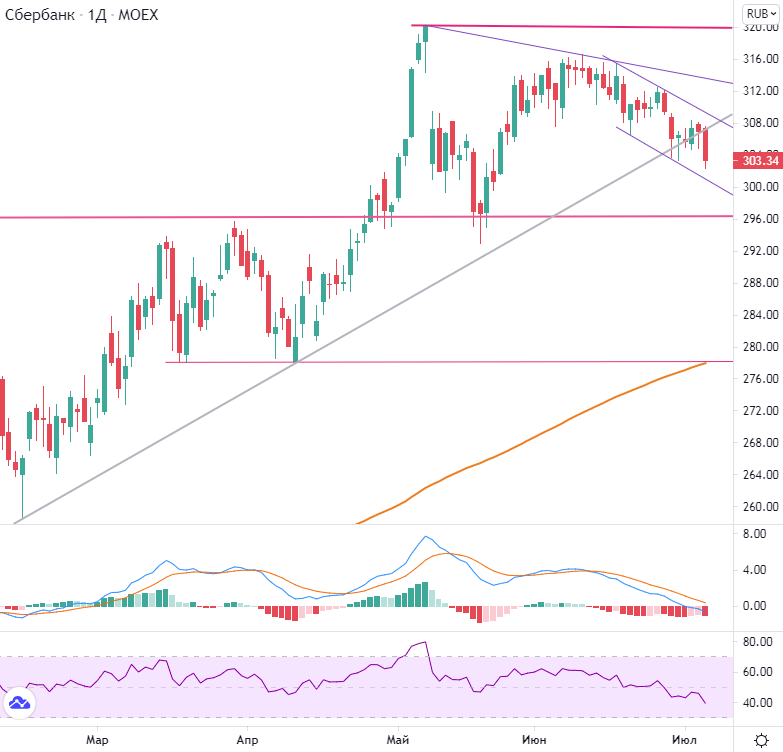 More forecasts and news on Fortrader's channel Telegram
Market forecasts, analytics and stock news