The S&P 500 started its first trading day in 2021 at an all-time high. This means that investors are optimistic about the future and are ready to further invest their money in stocks on the stock market. Taking short positions in this situation is too drawn-out, but there are reasons for this.
Demand for gold, bitcoin and stocks is growing
I want to draw your attention to two financial instruments that indicate an impending threat to further growth in the index quotes – gold and bitcoin.
What to do if a crisis looms on the stock market and many companies may find themselves on the brink of survival, and their shares drop in price by 50-90%?
In such situations, investors prefer to invest their funds in a defensive asset, which has always been gold, and also buy insurance against companies' default. It is much more difficult to track and analyze information about sold insurance, but with gold everything is easier. There is a chart and we can see what is happening with the price of the precious metal.
Mortgage crisis
In 2007, a year before the onset of the financial crisis, gold quotes rushed up, that is, many investors already suspected that a "bubble" was inflating in the mortgage market. To protect their finances, they began to buy gold (from the author: the theme of the 2008 crisis is well covered in the film "Selling a Short", I advise you to watch).
S&P 500 quotes also gradually began to decline and by the news of the bankruptcy of Lehman Brothers, which served as the starting point of the crisis, they were trading 18% below historical highs.
Bitcoin as a safe haven asset
The crisis caused by the coronavirus in 2020 also began with an increase in the value of gold, but unlike 2008, gold is now continuing to rise in price, and with it stock indices are also growing.
This event can be explained as follows. Some investors are afraid to keep money in stocks, as they suspect that another bubble is forming in the market, so some of the money is invested in gold. But in 2020, market participants drew attention to another asset, which began to be used as a "safe haven" asset from fiat money. This is the bitcoin cryptocurrency (Bitcoin).
Its price has doubled since December 2020: The cost of one bitcoin has exceeded 30,000 USD. It is no longer a tool for small speculators who could influence its value with a monetary volume of 100 USD. Big players in the market are investing in bitcoin more and more.
In the end, what do we have?
Gold is moving to historic highs, and bitcoin is trading at historic highs, that is, there is increased demand in the two assets that are used as safe havens. And at the same time, the S&P 500 is also trading at historic highs. A situation has developed in which some investors are waiting for shocks in the market, and the second part has turned a blind eye and is ready to buy shares at any price. Who is right here, time will tell.
Where do investors get optimism?
Everything is simple here. At the end of 2020, vaccination of the population against coronavirus started, on which hopes are pinned to restore the economy.
The second reason is the unprecedented support of the economy by the injection of money. Joe Biden, becoming president of the United States, will only increase the volume of this support.
When can the growth of shares on the stock market stop?
Europe and America are taking measures to support their economies, pouring trillions of dollars and euros into them. Low interest rates, which make it possible to take out cheap loans, provide additional support to businesses.
Now imagine an athlete running a marathon. To help him, the team decided to pave the path he is running on and installed a fan that blows in his back.
What will happen to the athlete if this support is removed? The legs will become heavy, and the headwind will become an insurmountable obstacle. How would he then collapse from powerlessness.
Thus, the first blow to the stock market will be rumors about the cessation of money injections into the economy, and the second – an increase in interest rates. This will provoke profit-taking by those who bought securities at lower prices, while those who bought shares at the highs will move into the status of very long-term investors, waiting for the price to return to previous levels. It will be worse for those who bought securities using margin leverage, because a correction can trigger the Margin Call, and this will increase the fall in shares in the market.
But as long as the money is allocated, the stock will go up. Some investors will continue to buy gold, diversifying risks in the event of another collapse in the stock market, but these will be in the minority. Another part will continue to invest in stocks, and their attention will fall on smaller companies, whose securities are trading far from historical highs, since their financial indicators are not very stable. But in conditions of euphoria, everyone will buy.
Central banks do not plan to raise interest rates
Experts believe that in the first half of 2021, neither the United States nor Europe will raise interest rates (Goldman Sachs generally predicted that the Fed will raise rates only in 2024) and curtail the bond purchase program. Accordingly, the stock is more likely to continue to rise. Therefore, standing on the sidelines and watching the growth of securities is not a good idea.
In this situation, there are two ways. The first is to invest in gold in order to preserve capital, and the second is to take risks and find stocks that have growth prospects.
Electric car manufacturers have submitted sales reports
The beginning of 2021 was marked not only by the growth of the S&P 500, but also by good reports from the companies producing electric vehicles.
Tesla, Inc.
For example, Tesla (NASDAQ: TSLA) sold 189,750 electric vehicles for the fourth quarter of 2020, exceeding experts' forecasts by 15,750. At this event, the company's shares went up by 7% and continue to trade at historic highs.
Tesla is a leader in the electric vehicle industry and its report serves as an indicator in the analysis of upcoming competitor reports. That is, if Tesla sales grow, then electric vehicles from other companies will also be in demand.
NIO Limited
And so it happened. Company reports NIO (NYSE: NIO) showed a twofold increase in sales of electric vehicles in December 2020, and at the end of the quarter, sales reached 17,353 electric vehicles, which exceeded the most optimistic forecasts.
According to CEO William Bean Lee, a significant contribution to the sales growth in the last quarter came from the Battery as a Service program, which sells a NIO vehicle without a battery, which is then rented out to the customer. This significantly lowers the cost of the electric car, which allows it to compete with other manufacturers.
NIO shares continue to trade in an uptrend at historic highs.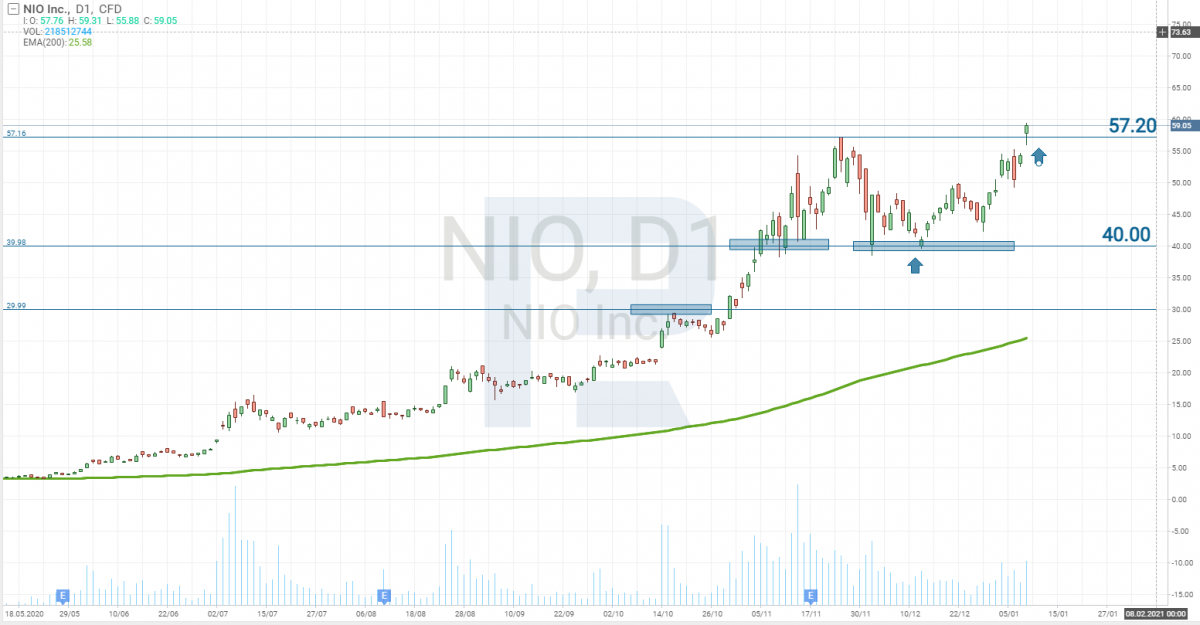 Li Auto Inc
Li Auto (NASDAQ: LI) also delighted its investors with good sales results for December and 4th quarter. So, in December, sales of electric cars increased by 530%, and quarterly sales increased by 67%, to 14,464 units. Li auto launched mass production in November 2019, and in such a short period of time was able to approach the figures of NIO, which has been selling electric vehicles since 2017.
Li Auto, along with the rest of the electric car makers, rose in price, but they look at the moment the weakest, as they are trading far from historical highs. On the other hand, this can be regarded as a potential for growth.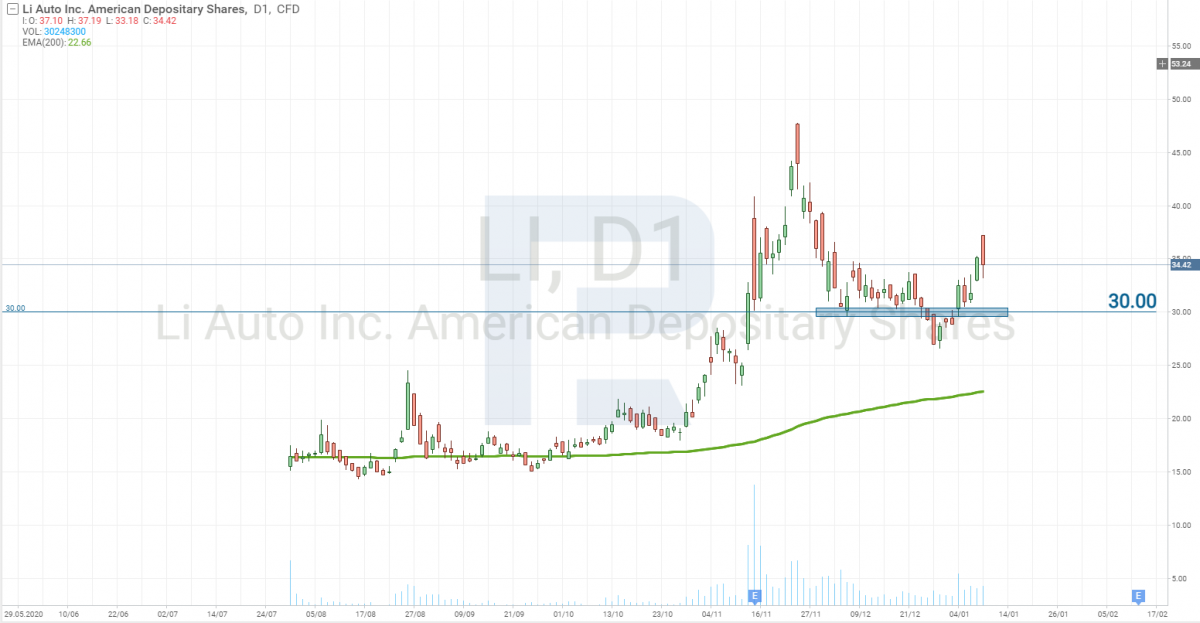 XPeng Inc
Another Chinese manufacturer of electric cars XPeng (NYSE: XPEV) exceeded expert estimates for electric vehicle sales in Q4. In December, sales were up 326% and quarterly sales were up 303% to 12,964 units. XPeng, like Li Auto, is trading far from historic highs, so it looks attractive for investments.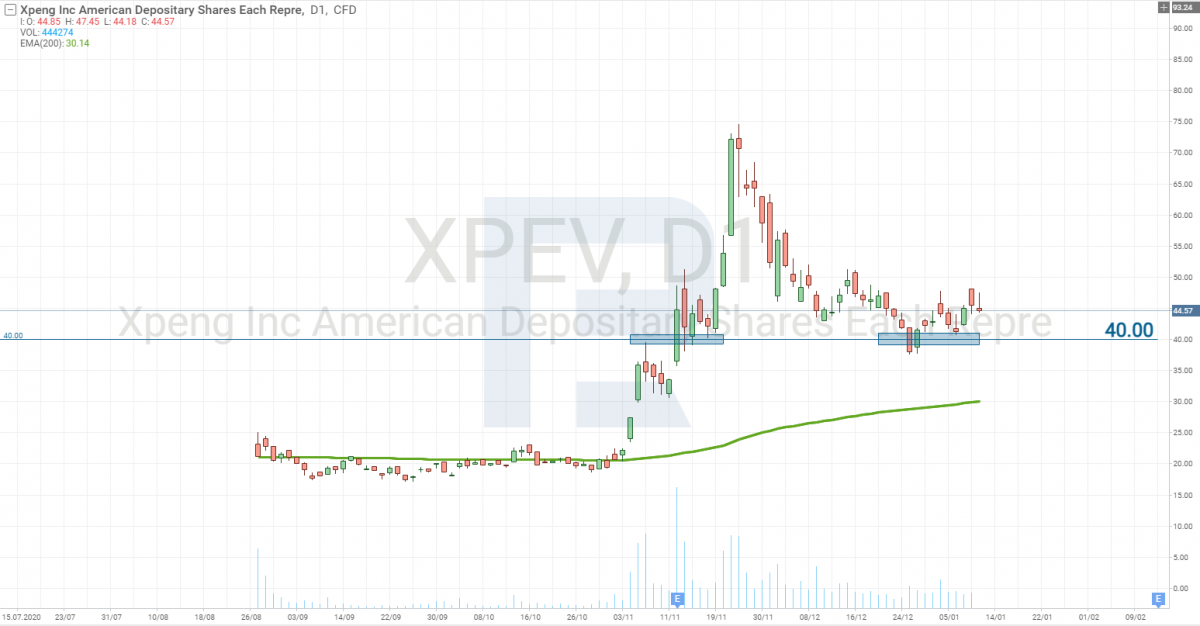 Still, the last two companies have recently entered the market and have not yet reached the scale of sales comparable to Tesla or NIO, they have just another way to go.
Growth in sales of electric vehicles was observed across all companies, which indicates an obvious trend in the future. Accordingly, the whole of 2021 will be marked by good quarterly reports of electric car manufacturers, which means that companies from this sector can be chosen for investments this year. The growth potential is huge here.
But I would like to draw your attention to Tesla shares separately. Many market participants consider the shares of this company to be overbought, and the volatility in them is very high, as a result of which investments in Tesla shares will be accompanied by an increased risk.
Vaccination will lead to an increase in passenger traffic in airlines
Another sector to look out for is air travel. Vaccination of the population is expected to stop the pandemic and lead to the lifting of border crossing bans. This will be followed by economic recovery, followed by an increase in household income. And the population, missing travel, will raise the tourism industry and increase the passenger traffic of air carriers. Consequently, the financial condition of the airlines will begin to improve and provoke an increase in their shares.
Boeing orders may recover
Of course, the biggest beneficiary of the revenue growth will be The Boeing Company (NYSE: BA), which is vital to rebuild airliner orders that plummeted in 2020. She is the first company to look out for in the sector. This company's shares are completing a correction that began a month ago. It is not excluded that securities will continue to rise in price from these levels.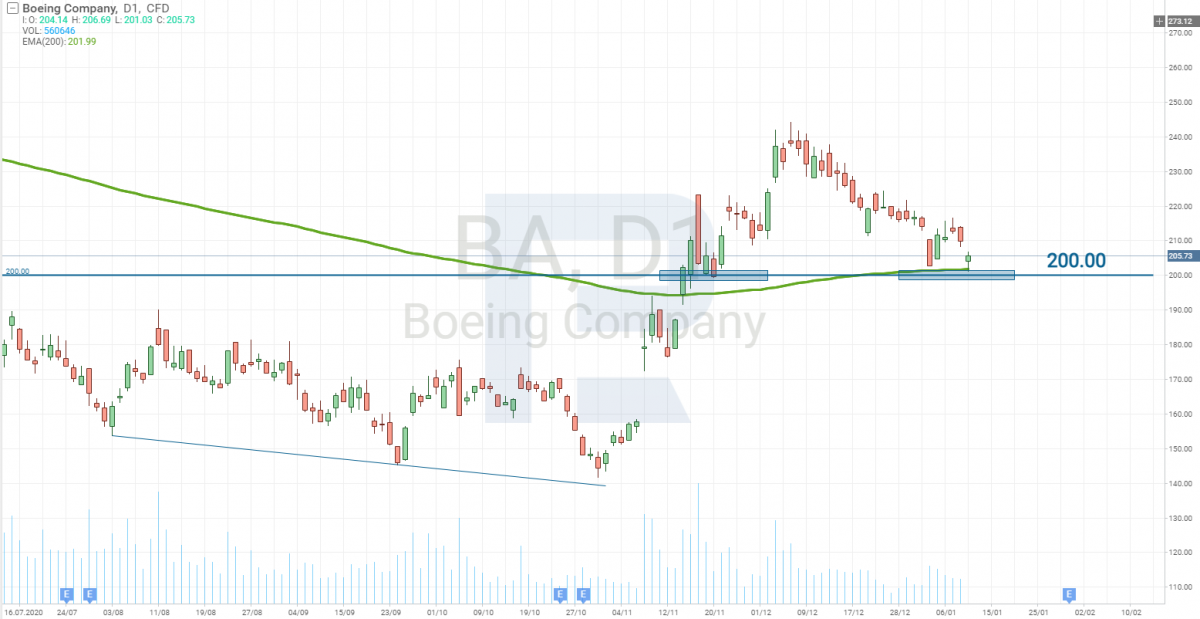 Among the airlines for investment, you can consider stocks American Airlines Group Inc. (NASDAQ: AAL), Southwest Airlines Co. (NYSE: LUV), Delta Air Lines, Inc. (NYSE: DAL), United Airlines Holdings, Inc. (NASDAQ: UAL)…
Southwest Airlines is in the strongest financial position. She has USD 14 billion in free cash and most of her revenue comes from domestic flights. In addition, Southwest Airlines was hit hard in 2019 by the 737 MAX 8 ban. The event resulted in losses of USD 435 million. The 737 MAX 8 is now approved for flights, which is an additional factor in the airline's revenue growth.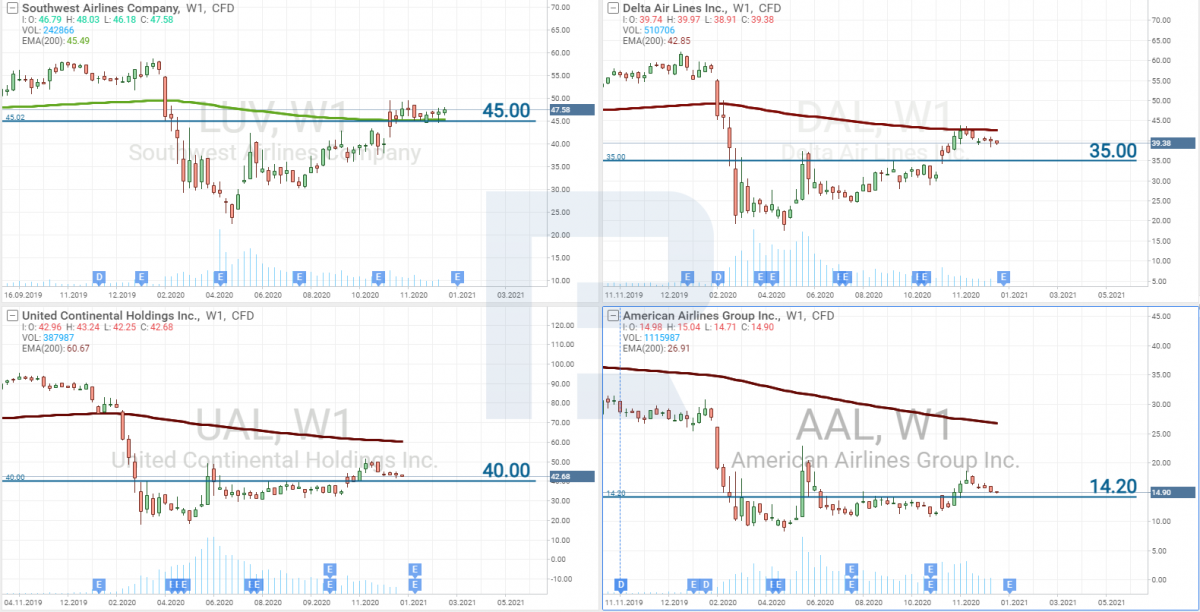 The weakest link among airlines is American Airlines. The sharply increased debt burden forced the company to cut costs and lay off a significant part of the staff. Although the company has made payments on current debts, and until the end of 2021, it does not have large payments planned, investors, judging by the schedule, bypass its papers.
In general, vaccination of the population is expected to bring a positive impact on air carriers and improve their financial performance.
Conclusion
2020 was full of negative events, 2021 should be the exact opposite. Vaccination of the population will make a significant contribution to a bright future.
But there is one nuance that can ruin everything. Many issuers are now trading at pre-crisis levels or higher. When the situation around COVID-19 subside, market participants will pay attention to the economy, and it will turn out that it is in a worse state than before the crisis.
Then many will think about why shares are so expensive. Therefore, it is necessary to be careful and monitor market events in order not to miss the moment when you can take profit.
In this situation, it would be a great idea to invest in ProShares VIX Short-Term Futures ETF (AMEX: VIXY), the so-called "fear index". When a panic starts in the market, the quotes of this instrument will skyrocket by hundreds of percent.
In the meantime, we are looking for undervalued securities and buy. The first half of 2021 promises to be very profitable.
Invest in American stocks on favorable terms! Real shares on the R Trader platform from $ 0.0045 per share with a minimum commission of $ 0.25. You can also try your trading skills in the R Trader platform on a demo account, all you need to do is register at RoboForex.com and open a trading account.
---